Welcome Lisandra Vila Ellis, MD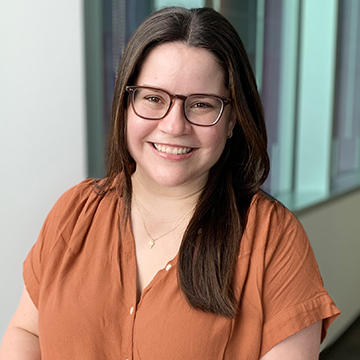 Lisandra Vila Ellis, MD
Assistant Professor of Cell & Developmental Biology
Bio
Lisandra's interest in medicine began as a child growing up in Cuba, offering "medical services" to her family and neighbors, such as taking their blood pressure at home. She received her medical degree at Tecnológico de Monterrey, in Monterrey, Mexico, and subsequently completed a postdoctoral fellowship at the University of Texas MD Anderson Cancer Center under the mentorship of Dr. Jichao Chen. There, she studied the development of the lung vasculature, and her work earned her a K99/R00 Pathway to Independence Award from the National Heart, Lung, and Blood Institute.
In her free time, Lisandra enjoys spending time with her son, cooking new recipes, and gardening. She also enjoys recording her podcast Vascular Crosstalk, produced for the North American Vascular Biology Organization.
The Vila Ellis Lab opens in October 2023, and will be located on the 8th floor of the Louis A. Simpson and Kimberly K. Querrey Biomedical Research Center.
Research Focus
Gas diffusion in the mammalian lung takes place in the alveoli, where a thin epithelium is surrounded by a capillary network. Traditionally, these alveolar capillaries were considered homogeneous until Lisandra's postdoctoral research, which unveiled a novel population of endothelial cells in the mouse lung. Interestingly, the failure to form the alveolar capillary network correctly has been observed in various pulmonary diseases characterized by vascular simplification, such as bronchopulmonary dysplasia (BPD), commonly seen in premature births. Furthermore, recent single-cell RNA sequencing profiling of the human lung by others has also identified a similar endothelial cell population, underscoring the relevance of this research to human diseases.
In the Vila Ellis Lab, we will investigate this newly discovered heterogeneity during development and regeneration with the ultimate objective of elucidating the transcriptional mechanisms underlying endothelial heterogeneity, endothelial cell fate, and the molecular and cellular components of lung angiogenesis. By doing so, we aim to provide crucial insights into fundamental biology questions.
Publications
See Lisandra's publications on PubMed.
Join Our Lab
Lisandra is dedicated and passionate about mentorship, and has taught and mentored students of different backgrounds and career stages, from undergraduates to medical and graduate students. Building a diverse, creative, and supportive environment in science is one of her main goals as a mentor.