Legendary Donors Support 3 New Areas at Northwestern
This story was published in the March 2020 issue of The Philanthropist, a newsletter for supporters and friends of Northwestern University Feinberg School of Medicine and Northwestern Memorial Foundation. Read the whole issue here.
Following the grand opening of the magnificent Louis A. Simpson and Kimberly K. Querrey Biomedical Research Center on the medical school campus in June, Northwestern University trustees Louis A. Simpson '58 and Kimberly K. Querrey made new, high-impact gifts to fund worthy research initiatives focusing on neurological diseases, bioelectronics and training students from underprivileged backgrounds.
"We are thrilled to continue supporting the collaborative research coming out of Feinberg and Northwestern to transform human health," shared Ms. Querrey.
Center for Neurogenetics Will Develop Personalized Treatments for Neurological Disorders
A $10 million gift from Mr. Simpson and Ms. Querrey supports the Simpson Querrey Center for Neurogenetics and enables new investigations on the genetic and environmental factors that contribute to diseases such as Parkinson's and other genetic neurological disorders.
Scientists in the center are already conducting genome analysis to develop personalized action plans for patients. After detecting the cellular pathways and targets that a particular disease disrupts in patient neurons, the team works to identify treatment strategies tailored to individual patients.
"I am extremely grateful to Kimberly Querrey and Lou Simpson for their visionary and generous gift that will support development of personalized neurology at Northwestern," said center director Dimitri Krainc, MD, PhD, the Aaron Montgomery Ward Professor and chair of the Ken and Ruth Davee Department of Neurology. "The center will bring together experts in genetics, bioinformatics, medicinal chemistry, biomedical engineering, clinical trials, biomarkers, and cell and molecular biology to translate fundamental discoveries into clinical practice."
Dr. Krainc's research has focused on understanding how mutations in genes lead to degeneration in patient-derived neurons. In a recent study, his laboratory showed how a mutation in the gene GBA1 increases a patient's risk of Parkinson's disease. The team was able to reduce the harmful effects of the mutation and alleviate symptoms of the disease by amplifying healthy enzymes in brain cells.
The gift will fund the center's operations, seminar and symposium programs, pilot studies by Northwestern faculty and the recruitment of outstanding investigators in the area of neurogenetics. The Mazza Foundation, a longtime supporter of neurosciences at Northwestern Medicine, has also generously invested in this center and the innovative research conducted by Dr. Krainc and his team.
Institute for Bioelectronics to Expand Body-integrated Electronic Systems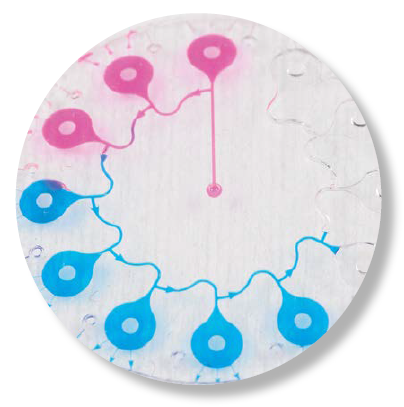 An additional $10 million gift from Mr. Simpson and Ms. Querrey creates the Kimberly K. Querrey and Louis A. Simpson Institute for Bioelectronics to catalyze the development of "biocompatible" electronic, photonic and microfluidic technologies for the human body.
The new institute coalesces experts from Northwestern's Feinberg School of Medicine and McCormick School of Engineering to develop electronic systems that integrate seamlessly onto or into the body. These systems could provide continuous measurements of physiological health, therapies for neuroregeneration, assessments of athletic performance, metrics of rehabilitation and recovery, and other connections between humans and machines.
"We are profoundly moved by the confidence that Kimberly and Lou have shown in our ability to do important, collaborative research at the interface between engineering and medicine, and we appreciate their visionary support," said John A. Rogers, PhD, the institute's founding director, the Louis Simpson and Kimberly Querrey Professor of Materials Science and Engineering, and a professor of Neurological Surgery.
"This generous investment will greatly accelerate our work toward systems with the potential for far-reaching, beneficial impact on human health as one of our primary goals," he added. "We want to see these technologies move out of the academic laboratory and into the real world, where they can help to address societal grand challenges."
A pioneer in the field of bio-integrated electronic devices, Dr. Rogers is internationally renowned for creating electronic systems that can bend, stretch and twist with natural movements of the body.
The gift will fund the institute's research initiatives, laboratory equipment and expanded lab space.
Programs Give a Diversity of Students Exposure to Medical Research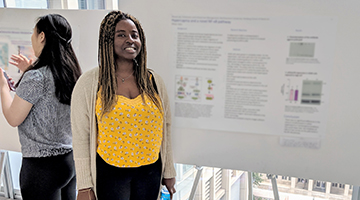 Ms. Querrey and Mr. Simpson also recently contributed $2 million to NUGoKidney and its SciHigh Summer Program. Led by the medical school's Division of Nephrology and Hypertension in the Department of Medicine, the immersive eight-week program allows talented high school students from disadvantaged backgrounds to participate in biomedical research under the guidance of mentors.
"The donation provides exceptional opportunities for the best and brightest students from underprivileged backgrounds to experience cutting-edge research that will impact lives of patients with kidney disease," said Susan Quaggin, MD, NU GoKidney chair, the Charles H. Mayo, MD, Professor and chief of Nephrology and Hypertension. "High school students are exposed to the rigor and science of research and undertake their own research in areas spanning clinical research, genome editing, nanotherapeutics and bioengineered organs. With the endowment, we are able to expand this program to include more students and to host yearlong events for high school seniors."
In 2018, the couple supported a similar summer research program in the medical school's Division of Pulmonary and Critical Care Medicine, led by division chief Scott Budinger, MD, the Ernest S. Bazley Professor of Airway Diseases.
For more information about supporting these student research programs, please contact Dave McCreery at david.mccreery@northwestern.edu or 312.503.6099.