Special Thank You to Our Scholarship Supporters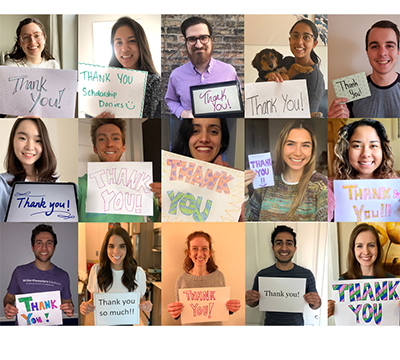 Newly Established Scholarships

Mary Ann Frable, MD Dean's Scholarship for Women in Medicine
Dr. David Grganto Scholarship
Judith Mayzel Scholarship
Earl M. Mumford, MD Family Scholarship Fund
Dr. Jeffrey and Meredith Conn Watters Scholarship
Every April, Northwestern University Feinberg School of Medicine holds a Commitment to Scholarships luncheon to celebrate our student scholars and give them the opportunity to meet and express their gratitude to the generous alumni, faculty, and friends who support their scholarships. Though the celebration was canceled this year because of the worldwide COVID-19 outbreak, our medical students and leaders still send their heartfelt appreciation to these donors.
"Everyone at Feinberg is so grateful to our scholarship donors. To our new scholarship donors and those who have been contributing for many years, thank you for your support and confidence in this next generation of leaders in medicine," said Diane B. Wayne, '91 MD, vice dean for Education, chair of Medical Education, and the Dr. John Sherman Appleman Professor of Medicine. "Now more than ever, we need well-trained and dedicated physicians who pledge themselves to their patients' well-being. Your generosity makes this a reality."
Providing scholarship support for our exceptional students is a top priority for our dean, Eric Neilson, MD, and for We Will. The Campaign for Northwestern Medicine. Through this campaign and well into the future, the medical school hopes to provide some level of tuition support to all students who have debt, which would require an $800 million endowment for scholarships. Today, the Feinberg scholarship endowment is approximately $213 million thanks to thousands of generous supporters who give to this area of need. In the last year, the medical school has established five new scholarships.
"Northwestern gave me so much, and I feel very strongly that I should give back. It's a great opportunity to make a wonderful medical education available to deserving students and to help remove financial roadblocks as much as possible. I believe in a medical education with tuition support for all who need it," shared D. Grant Gilbert, '71 MD, a donor to the MD Class of 1971 Scholarship fund. "It's important to support the students of today with contributions to scholarships, as Northwestern made so much possible for me."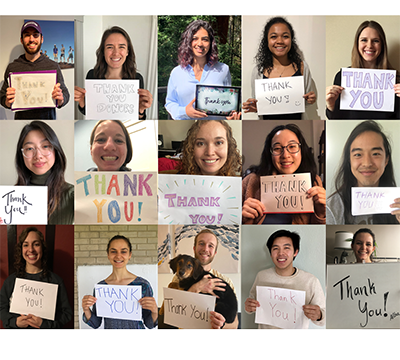 Student Scholars Share Their Stories
A first-generation immigrant from Cuba, Marnie Ruiz faced many challenges growing up. Though she and her family considered themselves fortunate to be able to move to the United States, they had no support network after they arrived. Finding work and staying financially afloat was not easy—nor was Ms. Ruiz's pursuit of a career in medicine.
"I have had big dreams for as long as I can remember, but I did not always know how I would manage to make them a reality," she said.
After earning a bachelor's degree in biology, Ms. Ruiz spent three years working as a research assistant and medical scribe while saving up to apply for medical school and its seemingly insurmountable costs. Then she was accepted to Feinberg and learned she had received the inaugural Dr. Jeffrey and Meredith Conn Watters Scholarship.
"I know that if I were in a donor's shoes, I would wonder, 'How much of a difference am I truly making in a student's life?' The answer is a world of difference!" shared Ms. Ruiz, now a first-year medical student. "I hope to one day pay it forward and provide the same support that my donors have been kind enough to bestow upon me to another struggling student. I cannot thank them enough for their generosity and this fantastic opportunity."
Classmate Jonathan Roe echoed Ms. Ruiz's gratitude. He became interested in medicine when he was in the Air Force, while volunteering at a combat support hospital during a deployment in Afghanistan.
"I witnessed skilled medics treating the severely wounded, saving limbs, and giving many a second shot at life," Mr. Roe said.
After returning home, he earned a bachelor's degree in physiology, gained research experience, and was accepted to Feinberg. He was thrilled to receive the Class of 1960 Scholarship.
"Paying full tuition to attend medical school would have represented an extreme financial hardship for me. Your gift has allowed me to begin medical school, confident in both my ability and my financial situation," Mr. Roe said. "I feel the freedom to explore a variety of specialty options no matter what their potential future for monetary compensation may be, and for that I am thankful to you. I have every intention of paying forward this incredible act of generosity to the next generation as soon as I am able."