Zoe Foundation Support of AFib Research Blossoms into Major NIH Grant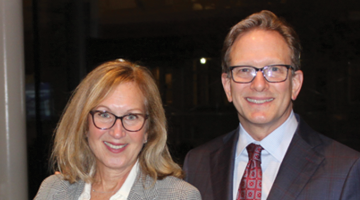 This story was published in the April 2023 issue of The Philanthropist, a newsletter for supporters and friends of Northwestern University Feinberg School of Medicine. Read the whole issue here.
From seeds, apple trees grow and bear fruit. From seed funding, an innovative smart watch app to prevent stroke in patients with atrial fibrillation (AFib) is coming to fruition.
More than a decade ago, the Chicago-based nonprofit The Zoe Foundation began supporting the groundbreaking AFib research of Rod Passman, MD, director of the Center for Arrhythmia Research at Northwestern University Feinberg School of Medicine, also known as NUCAR. Today, the foundation's initial starter grant of $25,000 has helped Dr. Passman and Northwestern to realize a recent and very bountiful harvest.
In August 2022, the National Institutes of Health (NIH) awarded Northwestern, along with Johns Hopkins, a first-ever national grant to study the effectiveness of wearable digital health technology in atrial fibrillation treatment. The $37 million award will fund a new trial to investigate if a customized smart watch can reduce reliance on blood thinners—the current standard of care for this most common heart arrhythmia. Called the Rhythm Evaluation for AntiCoagulaTion (REACT-AF), the study has the potential to revolutionize care for the 35 million people worldwide living with AFib, which can result not only in stroke, but also heart failure, dementia, and premature death.
Trial participants will use a customized app on a smart watch to monitor their heart rhythms. Blood-thinning medication will be used for a limited period of time and only in response to a prolonged episode of AFib as detected by the wearable device. This strategy offers a truly personalized care approach unique to each individual.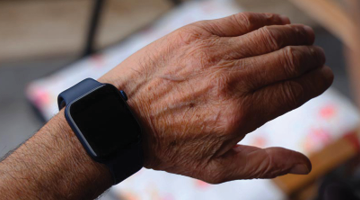 "Many of these patients are on blood thinners for the rest of their lives even if they have infrequent episodes of atrial fibrillation," said principal investigator Dr. Passman, the Jules J. Reingold Professor of Electrophysiology and professor of Medicine (Cardiology) and Preventive Medicine. "If we can show this strategy is equally protective against stroke and reduces bleeding, that could save lives, reduce healthcare costs, and improve quality of life." REACT-AF will build a bridge between consumer electronic devices and medical care.
For a decade, former electrophysiology nurse clinician Julie Schmittdiel, RN, worked alongside Dr. Passman at Northwestern Memorial Hospital. Inspired by Dr. Passman's passion for finding solutions to improve the care of patients with AFib, Ms. Schmittdiel founded The Zoe Foundation to support his work and that of other investigators studying arrhythmia disorders at the medical school.
Since 2011, The Zoe Foundation has made annual gifts to serve as seed funding to advance the work of Dr. Passman and his colleagues. As the director of NUCAR, Dr. Passman works closely with clinical investigators such as faculty members Bradley Knight, MD, the Chester C. and Deborah M. Cooley Distinguished Professor of Cardiology and professor of Medicine (Cardiology) and Medical Education; Philip Greenland, MD, the Harry W. Dingman Professor of Cardiology and professor of Preventive Medicine (Epidemiology) and Medicine (Cardiology); Rishi Arora, MD, professor of Medicine (Cardiology); and Michael Markl, PhD, vice chair for Research, Department of Radiology, the Lester B. and Frances T. Knight Professor of Cardiac Imaging, and professor of Radiology.
"I saw the potential for Dr. Passman's research to help people around the world," said Ms. Schmittdiel, president of The Zoe Foundation, which counts among its membership many grateful patients. "I feel privileged to have worked closely with so many brilliant minds at Northwestern during my almost 20 years there. I wanted to stay involved by educating people about AFib and the importance of research to discover novel treatments for this growing disorder."
"Philanthropy, like that of The Zoe Foundation, reminds us that science progresses through the selfless contributions of people like Julie Schmittdiel and other generous supporters. They are making a difference and will have a positive impact on people living with AFib, today and in the future," said Dr. Passman.
During its early days before the pandemic, the foundation held fundraising events that raised awareness about the importance of seed funding. "Many people do not realize that any contribution—no matter how small—can help advance scientific research," said Ms. Schmittdiel. "It is super exciting to see what has transpired with the initial support we provided to Dr. Passman that led to the recent NIH award. We continue our journey alongside Dr. Passman and can't wait to see what comes next."
For more information about supporting NUCAR and Dr. Passman's research, please contact Kathleen Praznowski at 312-503-0762 or kathleen.praznowski@northwestern.edu.