Reception Honors Members of The Founders Society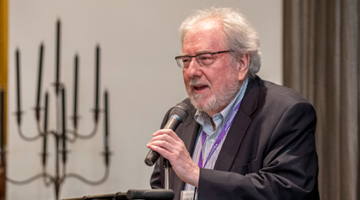 October 26, 2023
On October 14, 2023, members of The Founders Society at Northwestern University Feinberg School of Medicine enjoyed a night out at the Arts Club of Chicago in celebration of their generous and impactful commitment to the medical school.
More than 3,000 alumni, faculty, friends, and staff members make up The Founders Society, a prestigious giving society honoring those who contribute to Feinberg's growth, excellence, and competitiveness through their generous philanthropic gifts and volunteer service.
"When I look out at this room full of our medical school's most dedicated champions, I am reminded of what we can achieve as a community," said Alan Krensky, MD, executive for Development at Northwestern Medicine and vice dean for Development and Alumni Relations at Feinberg. "Our successes as a medical school are your successes. We change the world together. Thank you."
In the last year, members of The Founders Society supported hundreds of priorities across the medical school, including research and medical education initiatives. Volunteers, recognized through the Service Society, participated in Alumni Physicians of Feinberg, served on boards for the Medical Alumni Association and Physical Therapy Alumni Association, and donated their time as medical school class representatives and Admissions Committee faculty interviewers.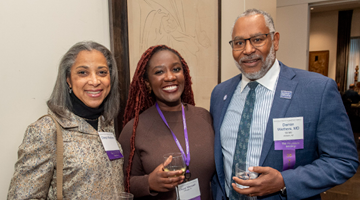 Darren Wethers, '88 MD, of Anthem, Arizona, has donated to numerous Feinberg initiatives over the last 30 years, including the Feinberg Promise Scholarship (formerly called the Diversity in Medicine Scholarship). He also serves as a volunteer Feinberg liaison to alumni in Arizona, reunion class representative, and president-elect for the Medical Alumni Association Board of Directors for which he also serves as co-chair of the Inclusion and Allyship Committee. At the reception, Dr. Wethers emphasized the importance of scholarships, a top priority for the medical school as it aims to one day provide full tuition support to all of its medical students.
"I was a recipient of a scholarship, which aided my journey," he said. "Additionally, I want to contribute to the representation of minority donors."
Regina Poloyan Walker, '84 '86 MD, of Hinsdale, Illinois, said that she and her husband, Mark, give to Northwestern to empower medical residents to attend national medical conferences. "The educational opportunities at these conferences are so important to their education," Dr. Walker said.
While many medical school alumni attended the event in concert with Alumni Weekend festivities, including a Commitment to Scholarships luncheon, not all members of The Founders Society are alumni. They are also grateful patients, family, and friends across the world who give to Northwestern to fuel vital medical research, education, and training led by the school's faculty and their teams.