Transformational Querrey, Simpson Gift Expands Biomedical Research at Feinberg
This story was published in the April 2023 issue of The Philanthropist, a newsletter for supporters and friends of Northwestern University Feinberg School of Medicine. Read the whole issue here.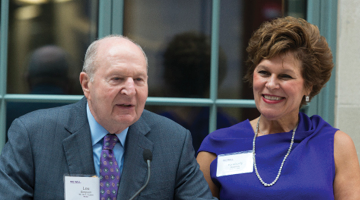 Discovering new ways to help people has always driven the extraordinary philanthropy of Northwestern University Trustee Kimberly K. Querrey ('22, '23 P) and her late husband, Louis A. Simpson '58 ('96 P). This heartfelt desire led Ms. Querrey to further strengthen the couple's longtime appreciation of the Feinberg School of Medicine and its role in advancing the University's biomedical research enterprise.
In October 2022, Ms. Querrey and the Louis Simpson Trust made a transformational $100 million gift to Feinberg to expand scientific discovery to generate more life-changing and life-saving solutions for humankind.
"Lou and I often discussed the importance of improving the quality of life, particularly for those facing medical challenges," said Ms. Querrey. "The physicians, scientists, and engineers at Northwestern do groundbreaking, innovative work, realizing our vision of positively affecting people's lives." Mr. Simpson, who passed away in 2022, was a Northwestern University trustee, alumnus, parent, and adjunct professor.
Supporting four new initiatives at Feinberg, this remarkable gift will jumpstart and accelerate new discoveries in myriad ways.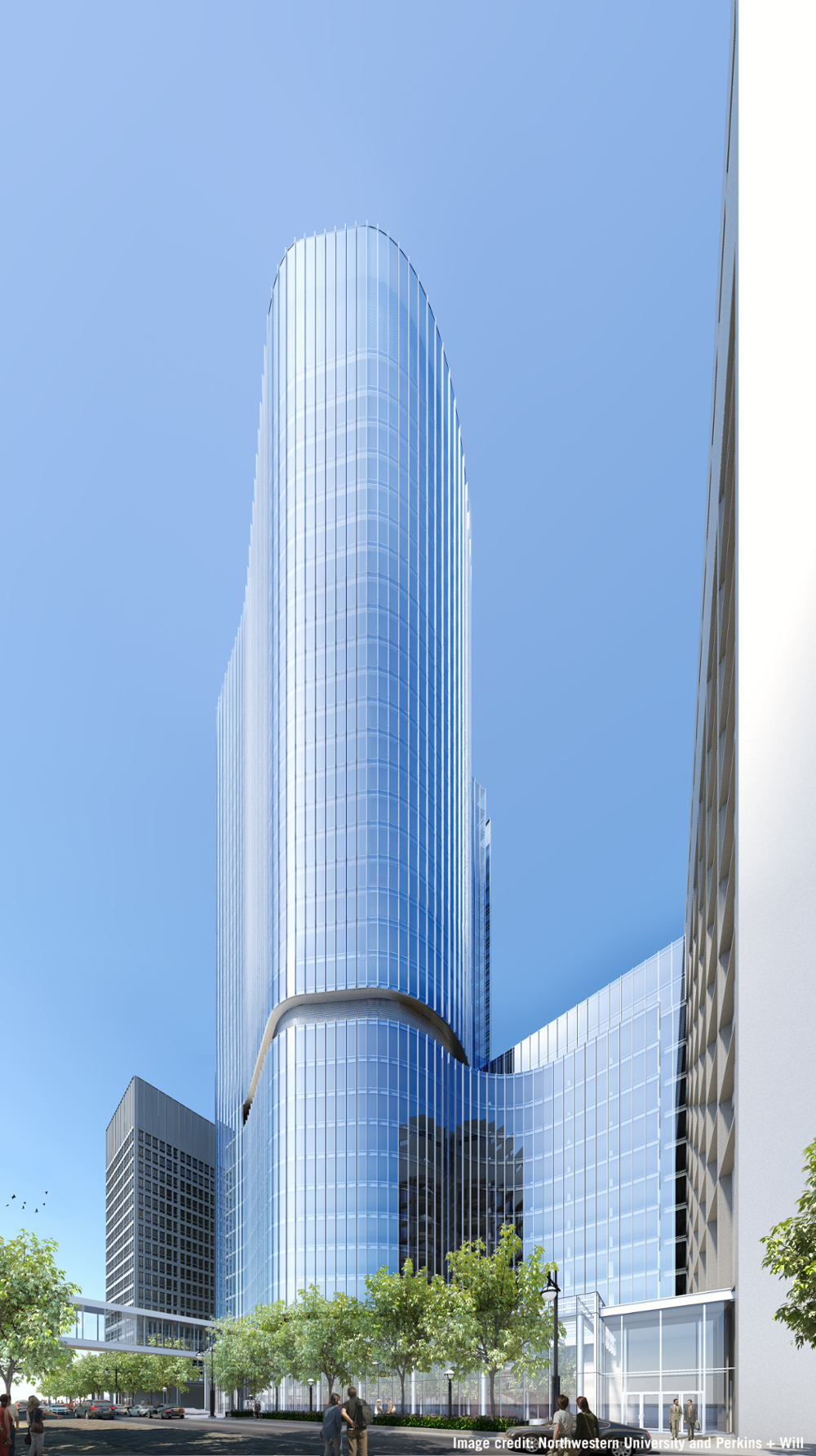 Another Space for Creating Hope
The Louis A. Simpson and Kimberly K. Querrey Biomedical Research Center became the largest new building solely dedicated to biomedical research at an American medical school when it opened in June 2019. Now, it will become the largest academic biomedical research facility in the world thanks to the recent Querrey Simpson gift. A designated $64 million of the $100 million commitment will go toward the expansion of the center through the construction of an adjacent 19-level tower with 15 labs. This new building will bring together even more of the best scientific and clinical minds to solve complex biomedical challenges and enhance patient care.
Breathing Much Easier
During the past three years, the severe respiratory effects of SARS-CoV-2—the virus that causes COVID-19—have spurred a growing demand for lung care. In November 2021, Northwestern Medicine launched the Canning Thoracic Institute to provide a patient-centered destination for treatment of the simple to most complex respiratory illnesses and lung cancer. Twenty-five million dollars from the Querrey Simpson gift will help launch a new Simpson Querrey Lung Institute for Translational Science. The initiative will better connect clinical care to new basic discoveries in pulmonary medicine for the benefit of patients.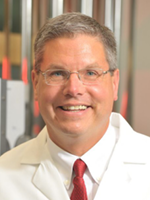 "We are grateful for the generosity of Kimberly Querrey and Lou Simpson. The new Simpson Querrey Institute will link the world class, high volume clinical programs of the Canning Institute with the state-of-the-art research facilities at Feinberg," said Scott Budinger, MD, the Ernest S. Bazley Professor of Airway Diseases and chief of Pulmonary and Critical Care in the Department of Medicine. "Leveraging innovative technologies developed in the medical school's laboratories with access to biosamples collected as part of patient care will greatly drive discoveries in lung disease."

Healthier Brains, Longer Lives
Countless studies have shown that brain health and neural activity have a significant influence on living a long and healthy life. As people live longer around the world, Northwestern researchers doggedly seek answers to fundamental questions vital to healthy brain aging and the prevention of neurovascular degeneration.
With $10 million from the recent Querrey Simpson gift, Feinberg will create and endow a new Simpson Querrey Center for Neurovascular Sciences. This initiative will provide an unparalleled opportunity for Northwestern investigators to make greater strides in pinpointing the underlying causes of neurologic diseases and disorders.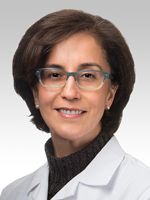 "Our work will seek to identify biological signatures of resilience and/or vulnerability to neurovascular degeneration and develop interventions to preserve brain health across the human life span," said Farzaneh Sorond, MD, PhD, vice dean for faculty affairs at Feinberg, the Dean Richard H. Young and Ellen Stearns Young Professor, and division chief for Stroke and Vascular Neurology in the Ken and Ruth Davee Department of Neurology. "The vividness and clarity of Kimberly Querrey's unrelenting support for accelerating breakthrough innovation across the multitude of scientific disciplines at Northwestern are extraordinary. Her generous support of medical sciences is deeply appreciated by our investigators and our patients."
The Querrey Simpson gift will also provide $1 million to support the Kimberly Prize in Biochemistry and Molecular Genetics, which Ms. Querrey established in 2022 in honor of Mr. Simpson. The annual prize of $250,000 is awarded by the Simpson Querrey Institute for Epigenetics.
"Kimberly is a visionary philanthropist who cares deeply about groundbreaking science and biomedical research," said Eric G. Neilson, MD, vice president for medical affairs and Lewis Landsberg Dean at Feinberg. "This generous gift will enable us to advance our research mission innovatively and imaginatively to transform human health by accelerating the pace of discovery for the benefit of clinical medicine."