Advancing Breakthrough Treatments for Lymphoma
This story was published in the April 2023 issue of The Philanthropist, a newsletter for supporters and friends of Northwestern University Feinberg School of Medicine. Read the whole issue here.
Immunotherapy has been a game changer in cancer treatment. An innovative targeted therapy, immunotherapy works by harnessing the body's immune system to seek and destroy the abnormal cells of blood cancers and solid tumor diseases.
Renowned lymphoma expert Jane Winter, MD, '82 GME, has been at the forefront of this revolutionary cancer treatment. During the past several years, she has served as the principal investigator of clinical trials testing a new immunotherapy for patients with Hodgkin lymphoma. Dr. Winter is a professor of Medicine in the Division of Hematology and Oncology at Northwestern University Feinberg School of Medicine and a member of the Robert H. Lurie Comprehensive Cancer Center of Northwestern University.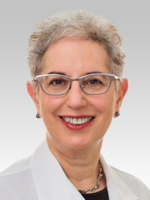 "This is one of the most exciting times in history to be a hematologist," said Dr. Winter, who in 2022 served as president of the American Society of Hematology, the world's largest professional society focused on conquering blood disorders worldwide. "Today we are able to save the lives of patients—who wouldn't have been alive five to seven years ago—because of the many novel treatment strategies."
Longtime patient Barbara Olin Taylor, PhD, is one of many impressed with Dr. Winter's ability to tease out and find solutions to the cancer puzzle. The Northwestern hematologist also cared for Dr. Olin Taylor's late husband, Buzz, when he developed mantle cell lymphoma.
Hoping to accelerate Northwestern's lymphoma research, Dr. Olin Taylor made a generous gift to establish an endowment to be named the "Jane Winter, MD Innovation Research Fund" in the Division of Hematology and Oncology to honor Dr. Winter's work and with the intent that others will help support Dr. Winter and this crucial research as well.
Pioneering New Research Avenues
The out-of-control growth of white blood cells is the hallmark of Hodgkin lymphoma, a common cancer of adolescents and young adults and a growing population of octogenarian men. While a curable form of blood cancer, it still claims too many lives. In addition to the lives lost annually, treatment for Hodgkin lymphoma with traditional chemotherapy and radiation treatments can be toxic. These therapies may lead to late effects, such as the development of cancers of the breast or lung as well as cardiovascular disease that can result in death or seriously impact quality of life. To date, Dr. Winter's breakthrough clinical studies have shown that treatment with a checkpoint inhibitor can in some cases entirely eliminate the disease or significantly reduce tumor size in Hodgkin lymphoma patients before they undergo chemotherapy for the best outcomes.
In 2023, the Winter team plans to launch a new clinical trial to further shift the balance away from chemotherapy to immunotherapy for treating Hodgkin lymphoma. This novel approach involves increasing the number of cycles of immunotherapy while decreasing the number of cycles of standard chemotherapy to reduce its harmful side effects. She also hopes to study various biological indicators of immunotherapeutic response to predict outcomes and investigate circulating tumor DNA to better tailor treatment to the Advancing Breakthrough Treatments for Lymphoma individual patient. Dr. Winter's work dovetails with other exciting immunotherapy studies in the division and at Lurie Cancer Center, including a clinical trial investigating the addition of a checkpoint inhibitor and another novel agent to CAR T-cell therapy for the treatment of other forms of lymphoma.
Dr. Winter's successful investigator-initiated clinical trials have earned her industry-sponsored support for her upcoming trial. The studies also have led to a recently concluded international trial to validate her initial experience in a much larger number of patients. However, with increasingly scarce National Institutes of Health and pharmaceutical company sponsorships, every philanthropic dollar is critical to these and future research efforts at Northwestern.
"Launching these studies requires significant resources that are becoming more challenging to obtain," said Dr. Winter. "Barbara's generous commitment provides the starting point to grow this fund, for which I am so grateful. I know that Barbara hopes that her gift will inspire others to support this important work as well."
For more information about supporting cancer research and education and the Jane Winter, MD Innovation Research Fund, please contact Terri Dillon at 312-503-4837 or terri-dillon@northwestern.edu.