Les Turner ALS Foundation Celebrates Advocates and a Year of Medical Advancements
Over 450 people attended the Hope Through Caring Gala in-person and virtually on February 18 to support the Les Turner ALS Foundation's mission to provide care and support to people living with ALS. At the gala, hosted at the Radisson Blu Aqua Hotel, the Les Turner ALS Foundation raised more than $600,000 to continue the fight against ALS.
ALS, or amyotrophic lateral sclerosis, is a progressive neurodegenerative disease that affects nerve cells in the brain and spinal cord. A person's brain loses connection with the muscles, eventually causing the loss of one's ability to eat, walk, talk, and breathe. ALS affects approximately 350,000 people around the world, and there is currently no cure for the disease. Since 1979, the Les Turner ALS Center at Northwestern Medicine has partnered with the Les Turner ALS Foundation to advance ALS research and provide life-enhancing treatment to those living with ALS.
This year's gala comes after a promising year of medical research. Two new drugs for treating ALS—RELYVRIO™ and an oral form of Radicava (RADICAVA ORS®)—received FDA approval in 2022.
"Behind every new drug are clinical trial participants, and at our Lois Insolia ALS clinic, we hosted clinical trials for both of the new drugs that were approved last year," said Andrea Pauls Backman, the Foundation's chief executive officer, in opening remarks. "Thanks to donors like you, we were able to offer the people we serve access to these trials. And thanks to those participants, the entire ALS community has better treatments for this disease."
Robert Kalb, MD, the Joan and Paul Rubschlager Professor of Neurology, chief of Neuromuscular Disease in the Ken and Ruth Davee Department of Neurology and director of the Les Turner ALS Center at Northwestern Medicine, says he is hopeful about the future of ALS research.
"You have to be optimistic as you do this, and you have to be open-minded that some new breakthrough will occur," Dr. Kalb said. "The most important thing is optimism."
The event also highlighted the work of ALS advocates and supporters.
Brian Wallach and Sandra Abrevaya received the Harvey and Bonny Gaffen Advancements in ALS award. In 2017, Wallach was diagnosed with ALS at the age of 37. After his diagnosis, the couple took their years of experience working in Washington, DC for the Obama administration to help pass the Accelerating Access to Critical Therapies for ALS Act in 2021, which increased federal funding for ALS research and allowed individuals with ALS to access new drugs in clinical trials faster.
"Instead of sitting on the sidelines, they transformed tragedy into purpose," said  Congressman Mike Quigley, of Illinois, who sponsored the bill, as he introduced Mr. Wallach and Ms. Abrevaya.
Janie Gobeli, who is living with ALS, presented First Bank Chicago with the Hope and Caring Award for its 22 years of support for need-based grant programs for people living with ALS and their families.
Ms. Pauls Backman, who announced recently that she will step down as CEO of the Les Turner ALS Foundation, was honored during the gala for her eight years of service in the role. Under her leadership, the Les Turner ALS Foundation grew in its partnership with the Les Turner ALS Center at Northwestern Medicine to support research and clinical care for patients.
For over 40 years, the Les Turner ALS Foundation has partnered with Northwestern's Les Turner ALS Center, opening the first ALS research laboratory in 1979. Over the years, the Foundation has contributed more than $32 million to Feinberg, and it continues to partner with the medical school to raise $10 million to endow the center in perpetuity.
By: Christen Gall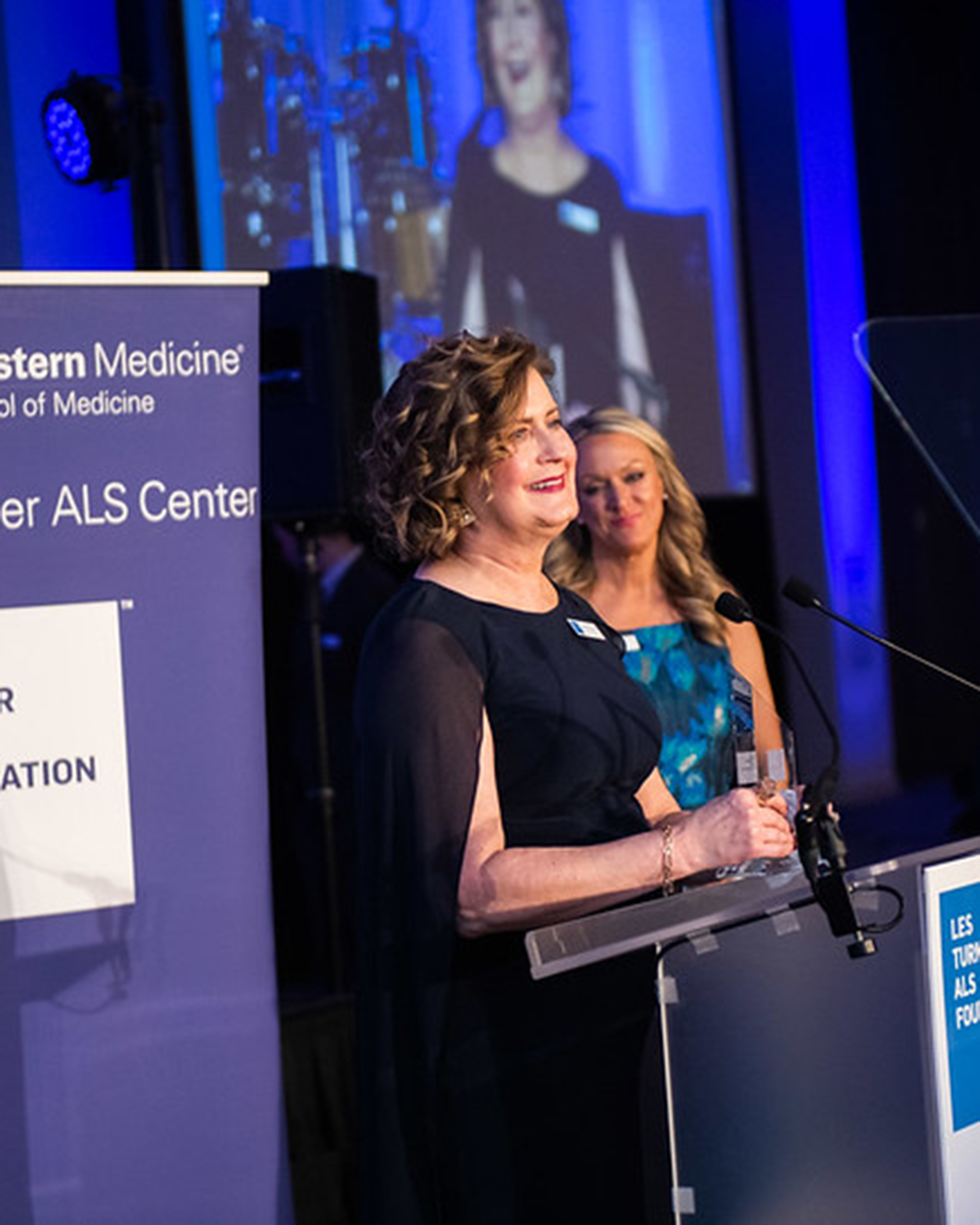 Make a gift to support ALS research.
For more information about supporting the Les Turner ALS Center, please contact Andrew Christopherson at andrew.christopherson@northwestern.edu or 312-503-3080.