Impact Story: Sabrina Kendrick, MD, '86 WCAS, '95 GME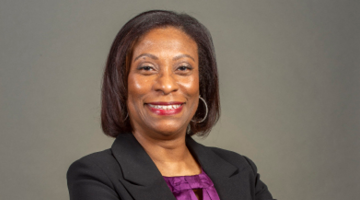 Member of the Service Society, The Founders Society-NULC (Member), and Medical Alumni Association Board Member
This story was published in The Founders Society Impact Stories, a publication that highlights leadership donors to various areas of Northwestern University Feinberg School of Medicine. Read the whole issue here.
October 25, 2023
Raised on Chicago's south side, Sabrina Kendrick, MD, '86 WCAS, '95 GME, dreamed of becoming a doctor. Without any role models for medicine, she turned to the Chicago Area Health and Medical Careers Program for mentorship. For more than 40 years, the program has introduced the city's underrepresented youth to careers in medicine. She recalled, "Seeing doctors taking care of patients made me think that maybe I could be one, too."
In 1986, Dr. Kendrick graduated from Northwestern with a BA degree in psychology. After earning her MD from the Chicago Medical School at Rosalind Franklin University, she went to Emory University for her internal medicine residency and returned to Northwestern for an infectious diseases fellowship. A longtime faculty member at Rush University, Dr. Kendrick focuses on the care of patients with HIV/AIDS. This March, she was named director of Inpatient HIV Services at John H. Stroger, Jr. Hospital of Cook County.
Dr. Kendrick has given back to her alma mater in many ways—especially through the gift of time. She has mentored undergrads through the Northwestern University Black Alumni Association (NUBAA). Two years ago, she joined the Medical Alumni Association Board and helped launch the Board's Inclusion and Allyship Subcommittee. The group works to support all Feinberg alumni and students who represent diverse experiences of ethnicity, gender, sexual orientation, religion, age, socioeconomic status, and/or physical ability.
Here, Dr. Kendrick shares more about her Northwestern experience and why she gives her time and support.
How did Northwestern help shape your career?
I became interested in infectious diseases just at the forefront of the HIV/AIDS epidemic. Although it was a scary time in healthcare, I loved taking care of these patients. Northwestern's infectious diseases faculty were pioneers in the field. I got the best training from Dr. John Phair, who was head of the division when I was a fellow. Because of Northwestern, I have successfully been able to care for HIV positive patients for the past 28 years.
What inspires you to donate your time to Northwestern?
Many people volunteered tidbits of advice to help me become who I am today. I wouldn't have known what to do without their kindness. It is important for me to do the same for others. In October 2021, I hosted an Alumni Physicians of Feinberg event for first- and second-year students to talk about subspecialty training. At that stage, students have no idea where to start. Step by step, I shared how I became an infectious diseases specialist.
Why do you support the Feinberg Promise Scholarship?
I was the first Black fellow in my division at a time when Northwestern was not diverse. I have long supported NUBAA's Promise Scholarship fund to support students of color. When the Feinberg Promise Scholarship was created, I also was happy to support it. Many medical students face financial hardship. Because of the opportunities that were afforded to me, I am reaching back and helping others because they need our help.
---
For information on the Feinberg Promise Scholarship and alumni volunteer opportunities, please contact Allison Glibowski at allison.glibowski@northwestern.edu.