Impact Story: Pon Satitpunwaycha MD, '69 GME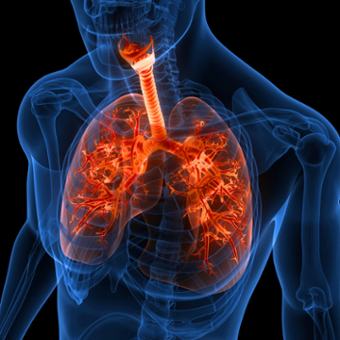 Member of the Benefactor Society and The Founders Society-NULC (Founder's Circle)
This story was published in The Founders Society Impact Stories, a publication that highlights leadership donors to various areas of Northwestern University Feinberg School of Medicine. Read the whole issue here.
September 15, 2023
During his 42 years in practice, Houston-based general surgeon Pon Satitpunwaycha, MD, '69 GME, witnessed many transformative changes in medicine that vastly improved patient care. Now retired and living in Seattle, "Dr. Pon," as he is known, is helping to lead lifesaving innovations in lung transplant surgery at Northwestern University Feinberg School of Medicine through his exceptional generosity.
Always grateful for his Northwestern training, this native of Bangkok, Thailand, had previously funded a resident research program in the Department of Surgery. When he retired in October 2020, he had the opportunity to do even more to support his alma mater. In two separate gifts of $500,000, he has contributed a remarkable $1 million to support research in the Division of Thoracic Surgery and specifically, the groundbreaking work of Ankit Bharat, MBBS, chief of Thoracic Surgery and director of the Northwestern Medicine Canning Thoracic Institute.
In June 2020, a Northwestern Medicine organ transplant team led by Dr. Bharat, the Harold L. and Margaret N. Method Professor of Surgery, performed the nation's first double-lung transplant on a young woman with lungs damaged beyond repair by COVID-19. In September 2021, Dr. Bharat's team built on what they learned to perform the first double-lung transplant on a middle-aged man with stage 4 lung cancer and only weeks to live. This innovative achievement saved the patient's life. It also launched a first-of-its-kind clinical program at Northwestern Medicine called Double Lung Replacement and Multidisciplinary Care (DREAM)—which is now gaining momentum thanks, in part, to the support from Dr. Pon's charitable trust.
"As an alum, I am so proud of Dr. Bharat and his dedication to saving the lives of patients," says Dr. Pon. "He is a distinguished specialist in lung disease who is helping to make a hopeless situation for lung cancer patients hopeful." The leading cause of cancer-related deaths in the United States, lung cancer kills more people than colon, breast, and prostate cancers combined. Although Dr. Pon didn't care for patients with lung cancer in his surgery practice, he is well aware of the challenges in treating the disease. "Lung cancer has been with us for a long time, and yet the mortality remains so high."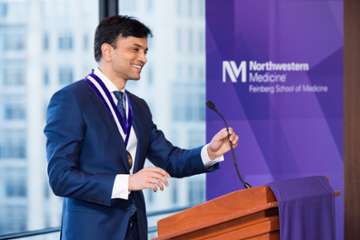 Dreaming Bigger
To date, the Northwestern transplant team has given new lungs to a total of five individuals with no other options. DREAM is for patients whose lung cancer has not responded to conventional or experimental therapies. Lung transplantation has not been commonly used to treat lung cancer for fear that cancer cells will travel from the lung into the rest of the body during the procedure, according to Dr. Bharat. However, Dr. Bharat and his colleagues have developed a workaround to that problem by using a bypass machine and then washing the airways and chest cavity to clear cancer before putting in the new lungs.
The only program of its kind in the country, DREAM not only provides patients with cancer-free lungs but also provides first-time access to diseased tissue. "These biosamples have never before been available," says Dr. Bharat. "Now we have an opportunity to study the genetics of resistance to therapy so we can identify new targets and develop more effective treatments."
Improving Screening and Diagnosis
While smoking is a driving factor for the majority of lung cancers, some 20,000 to 40,000 lung cancers each year occur in people who have never smoked or smoked fewer than 100 cigarettes in their lifetime, according to the Centers for Disease Control and Prevention. At the moment, current screening guidelines for lung cancer only focus on the heaviest smokers, leading to many undetected lung cancers in people deemed at low risk.
Says Dr. Bharat, "We need to develop universal lung cancer screening to capture more patients with non-tobacco-related disease."
To that end, Dr. Pon's generosity is also supporting an innovative initiative called the "Friends and Family Program." Patients with lung cancer are asked to identify individuals within their circles who might be at risk and could benefit from screening. The homegrown Northwestern program has already identified lung cancer in individuals who would have never met the narrow criteria for screening now in place, according to Dr. Bharat.
A skilled surgeon and prolific innovator, Dr. Bharat has no shortage of ideas for helping patients in the best and worst of times. "I am so grateful for Dr. Pon's support and for his trust in us," says Dr. Bharat. "He has helped to provide the catalyst for our programs and set us on a very good path moving forward."
For more information on the Division of Thoracic Surgery, contact Dave McCreery at david.mccreery@northwestern.edu or 312-503-6099.