H Foundation Supporters Celebrate Cancer Advancements at 21st Annual Goombay Bash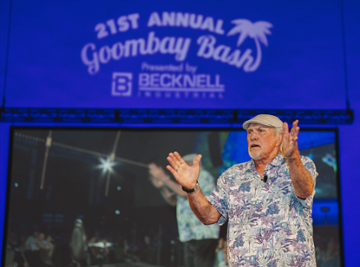 August 10, 2023
More than 1,000 friends and supporters of The H Foundation came together on Saturday, July 22, at the 21st Annual Goombay Bash presented by Becknell Industrial, held at the Aon Grand Ballroom at Navy Pier. This year's Caribbean-themed event raised more than $900,000 to support basic science cancer research at the Robert H. Lurie Comprehensive Cancer Center of Northwestern University.
Highlights of the evening included celebrity guest of honor Terry Bradshaw, co-host and analyst on Fox NFL Sunday and NFL legend. He shared his own personal experience with cancer as well as anecdotes and stories from his days as a professional football player. Longtime friends and supporters of The H Foundation Jim and Karen Peterik served as the Honorary Chairs of the Goombay Bash. Jim Peterik is best known as the vocalist and songwriter of the Ides of March, former member of the rock band Survivor, and co-writer of many top-ten platinum hits for .38 Special. At the event, the Peteriks were honored with a choral performance of Jim Peterik's famous song "Eye of the Tiger" by performer John Vincent; Walt Whitman and The Soul Children's Choir of Chicago; violinist Patricia Treacy; musical director Gene Garcia; and cellist Ryan Carney.
Since its inception in 2001, The H Foundation has been an extraordinary champion and philanthropic partner of Lurie Cancer Center.
"The H Foundation has provided us with $11 million in philanthropic funding that we've leveraged at Northwestern to compete for and attract $250 million in federal grant awards," said Milan Mrksich, PhD, vice president of Research at Northwestern University. Dr. Mrksich is the Henry Wade Rogers Professor of Biomedical Engineering and a professor of Cell and Molecular Biology with appointments in the Feinberg School of Medicine, McCormick School of Engineering, and Weinberg College of Arts and Sciences.
"To pursue the bold and disruptive research ideas in cancer, we need a group like The H Foundation to empower our scientists and clinicians to try new treatments and change lives. Every dollar goes to our laboratories and to seed projects that can change the future of cancer treatment and care. We thank the community of The H Foundation for helping us to take chances in basic sciences research that can ultimately translate to outstanding clinical care," he said.
The H Foundation was founded by a group of friends as a tribute to their friend Pam Herts, who lost her battle with breast cancer in February 2001 at the age of 31. With the success of this year's Goombay Bash, the foundation has now raised over $12 million for Lurie Cancer Center through its events and fundraising outreach. The H Foundation has grown into a true fundraising powerhouse, sharing its message that cancer is personal to all of us.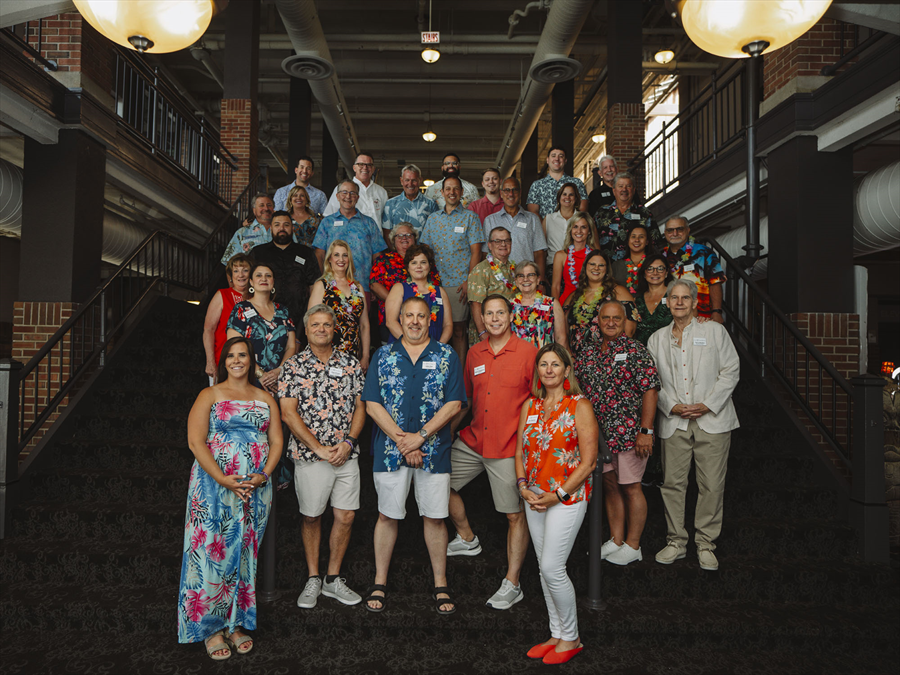 Pictured: Friends and supporters of The H Foundation celebrated advances in cancer research and raised funds that will support the Robert H. Lurie Comprehensive Cancer Center at the annual Goombay Bash.
Watch the video featured at the event