Alumni and Friends Celebrated for Dedication to Scholarships
October 16, 2023

On October 14, medical students and leadership celebrated and thanked alumni and friends for their life-changing support of future physicians at a special Commitment to Scholarships luncheon at the Ritz-Carlton, Chicago.
"We are so proud of our student scholars and the great promise they hold for the future of medicine. You, our students, truly embody the future of healthcare," said Marianne Green, MD, vice dean for Education and the Raymond H. Curry, MD, Professor and chair of Medical Education.
"Why are we here? It's because we understand the importance of not just keeping up but surpassing our peer institutions in raising funds for scholarships," Dr. Green continued. "This commitment to excellence is what allows us to remain competitive. When we bestow prestigious scholarship awards, we are not only attracting exceptional students from diverse backgrounds and experiences, but also empowering them to create extraordinary legacies, much like many of you are already doing."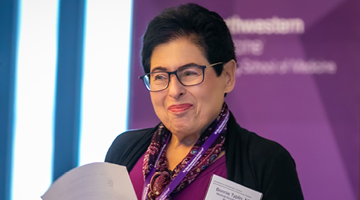 Attendees heard from Bonnie Typlin, '74 MD, a retired pediatrician of 40 years, founding partner of Child and Adolescent Health Associates, and past president of Northwestern's Medical Alumni Association. A former scholar herself, she said she relied upon financial support to attend medical school and still needed decades to pay off her medical school debt. Today, she is a staunch advocate for scholarships, and she oversees the Class of 1974 Scholarship endowed in 2011.
"I hope my and my classmates' contributions relieve some of the burden for today's students," Dr. Typlin said in her remarks. "A Northwestern education opens doors for residencies, fellowships, and great jobs far more than so many other institutions."
Today, the Northwestern University Feinberg School of Medicine scholarship endowment is $249.7 million, with 66% of medical students receiving scholarship assistance thanks to thousands of donors who have made outright and estate gifts. The medical school hopes to someday provide full tuition support to all of its medical students, which will require quadrupling the current endowment.
Scholar Stories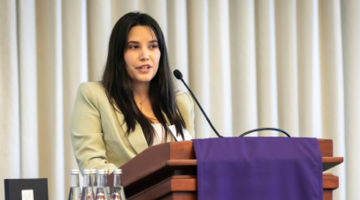 At the event, two current scholarship recipients, both second-year medical students, shared their stories with the donors supporting their educations.
Jethel Hernandez, the Dr. Gregory A. and Mary V. Stainer Scholar, was called toward a career in medicine after her mother was diagnosed with an inflammatory disease. During this scary and uncertain time for her and her family, she was touched by the compassion shown by the medical professionals who treated her mother in her home country of Cuba. "I vividly remember every one of my mother's hospital admissions, but I also remember the first physicians I ever met. They were kind and patient despite the less-than-ideal circumstances," Ms. Hernandez said.
These interactions inspired her to pursue a career through which she could provide care and guidance to families in times of need. But her path was not easy: She withstood advisers who tried to steer her into other professions, and she struggled with self-doubt over how she would contribute when she didn't see many other Latinas represented in the medical field. The financial burden of medical school tuition made her dreams feel even more unattainable.
"Feinberg envisioned my greatness, even when I didn't know what that would look like," Ms. Hernandez said. "When confronting the financial burden of attending medical school could no longer be postponed, the notice of my scholarship award lifted the weight of doubt that loomed over me and my family when we wondered how I could afford to attend a school where yearly tuition surpasses my family's income."
Tim Sanford, of Oakland, California, attributed his interest in medicine to the Indigenous principles instilled in him by his beloved grandmother, who helped raise him through his adolescence. Crucially, he said, his grandmother taught him the importance of community and reciprocity—values he now sees as paramount to the medical profession.
"My experiences and values have shown me that medicine is, at its core, a practice of reciprocity grounded in both science and compassion," he said.
A Medical Alumni Scholar, Mr. Sanford said that supporting medical students through scholarships is the embodiment of these values. "I am humbled to be embraced by such an accomplished and respected community, and I hope to use the gift that you have given me and my peers in the future to help others realize their dreams of careers in medicine," he said.
Standout Supporters
Two exemplary donors were honored with Crystal Apple Awards for their earnest support of scholarships at Feinberg.
The first awardee was retired pulmonologist David Sanderson, '58 MD, a dedicated alumnus and longtime Medical Alumni Association board member. He has provided unwavering support for scholarships and annual fund for nearly half a century, and in 2022, he and his wife, Evelyn, established the David R. and Evelyn L. Sanderson Endowed Scholarship. He resides in Phoenix, where he spent much of his distinguished career at the Mayo Clinic.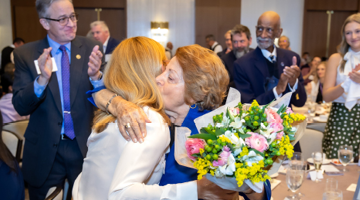 Sally Edelsberg, '72 MS, an associate professor emeritus in the Department of Physical Therapy and Human Movement Sciences and former director of the physical therapy program from 1972-99, also was awarded a Crystal Apple. She has supported the Sally Edelsberg Scholarship in Physical Therapy since it was established in her honor in 1999, and she remains close with the department, its students, and alumni.
"We extend our heartfelt gratitude to the steadfast donors who have been supporting our scholarship initiatives year after year, and we warmly welcome new supporters into our scholarship family," Dr. Green said. "Your unwavering dedication ensures that we continue to provide life-changing opportunities to our medical students, and together we are shaping the future of healthcare," Dr. Green said.
Learn more about supporting scholarships at Feinberg.
For more information, please contact Larry Kuhn at larry-kuhn@northwestern.edu or 312-503-1717.