Young Philanthropists on Associate Board of Lurie Cancer Center Support Early-Stage Cancer Research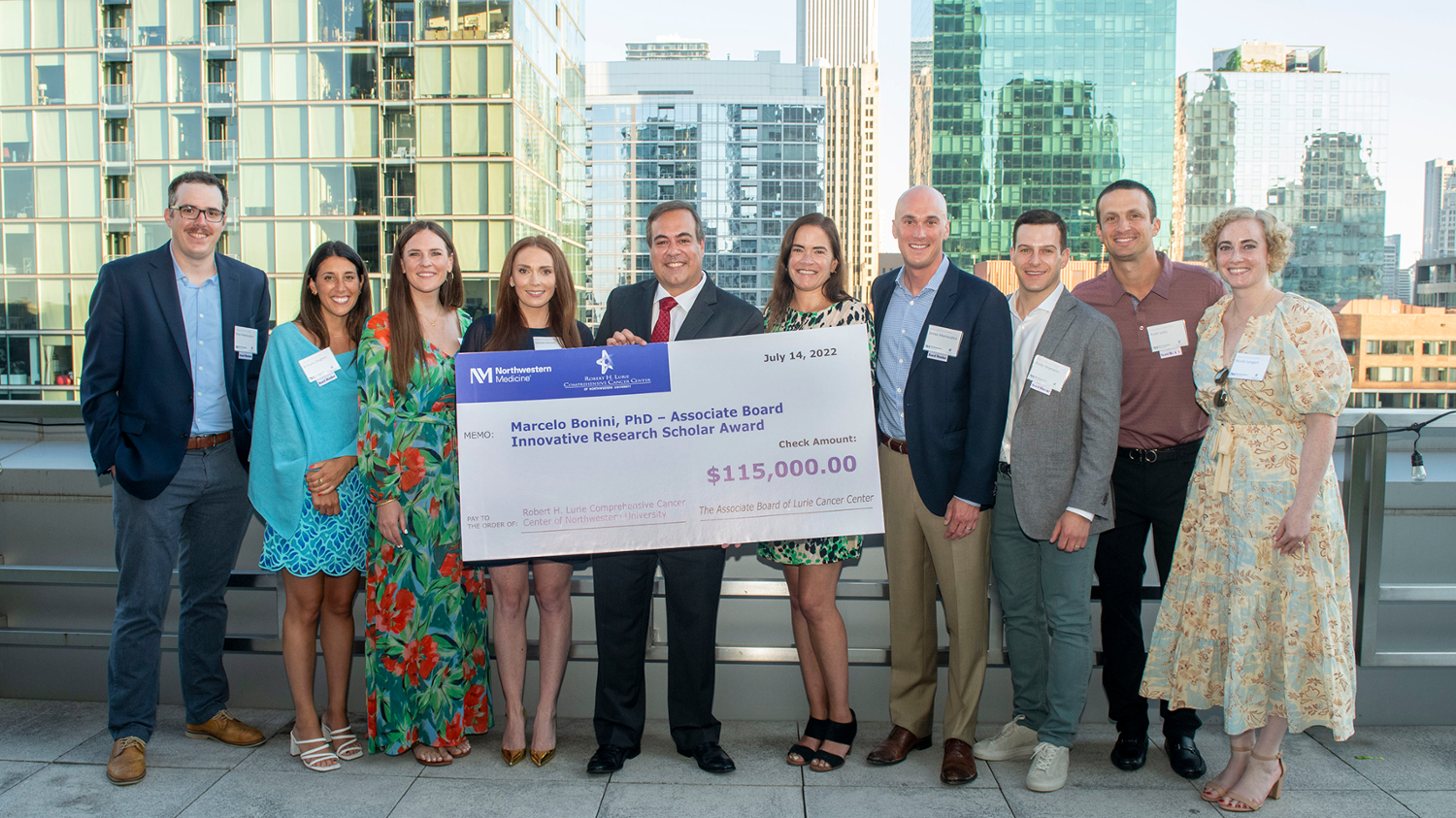 Register: 2023 Associate Board of Lurie Cancer Center Summer Cocktail Reception on July 20

Watch: A Thank You to the Associate Board of Lurie Cancer Center
The newly formed Associate Board of Lurie Cancer Center held a cocktail reception on July 14, 2022, at Woodwind restaurant in Chicago. Throughout the year, these dedicated young professionals have raised $115,000 to support cancer research at the Robert H. Lurie Comprehensive Cancer Center of Northwestern University.
The event celebrated the recipient of the first Associate Board Innovative Research Award: Marcelo Bonini, PhD, professor of Medicine in the Division of Hematology and Oncology (pictured above with Associate Board members). His laboratory studies how changes in the electrochemical balance of the nucleus alter gene expression patterns and affect cancer growth.
"Any scientist dreams of discovering something that will positively impact society. In my case, the dream is to diminish suffering and provide new, more effective treatments for cancer patients. With the investment from the Associate Board, we will develop and test new pharmacologic agents to treat incurable metastatic breast cancer," shared Dr. Bonini. "I could not be more grateful to the Associate Board for putting me and my team one step closer to realizing the dream.
The Associate Board is led by inaugural co-chairs Louise Arnott, JD, and Jamey Maniscalco, PhD.
"As longtime volunteers and supporters of Lurie Cancer Center, Jamey and I identified a need for a young professional board to foster philanthropy and community service specific to Lurie Cancer Center, which is at the forefront of innovative cancer research and patient care. I am excited to lead with Jamey an impressive group of professionals," said Ms. Arnott, a partner at law firm Michael Best & Friedrich LLP.
"As a board, we are committed to advancing cancer research that has the potential to bring new therapies and cures to patients, and to improve the overall patient experience through volunteering," she explained. "A simple act such as delivery of a fresh and healthy meal through our wonderful partner Culinary Care to patients in the outpatient setting can drastically improve a patient's overall treatment experience."
"I am thrilled to co-chair the Associate Board alongside Louise," said Dr. Maniscalco, an assistant professor of Neuroscience at Regis University in Denver. "I experienced the world-class care provided at Lurie Cancer Center while my father was being treated for lung cancer, and I am thankful to have a meaningful way to support this wonderful institution."
"Our board not only raises money for early-stage oncology research but also learns about proposed studies from faculty at Feinberg and Northwestern Memorial Hospital during an annual grant review process," he added. "By reviewing grant proposals and allocating funds to an annual award winner, we hope to support novel and impactful research that will improve the lives of cancer patients and their families."
For more information about supporting the Associate Board of Lurie Cancer Center, please contact Nicole Langert at nicole.langert@northwestern.edu or 312-503-1656.