Land Supports Trainees and Forensic Psychiatry in Multifaceted Gift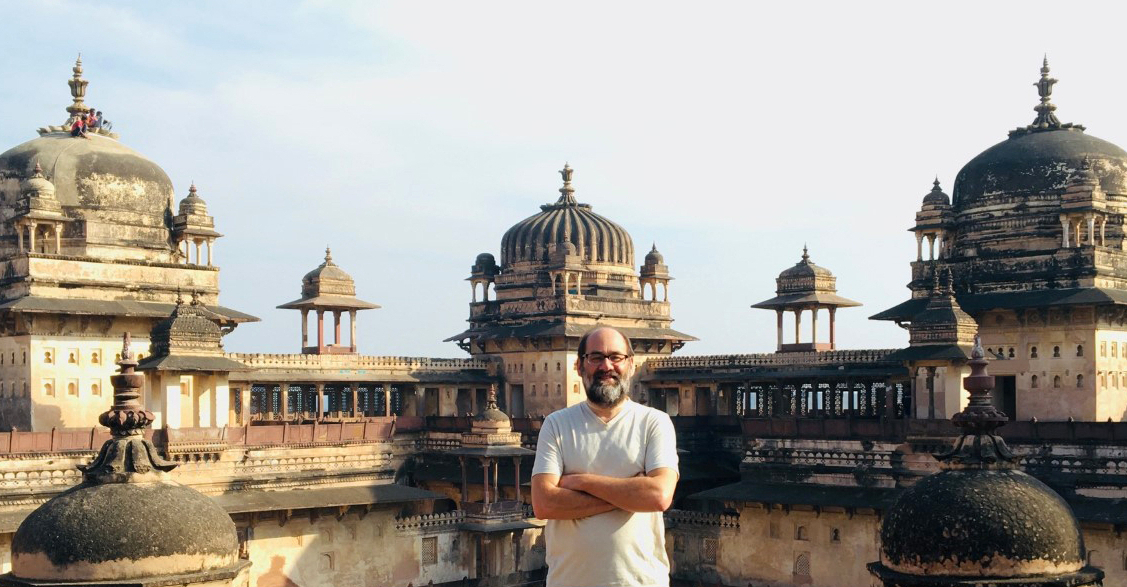 This story was published in the September 2022 issue of The Philanthropist, a newsletter for supporters and friends of Northwestern University Feinberg School of Medicine. Read the whole issue here.

Pictured above: Dr. William Land sightseeing in Orchha, India.
To show appreciation for the medical education he received at Northwestern and the foundation it set for his career as a forensic psychiatrist, William Land, '87 MD, '88 GME, has committed to supporting Northwestern University Feinberg School of Medicine students and residents who will follow in his path.
"I have always been grateful for the outstanding education I received at Northwestern," Dr. Land said. "As I approach retirement and hang up my white coat, I am inspired to help out the next generation of physicians as they put on theirs."
In addition to participating in Feinberg's annual white coat campaign, Dr. Land recently gave a multifaceted gift to support commencement regalia and tassels for fourth-year medical students; scholarships in honor of Jack Snarr, '67 PhD, and James Webster, '56 MD, '60 '64 GME (a former classmate of Dr. Land's father, Richard Land, '56 MD); and luncheons for residents and rotating medical students in the Department of Psychiatry and Behavioral Sciences. Dr. Land has also documented a generous bequest to Feinberg to establish a fellowship or professorship in forensic psychiatry.
It was during a psychiatry rotation at Chicago's West Side VA Medical Center (today known as the Jesse Brown VA Medical Center) that Dr. Land realized he wanted to specialize in psychiatry. After an internship in internal medicine at Northwestern, he went on to a psychiatry residency at Harvard Medical School and the Massachusetts Mental Health Center in Boston. He then completed a fellowship in forensic psychiatry through Harvard and the Massachusetts Department of Corrections at Bridgewater State Hospital, where he learned to conduct forensic mental health evaluations for the court system. In the 30 years since, he has practiced forensic psychiatry working on various types of civil and criminal cases and developed a particular interest in the geriatric population and evaluating their decision-making capacity.
"You don't know what career path you're going to land on when you're a medical student, but you can count on being constantly amazed and challenged and rewarded for doing the work that you do, even if it's not the path that you originally thought you would take," Dr. Land shared.
Dr. Land said that the dedication he witnessed in the Northwestern faculty stuck with him throughout his career. "They worked so hard to deliver the best care to their patients, and they inspired me to work hard."
At the same time, Dr. Land believes in the importance of taking breaks—slowing down to refuel so you can provide the best care. Dr. Snarr, former dean of students, encouraged Dr. Land to travel to India during his third year of medical school, instilling Dr. Land's lifelong love of travel. Through his gift to psychiatry trainees, Dr. Land hopes to encourage residents and students to take a break from their busy schedules to learn, socialize, and focus on their own well-being.
"I am touched by Dr. Land's thoughtful generosity to our students, residents, and department," said Sachin Patel, MD, PhD, chair and Lizzie Gilman Professor of Psychiatry and Behavioral Sciences. "Through his impactful career and his philanthropy, Dr. Land sets a wonderful example for us all."
For more information about supporting the Department of Psychiatry and Behavioral Sciences, please contact Andrew Christopherson at andrew.christopherson@northwestern.edu or 312-503-3080. For more information about supporting Feinberg students, please contact Vic Maurer at victor.maurer@northwestern.edu or 312-503-2417.