Impact Story: Lori Post, PhD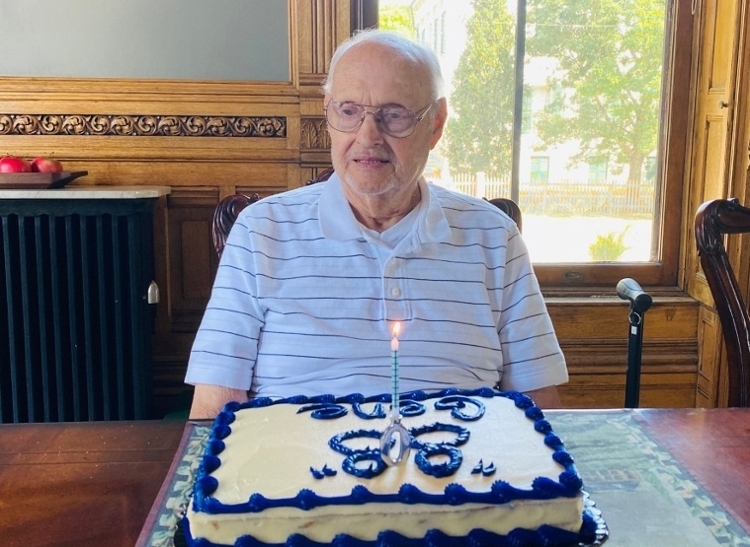 Member of The Founders Society-NULC (Sustainer)
Lori Post, PhD, is a dedicated faculty member and supporter of Feinberg. In 2021, Dr. Post tragically lost her father, Eugene, to COVID-19. In an effort to prevent other families from losing a loved one to COVID-19, she decided to support an initiative at Northwestern called COVID-19 Vaccine Communication and Evaluation Network (CoVAXCEN).
CoVAXCEN brings together a panel of experts in immunology, infectious disease, epidemiology, regulatory science, and health communication. CoVAXCEN is headquartered in the Robert J. Havey, MD Institute for Global Health's Center for Global Communicable and Emerging Infectious Diseases.
A primary goal of CoVAXCEN is to produce and disseminate written materials for scientists, healthcare professionals, and the general public about the safety and efficacy of COVID-19 vaccines. Here, Dr. Post reflects on the loss of her father to COVID-19 and on her support of CoVAXCEN.
"As a former communication science research dean and professor, I am keenly aware of the power of  communication science to change hearts and minds and ultimately behavior. Health communication campaigns educate people about sickness and death, as well as influence people to adopt healthier behaviors. After all, it was health communication campaigns that turned the tide on seatbelt use, reframed AIDs from 'gay cancer' to HIV prevention, and even convinced people to wear sunblock to stop skin cancer. These same strategies are used to communicate why vaccines are needed, their efficacy, and safety."

—Lori Post, PhD, Director of the Buehler Center for Health Policy and Economics, Professor of Emergency Medicine and Medical Social Sciences, and the Buehler Professor of Geriatric Medicine
"We placed our father, Eugene Post, in a long-term care facility in December 2020. Even though COVID-19 was killing older adults in long-term care settings, I believed that mRNA vaccines would protect him. I was stunned when the nursing home administrator said, 'We are not required by law to disclose whether or not the staff are vaccinated.'
I asked again, 'I understand you are not required to disclose, but can you tell me if my father is safe?'
In fact, he wasn't safe. In the aftermath of my father's senseless and preventable COVID-19 death, I felt helpless and guilty that my dad died alone and afraid because healthcare workers refused to vaccinate. Soon thereafter, I learned about the CoVAXCEN initiative, led by Dr. Robert Murphy, aimed at increasing vaccinations to combat the SARS-CoV-2 pandemic. Donating to CoVAXCEN gave me a way to honor my father. My contribution helped to prevent others from losing a parent to COVID-19."
For more information about the Robert J. Havey, MD Institute for Global Health, contact Jenn Burke at jennifer.burke@northwestern.edu. 
This story was published in The Founders Society Impact Stories, a publication that highlights leadership donors to various areas of Northwestern University Feinberg School of Medicine. Read the whole issue here.