Havey Institute for Global Health Celebrates Transformative Work to Boost Health in Low-Income Countries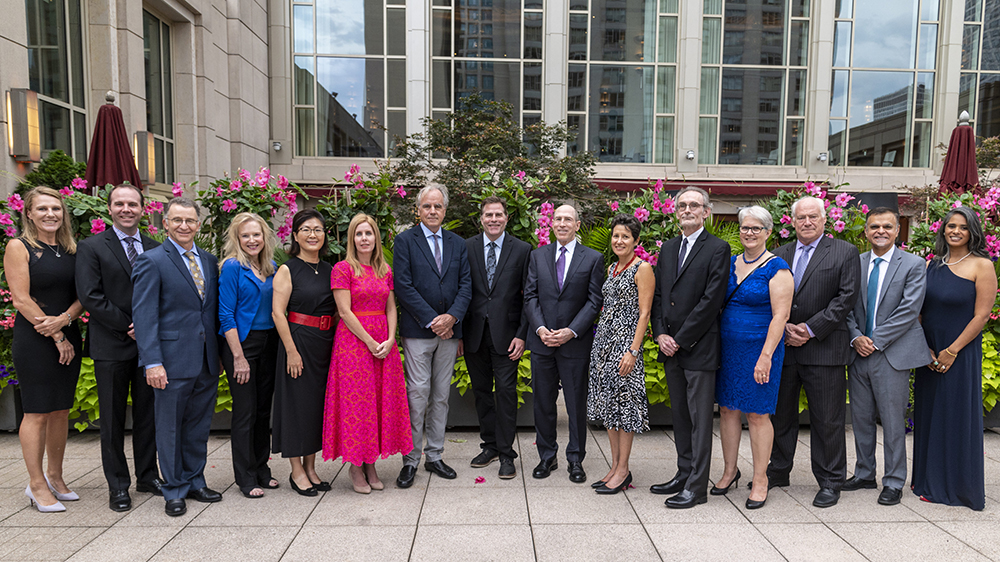 Above: The Havey Institute for Global Health leadership at the 2022 benefit dinner.
On September 21, 2022, more than 250 friends and members of Northwestern University Feinberg School of Medicine came together to support an important mission: sustainably combating healthcare problems in low-income countries across the world. The 15th Annual Robert J. Havey, MD Institute for Global Health Benefit Dinner took place in person for the first time in three years at The Peninsula Chicago.
The institute's leadership shared success stories and updates on projects being carried out around the world—much of the work made possible by philanthropy. This year, generous donors funded research, training, and clinical outreach programs led by the Havey Institute for Global Health.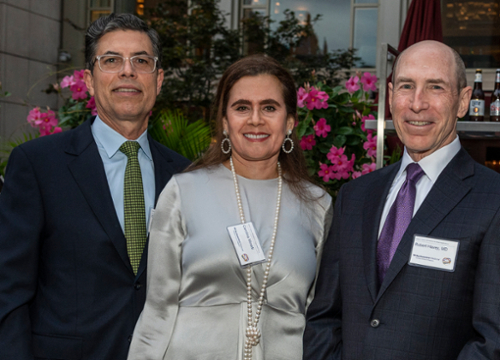 "Whether small, medium, or large, all of us at the institute appreciate every gift we've received these last 15 years—they've all helped expand our global impact," said Robert J. Havey, '80 MD, '81, '83 GME, deputy director of the institute.
In 2009, global health activities at Feinberg involved about 30 faculty and staff, and a student travel program in a handful of countries. Today, the Havey Institute for Global Health has 300 members, 9 centers, more than 50 partner sites and collaborations across the world, and the top global health rotation program for medical students in the country. In addition, in just the past three years, the institute has funded 71 research projects through its research catalyzer grant—providing up to $25,000 per project.
One catalyzer project, a portable device called DASH that can deliver accurate 15-minute PCR tests, went on to receive a $21.3 million grant from the National Institutes of Health to ramp up production for COVID-19 testing. It received emergency FDA approval earlier this year and could revolutionize testing in countries with poor access to modern healthcare. 
"This super achievement couldn't have happened without all of you who supported our institute," said Robert L. Murphy, MD, '81 '84 GME, executive director of the institute and the John Philip Phair Professor of Infectious Diseases.
Thanks to two leadership donors in particular, the institute's work building critical healthcare infrastructure can continue in perpetuity. Shortly before the event, Northwestern University announced a gift from trustees and alumni Patrick G. Ryan and Shirley W. Ryan that will endow the institute's Ryan Family Center for Global Primary Care.
The event was emceed by acclaimed broadcast journalist Bill Kurtis, who also narrated a short documentary about the institute's work over the last year. The video showed the institute's scientists, clinicians, and educators training lab technicians in Peru, Bolivia, and Pakistan to sequence and surveil SARS-CoV-2 variants; establishing long-COVID clinics in Columbia and Nigeria; developing tools to diagnose tuberculosis faster in Mali; and teaching locals in Belize who don't have regular access to electricity how to use ultrasound machines and cell phones to diagnose pneumonias. 
Why I Give to Global Health

"We are big fans of Dr. Murphy, who has opened our eyes to all the efforts being done through Northwestern to better healthcare globally. There's so much positive coming out of the institute." —Mary and Ernie Kaminski, '83 MD

"Dr. Havey is an inspiration. While serving as our doctor for over 25 years, he's made us aware that we need to take action and help change the world." —Sharon Barrett and Stephen Coates

"The Havey Institute for Global Health is making giant steps. There are countries with hundreds of thousands of people without the doctors or tools they need. Northwestern is giving them the resources and training and building the technology to transform health." —Michael Brazeal
The video also showed Feinberg medical students involved in global health rotations, where they worked in low-resource settings and strengthened their commitment to health and patient care. 
"The more we do, the more we see needs to be done. We need to build a planet for the next 100 years," explained Dr. Havey. "Our children, grandchildren, and great-grandchildren are going to live here. We have a responsibility to build a world for them. That motivates everyone in this institute every day."
Learn more about the Havey Institute for Global Health.
Make a gift to support global health.  
For more information about supporting the Havey Institute for Global Health, please contact Jenn Burke at jennifer.burke@northwestern.edu or 312-503-4635.