Coffman Charitable Trust Brings Cutting-Edge Technology to Brain Tumor Research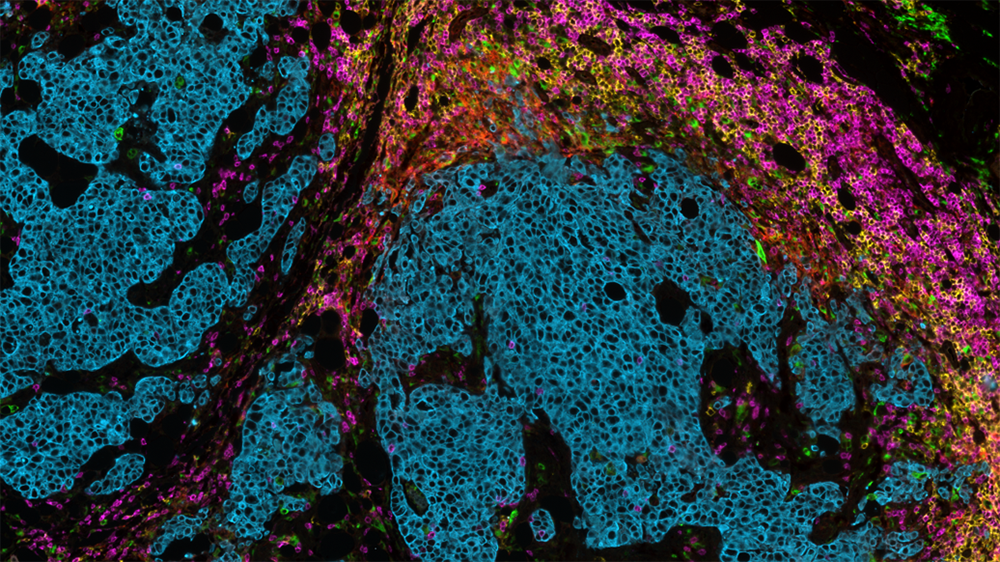 This story was published in the September 2022 issue of The Philanthropist, a newsletter for supporters and friends of Northwestern University Feinberg School of Medicine. Read the whole issue here.

Pictured above: A detailed visualization of cancer tissue produced by the COMET device. Image courtesy of Lunaphore.
Biomedical research is an arduous process, requiring not only scientific expertise and innovative thinking, but also staff, space, specialized equipment, and time.
With the stakes so high for patients with cancer and their families, anything that can be done to streamline that process is invaluable. With a personal understanding of those stakes, the Stephen M. Coffman Charitable Trust recently made a generous $750,000 gift to fund laboratory technology that will allow Feinberg scientists to study cancer cells faster, and in more detail. 
Since 2010, the Coffman Charitable Trust has given more than $1.9 million to support research in the Lou and Jean Malnati Brain Tumor Institute (MBTI) of the Robert H. Lurie Comprehensive Cancer Center of Northwestern University at Northwestern Memorial Hospital. Stephen M. Coffman, a former Northwestern Medicine patient who passed away in 2008 from a glioblastoma brain tumor, set up the charitable trust before his death.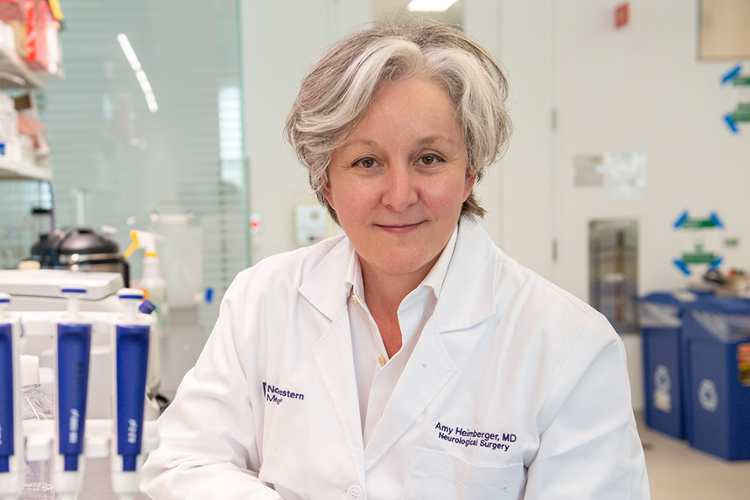 A Gift with Wide Impact

"Biomedical research traditionally had to focus on a single gene or a single cell type. But such an approach is completely insufficient for cancer, as cancer is a disease of interactions among a diverse array of tumor and non-tumor cells. The Lunaphore COMET device, which we were able to purchase because of the Stephen M. Coffman Charitable Trust, allows our scientists to better characterize cellular interactions and to use that knowledge to develop therapeutics focused on reshaping those interactions.

The device allows us to simultaneously evaluate multiple markers, in a single tissue section, at single cell resolution. Extracting so much spatial information in such a small amount of tissue is especially important, since many diseases of the central nervous system can only be sampled with a small biopsy, and thus would not be studied otherwise. With this technology, Northwestern investigators will be able to greatly increase the impact of their projects, research papers, and grant proposals." 

—Amy Heimberger, MD, scientific director of the MBTI and the Jean Malnati Miller Professor of Brain Tumor Research in the Department of Neurological Surgery
"After his diagnosis, Steve transferred all of his energy to raising funds and awareness about brain tumors," said Mark Hutchison, Mr. Coffman's partner of 25 years who administers the trust. "He did all he could for the people who would come after him—that's how he chose to live his last four years. He started a nonprofit and later set up this trust so that his mission would carry on."
The Coffman Charitable Trust's support over the years has helped MBTI scientists make important discoveries, including the identification of a key enzyme in glioblastoma progression, IDH1, and molecular compounds to suppress it. With the new gift, which funded the purchase of a device called the Lunaphore COMET, the team can take its research to the next level.
"Because of Steve's foresight and Mark's thoughtful stewardship of the Coffman Charitable Trust today, our scientists have technology they need to give patients with brain tumors hope that better treatments are on the way," said James P. Chandler, MD, co-director of MBTI and the Lavin/Fates professor of Neurological Surgery.
"Steve's legacy—not only his philanthropy but also his determination, altruism, and compassionate spirit—drives our present and future research," added Jeffrey Raizer, MD, former co-director of MBTI and an adjunct professor of Neurology in the Division of Neuro-oncology, who first treated Mr. Coffman at Northwestern after his diagnosis.
The new COMET device was installed in an MBTI laboratory this July with much excitement from the MBTI team. "Ultimately our hope is that a cure is discovered someday," Mr. Hutchison said. "But we also support whatever can be done to make people's lives better between now and then."
For more information about supporting Malnati Brain Tumor Institute, please contact Terri Dillon at terri-dillon@northwestern.edu or 312-503-4837.
Pictured below: The MBTI recently used its new technology to study a sample of pilocytic astrocytoma, a slow-growing tumor that starts in the brain or spine.