Thankful Patients Establish Ryan-Pusateri Professorship in Ophthalmology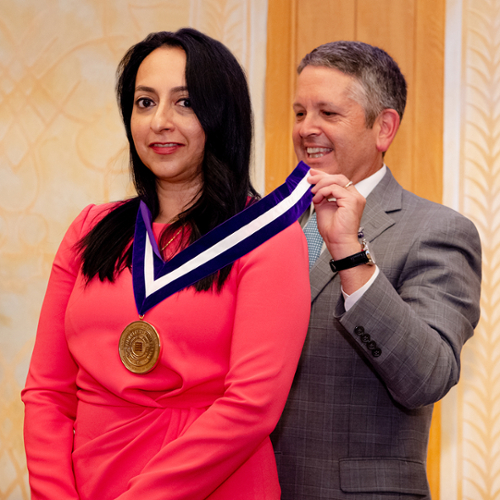 This story was published in the October 2021 issue of The Philanthropist, a newsletter for supporters and friends of Northwestern University Feinberg School of Medicine and Northwestern Memorial Foundation. Read the whole issue here.
Eve Pusateri has learned to never take her eyesight for granted. Like her mother in Germany years ago, she was diagnosed with age-related macular degeneration, which causes severe loss of eyesight for people 50 and older. Currently there is no cure for the disease, but skilled ophthalmologists can slow its course and, sometimes, help patients regain their sight.
Grateful for her care at Northwestern, Mrs. Pusateri has made generous gifts to the Feinberg School of Medicine to support the work of her ophthalmologist of nearly a decade, Rukhsana G. Mirza, MD, '06 GME. Mrs. Pusateri's philanthropy contributes to educational programs and research that could lead to better treatments and someday even a cure for macular degeneration.
With additional support from patients William G. and Mary A. Ryan and the Ryan Family Chair Challenge created by Northwestern Trustees and alumni Patrick G. Ryan and Shirley Welsh Ryan, Mrs. Pusateri's gifts also established the Ryan-Pusateri Endowed Professorship in Ophthalmology. Dr. Mirza is the inaugural holder of the professorship, which is named for Mrs. Pusateri and Mr. and Mrs. William and Mary Ryan.
"Dr. Mirza helped me very much, and today I still have my eyesight," shared Mrs. Pusateri, a long-time Chicago resident whose family, including five children and her late husband, Justice Lawrence X. Pusateri, have all been Northwestern patients over the years. "Dr. Mirza has been a wonderful physician to me and many other people who have problems with their eyes, and I wanted to do something to help in return."
"We have the utmost respect and confidence that Dr. Mirza and her team will continue to make great strides in research to end macular degeneration," said Mr. and Mrs. William and Mary Ryan. "We are so honored to be part of this groundbreaking research."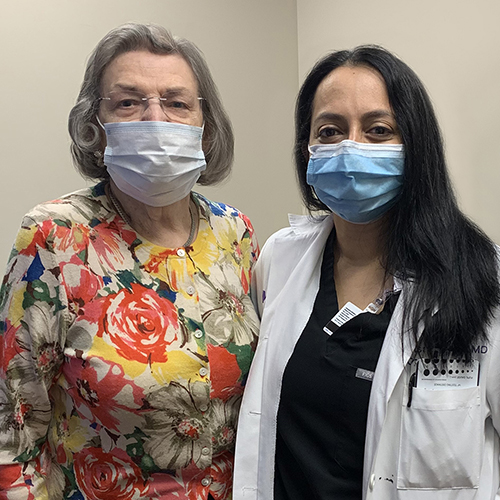 On the medical school's faculty since 2006, Dr. Mirza is a professor of Ophthalmology and Medical Education, and a specialist in medical diseases of the retina. In addition to being a busy clinician, she conducts research focused on ocular imaging and technology, macular degeneration, vascular diseases and medical education. Also a dedicated educator, Dr. Mirza is director of undergraduate medical education in the Department of Ophthalmology and associate program director for the retina fellowships.
"The field of retina is very exciting with cutting-edge developments that allow us to take the best care of our patients. I'm grateful that advances in just the past 20 years have allowed me to treat patients like Mrs. Pusateri, ultimately translating to maintenance of sight and independence," Dr. Mirza said. "I am also very grateful to patients who see us in the context of our academic mission. Mrs. Pusateri's gifts have significantly impacted my career and allowed me to spend time on research and developing educational programs that help us train the next generation of doctors."
A named and endowed professorship, created in perpetuity, represents the highest honor a university can bestow upon its faculty. These positions are reserved for Feinberg's most distinguished and productive physicians and scientists, like Dr. Mirza.
"This professorship is a spectacular example of how generosity from our patients, like Eve Pusateri and William and Mary Ryan, can combine with visionary philanthropists like Patrick and Shirley Ryan, to recognize the unique talents of our faculty and support a department committed to advancing vision care and research into new treatments," said Nicholas J. Volpe, MD, chair and the George W. and Edwina S. Tarry Professor of Ophthalmology. "With this gift, Dr. Mirza and the department can remain steadfast in our goal to treat patients with the best, most novel treatments and create new knowledge to more successfully treat patients for decades to come. We truly appreciate this support and feel empowered to make a difference."
For more information about supporting the Department of Ophthalmology, please contact Andrew Christopherson, PhD, at 312-503-3080 or andrew.christopherson@northwestern.edu.
Newly Named Professorships
Thank you to all the generous donors who support endowed professorships at the medical school. The following faculty were recently invested with a professorship made possible by committed philanthropists:
Hasan Alam, MD, the Loyal and Edith Davis Professor of Surgery
Amy Heimberger, MD, the Jean Malnati Miller Professor of Brain Tumor Research
Emily Jungheim, MD, MSCI, the Edmond Confino, MD, Professor of Obstetrics and Gynecology
Daniel Kim, PhD, the Knight Family Professor of Cardiac Imaging
Lee Ann Lindquist, '00 MD, '03 '05 GME, '05 MPH, '10 MBA, the George M. Eisenberg
Research Professor of Geriatric Medicine
Rukhsana Mirza, MD, '06 GME, the Ryan-Pusateri Professor of Ophthalmology
Seth Pollack, MD, the Steven T. Rosen, MD, Professor of Cancer Biology
Farzaneh Sorond, MD, PhD, the Dean Richard H. Young and Ellen Stearns Young Professor
Feng Yue, PhD, the Duane and Susan Burnham Professor of Molecular Medicine