Osher Foundation Invests in Future Integrative Medicine Leaders
What is Integrative Medicine?

According to the Osher Collaborative for Integrative Medicine, integrative medicine:

• Reaffirms the importance of the relationship between practitioner and patient, focuses on the whole person, is informed by evidence, and makes use of all appropriate therapeutic approaches, healthcare professionals, and professions to achieve optimal health and healing.

• Applies rigorous scientific research methods to evaluate physiological and therapeutic mechanisms, efficacy, and use of approaches in society as they affect health, resiliency, and well-being.

• Educates practitioners, public, and policymakers to appreciate and address the full range of physical, emotional, mental, social, spiritual, and environmental influences that affect health.
Adding to its storied history of philanthropy promoting health and wellbeing at Northwestern and across the world, The Bernard Osher Foundation has made a new $2 million commitment to the Osher Center for Integrative Medicine at Northwestern University.
The gift builds on a multimillion dollar endowment established by the foundation in 2014 that named the Osher Center and enabled it to flourish over the last six years. The additional funding will support training for the next generation of leaders in integrative medicine, which recognizes that health is a state of well-being in body, mind, and spirit reflecting aspects of the individual, community, and population.
"The Oshers have been visionary in the field of integrative medicine and certainly for us here at Northwestern," said Melinda Ring, MD, executive director of the Osher Center and clinical associate professor of Medicine and Medical Social Sciences at Northwestern University Feinberg School of Medicine. "Their support has made it possible for us to bring integrative medicine to health professionals, patients, and our community, and has furthered our mission to transform healthcare more broadly."
She added, "We would not be where we are today without the Oshers and are incredibly grateful to the Osher Foundation for this continuing support of our work."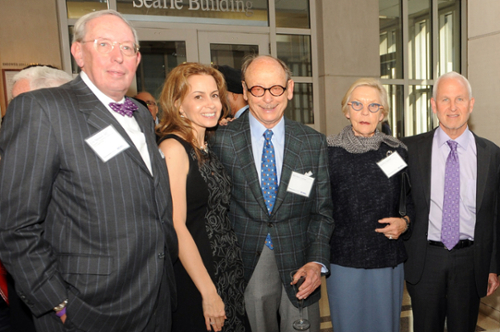 "We are pleased to augment our endowment support for Northwestern's Osher Center and wish our colleagues continued success with their important work in advancing the field of integrative medicine and in promoting health and well-being," said Mary G. F. Bitterman, president of the Osher Foundation.
Headquartered in San Francisco, California, the Osher Foundation was founded in 1977 by Bernard Osher, a well-respected businessman and community leader. The foundation seeks to improve quality of life by supporting higher education and the arts.
The new gift will allow Northwestern's Osher Center to nurture promising early career clinicians, educators, and investigators. The funding will provide junior team members with stipends and grants to learn new skills or to pursue teaching, research, and community engagement opportunities with protected time and mentorship.
"Thanks to the wonderful generosity of the Osher Foundation, our philanthropic advisory council, and many generous friends of the center, we continue to grow our team, our programs, and our impact," said Dr. Ring. "We've made immense progress and have many exciting ideas we hope to see come to fruition with ongoing support."
A testament to the center's success to date, Dr. Ring was recently selected to receive the Bravewell Distinguished Service Award. Presented by the Academic Consortium for Integrative Medicine and Health, the award is one of the highest honors in integrative medicine.
Among its future goals, the Osher Center hopes to establish two endowed professorships to ensure that Northwestern can continue to transform healthcare for years to come. These endowed professorships will enable the center's talented physician-scientists to lead research and education initiatives that will impact the lives of countless patients by promoting whole-person care within the medical field.
Learn more about the Osher Center for Integrative Medicine.