NDR Funds ALS Research at Northwestern with Global Ambitions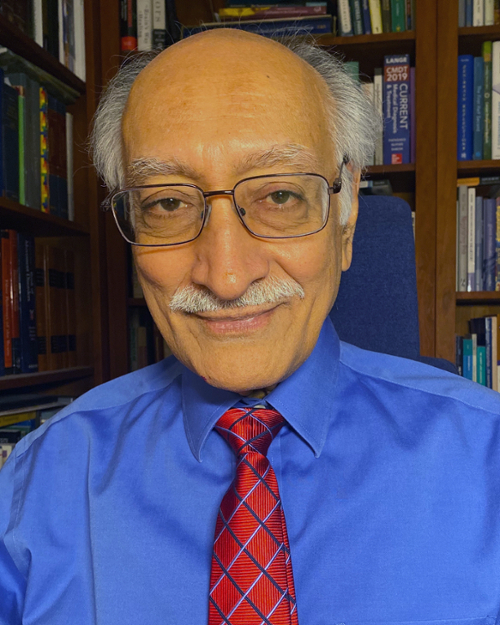 Neurodegenerative Disease Research, Inc. (NDR) has made a five-year, $12.5 million philanthropic commitment to Northwestern University Feinberg School of Medicine to support research in amyotrophic lateral sclerosis (ALS) led by groundbreaking physician and scientist Teepu Siddique, MD.
The funding will enable Dr. Siddique and his laboratory to implement novel projects, generate and test hypotheses of mechanism of disease, and integrate data from patients with ALS to inform new approaches to treatments for the disease, which currently has no cure. ALS is a rapidly progressive and fatal neurodegenerative disease that affects the nerve cells in the spinal cord and brain, leading to muscle weakness and atrophy, difficulty speaking and swallowing, and eventually complete paralysis.
"Since its organization in early 2020, NDR has supported research labs that have the potential to significantly help ALS patients and their families," said Siobhan P. Ellison DVM, PhD, president of NDR, a not-for-profit based in Florida. "The work done by Dr. Siddique over decades sets this research apart from other programs. We hope that novel analyses and a globally shared platform will accelerate discoveries and ultimately benefit ALS patients worldwide."
The new support adds to a previous $1.6 million three-year gift from NDR for Dr. Siddique's ALS research.
"This extremely unusual undertaking allows my group at Northwestern to create new knowledge in collaboration with scientists at other institutions and bring a change in the fundamental understanding of ALS at several levels," said Dr. Siddique, who is the Les Turner ALS Foundation/Herbert C. Wenske Foundation Professor at Feinberg. "NDR's extremely generous support will enable projects novel to the field that will break the stalemate in ALS research and treatment. It delights and excites me that we are once again at the threshold of a new beginning, reminiscent in its freshness of the first application of molecular genetics to ALS in 1985. It will also have a wider effect in the understanding of other neurodegenerations."
With the new funding, Dr. Siddique's team will also develop a collaborative patient data platform called ALS Data Commons. Containing advanced molecular information about sporadic and familial cases of the disease across institutions, ALS Data Commons will allow scientists to make novel correlations and test new hypotheses about the pathogenesis of ALS. 
Dr. Siddique has been at the forefront of ALS research for 36 years. In fact, he and his collaborators discovered the first cause of ALS, linking mutations in the SOD1 gene to the disease, and developed the first animal models for ALS and ALS/dementia, now used by investigators all over the world. Over the years, Dr. Siddique's research has pioneered additional causes and signatures for both familial and sporadic forms of the disease and paved the way for targeted treatments.
Dr. Siddique is a professor in Feinberg's Ken & Ruth Davee Department of Neurology, as well as the Departments of Cell and Developmental Biology and Pathology. He has received major national and international awards for excellence in ALS research and patient care, including recognition as a "Top Doctor" in neurology by Castle Connolly for Chicago Magazine annually the last 21 years. In 2018, he was awarded an honorary doctor of science degree by Lake Forest College in Lake Forest, Illinois, in recognition of his contributions to ALS research and patient care. He is also the founding director of the Muscular Dystrophy Association Clinic at Northwestern Memorial Hospital and a member of the Les Turner ALS Center at Northwestern Medicine.
For more information about supporting research on neurodegenerative diseases at Northwestern, please contact Andrew Christopherson at andrew.christopherson@northwestern.edu or 312-503-3080. For additional information about this research, please contact Dr. Siddique at t-siddique@northwestern.edu.