Showcasing Our Partner the Les Turner ALS Foundation
2020 Milestones

—The Les Turner ALS Foundation contributed almost $1.5 million to support research and clinical care in the Les Turner ALS Center at Northwestern Medicine.

—Nearly 1,000 patient appointments were booked at the Center's Lois Insolia ALS Clinic thanks to advances in telemedicine.

—Six groundbreaking research projects were fully funded while enrollment began in a promising new clinical trial.
While so much has changed in the last year, the Les Turner ALS Foundation's dedication to changing the course of ALS remains steadfast. On March 20, 2021, supporters celebrated the research, care services, and leadership contributing to this noble goal at the Foundation's 34th Annual Hope Through Caring Gala, presented virtually for the first time. Almost 500 attendees from 25 states and Canada joined the event, which raised nearly $450,000 to support the Foundation and Northwestern's shared work for ALS patients.
"The reason we are all gathered tonight is to showcase the work being done to provide the best quality of support, programming, and education to people living with ALS and to acknowledge the urgency with which we are making strides in clinical care and scientific research that will ultimately lead to a cure for this disease," said Andrea Pauls Backman, chief executive officer of the Les Turner ALS Foundation.
ALS, or amyotrophic lateral sclerosis, is a rapidly progressive neurodegenerative disease that affects the nerve cells in the spinal cord and brain, leading to muscle weakness, difficulty speaking and swallowing, and eventually complete paralysis. The lifetime risk of getting ALS by age 85 is 1 in 300 people, and there is no cure—yet.
"For many of us this is a very personal cause," shared Ken Hoffman, chair of the Les Turner ALS Foundation Board of Directors, during the event. "When our own families were faced with the hard truths of this disease, it's safe to say we felt a bit lost, even hopeless. But luckily for us, we were introduced to the Les Turner ALS Foundation, and suddenly those feelings of loneliness and despair turned into a sense of belonging, community, support, and, above all, answers and hope."
Advocates for ALS Honored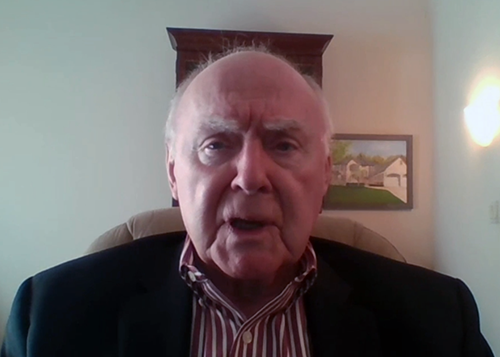 This year's gala honored two men who have become leaders in the ALS community through their fundraising and advocacy while living with the disease themselves. Both share a common mission: empowering people with ALS to life their lives to the fullest.
Robert "Bob" Ives, a retired engineer and business owner diagnosed with the disease in 2014, received the Foundation's Hope Through Caring Award. He and his wife, Mary, participate in the Foundation's Chicago support group and regularly donate to the Foundation's Research and Support Services programs. During the event, Mr. Hoffman announced that eight friends made a generous collective $50,000 gift to the Foundation to honor Mr. Ives and recognize his strength and courage.
Mr. Ives was introduced by Ileane Mindel, former manager of community education and ALS support services coordinator, who recently retired after 25 years of service to the Foundation.
"A person's journey when diagnosed with a rare terminal disease is as difficult as you can imagine. The initial shock of processing the diagnosis itself is quickly followed by the question: What do I do next?" shared Mr. Ives, as he accepted the award. "What we ALS patients need is support and guidance as we live the rest of our lives. This is exactly where Les Turner excels."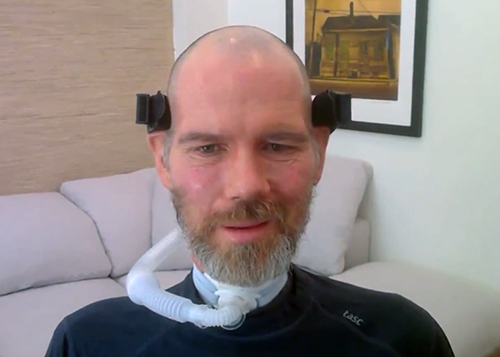 Steve Gleason, a former NFL player diagnosed with ALS in 2011, received the Harvey and Bonny Gaffen Advancements in ALS Award. An advocate on the national stage, Mr. Gleason helped get the Steve Gleason Act passed by Congress, ensuring availability of life-sustaining communication devices for people with degenerative diseases. He has also provided more than $10 million in adventure, technology, equipment, and care services to thousands of people living with ALS.
Mr. Gleason was introduced by last year's award recipient Ed Rapp, former group president of Caterpillar Inc., current chairman of the Advisory Board of Answer ALS, and a fellow pioneer in the ALS world since his own diagnosis in 2015.
"In my once invincible body, I was expected to simply fade away quietly and die. That was not okay," shared Mr. Gleason. "I found that with the use of ventilators and innovative technology, patients were continuing to be productive and purposeful for years, even decades. Not long afterwards, we formed Team Gleason and ultimately Answer ALS to help others plan to live. Our small team and collaborative partners have been doing that since. And with your help, we'll continue to until there is no longer a need."
A Longstanding Partnership
The relationship between the Les Turner ALS Foundation, Northwestern University Feinberg School of Medicine, and the Northwestern Medicine academic health system dates back to 1979 when the Foundation established the first Les Turner ALS Research Laboratory at the medical school. The partnership was further cemented in 1986, when the Foundation helped open one of the nation's first multidisciplinary ALS clinics, the Lois Insolia ALS Clinic at Northwestern Memorial Hospital.
In 2014, the Foundation made a remarkable commitment of $10 million to establish the Les Turner ALS Center at Northwestern Medicine. The Center brings together all ALS disciplines under one umbrella, enabling enhanced collaborations between researchers and clinicians to provide a full spectrum of treatment to patients while facilitating the development of new therapies for ALS. To date, the Foundation has directly funded more than $31 million to Feinberg, and it continues to partner with the medical school to raise $10 million to endow the center in perpetuity.
Make a gift to support ALS research.
For more information about supporting the Les Turner ALS Center, please contact Andrew Christopherson at
andrew.christopherson@northwestern.edu
or 312-503-3080.