Innovation Spotlight: Empowering Feinberg's Unsung Heroes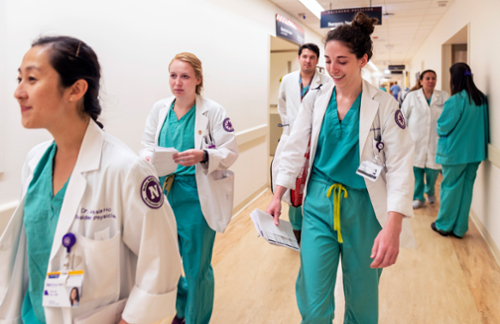 This story was published in the March 2021 issue of The Philanthropist, a newsletter for supporters and friends of Northwestern University Feinberg School of Medicine. Read the whole issue here.
Each day, our faculty, students and trainees at Feinberg are innovating and dedicating time to bold new ideas and programs that will move the needle in medicine and science. Here, we spotlight just a few of these exciting efforts that often happen behind the scenes and beyond daily clinical care. They embody and strengthen Feinberg's mission to have an impact on the practice of medicine through discovery and education.
Thank you to all of the donors who contribute to these efforts, now and in the future. Your philanthropy fuels these projects and programs—enabling their very existence and empowering them to grow for the benefit of patients today and tomorrow.
Assessing COVID-19 Risks in Chicagoland Schools
Teachers, school administrators and parents are desperately in need of factual information on COVID-19 risks to guide planning for their students and children. Mercedes Carnethon, MD, the Mary Harris Thompson Professor of Preventive Medicine and Medicine, and her team hope to secure funding to conduct serology testing and data-based analyses to provide decision-makers with school safety statistics and projections.
Monitoring Variants of COVID-19 and Other Pathogens
Northwestern infectious disease experts were the first to identify the more contagious U.K. variant of COVID-19 in Illinois. The team, led by Egon Ozer, MD, PhD, '08 '12 GME, assistant professor of Medicine, continues to sequence the genomes of COVID-19 samples to monitor for new variants as the virus mutates. The team is also preparing to fight future threats, such as drug-resistant bacteria and fungi.
Institute for Artificial Intelligence in Medicine
Wearable technology, AI-assisted imaging, smart stethoscopes, digital apps and machine learning can transform the practice of medicine, but medical professionals and biomedical scientists are critically needed to help shape the development of these next-generation biomedical tools. Launched in 2020 by director Abel Kho, MD, the Institute for Artificial Intelligence in Medicine aims to do just that.
For more information about supporting these efforts led by Dr. Carnethon, Dr. Ozer or Dr. Kho, contact Dave McCreery at 312-503-6099 or david.mccreery@northwestern.edu. 
---
Precision Medicine for African Americans
Pharmacogenomics—using a patient's genome to predict how well they will respond to medication—is a hot area of medicine today. But 85 percent of all genome-wide studies are in people of European ancestry, even though people of African ancestry have more genetic variation. Minoli Perera, PharmD, PhD, associate professor of Pharmacology, and her laboratory are leading studies to bring the benefits of precision medicine to all U.S. populations.
Scaling Intervention Studies in the Real World
Implementation science explores how research findings can be carried out most effectively in real world settings. Hendricks Brown, PhD, professor of Psychiatry and Behavioral Sciences and of Medical Social Sciences, focuses on developing implementation methods to prevent HIV transmission, the misuse of opioids, and suicide in youth and young adults. His team also helps investigators, policymakers and practitioners worldwide address challenges they face when scaling up evidence-based interventions in all areas of health and medicine.
For more information about supporting these efforts led by Dr. Perera or Dr. Brown, contact Andrew Christopherson at 312-503-3080 or andrew.christopherson@northwestern.edu. 
---
Expanding Student Resources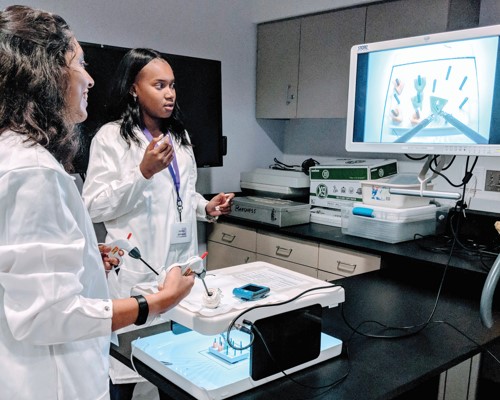 Medical education has become more demanding than ever and for Northwestern to lead the way, crucial funding support is needed in several key areas. Increased mental health and wellness support services would help our students cope with the rigors of their education in the context of their personal lives and the greater world around them. Medical Spanish instruction to all of our medical students would give them a competitive advantage in their residency programs and careers, and help them provide safe, quality care to the communities they will serve. Simulated learning is essential for a 21st century medical education, with students entering clinics in their first year of medical school. Northwestern Simulation provides students with a state-of-the-art education by teaching them skills and procedures on responsive mannequins and 3D-printed models in fully-equipped hospital and surgical rooms prior to entering the clinical setting. This learning model improves the proficiencies of trainees, enhances their long-term skill retention and positively impacts clinical performance to improve patient care.
For more information about supporting these efforts to support students, contact Meghan Monaghan at 312-503-1091 or meghan.monaghan@northwestern.edu.
Photography by Teresa Crawford, Eileen Molony, Jim Prisching and Monika Wnuk