Innovation Spotlight: Empowering Feinberg's Unsung Heroes
This story was published in the October 2021 issue of The Philanthropist, a newsletter for supporters and friends of Northwestern University Feinberg School of Medicine. Read the whole issue here.
Each day, our faculty, students and trainees at Feinberg are innovating and dedicating time to bold new ideas and programs that will move the needle in medicine and science. Here, we spotlight just a few of these exciting efforts that often happen behind the scenes and beyond daily clinical care. They embody and strengthen Feinberg's mission to have an impact on the practice of medicine through discovery and education.
Thank you to all of the donors who contribute to these efforts, now and in the future. Your philanthropy fuels these projects and programs—enabling their very existence and empowering them to grow for the benefit of patients today and tomorrow.
Uncovering Future Targets for Cancer Treatments Through Laboratory Research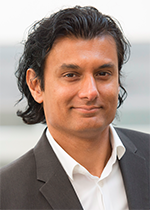 Cellular metabolism—a complex set of chemical reactions inside the cell that produce energy—is essential for all of the cell's functions. Navdeep Chandel, PhD, explores how the metabolism of cancer cells differs from normal cells. He and his team also have efforts underway to understand whether the metabolism of cancer cells can be manipulated to boost the efficacy of existing cancer therapies like immunotherapy. Dr. Chandel is the David W. Cugell, MD, Professor of Medicine in the Division of Pulmonary and Critical Care and Department of Biochemistry and Molecular Genetics.

Leon Platanias, MD, PhD, director of the Lurie Cancer Center, is an active physician-scientist in addition to a leader at Northwestern. He and his lab have recently identified a novel gene whose expression is important for the growth and survival of pancreatic cancer cells. This gene, SLFN5, may be a promising target for future pancreatic cancer therapies. With colleagues in Northwestern University's Department of Chemistry, the Platanias lab is now working on developing drugs that target this gene for future testing. Dr. Platanias is the Jesse, Sara, Andrew, Abigail, Benjamin and Elizabeth Lurie Professor of Oncology.

Daniela Matei, MD, studies metabolic and epigenetic changes linked to the development of chemotherapy resistance in ovarian cancer, the deadliest gynecologic malignancy. Recent philanthropic funds enabled her team to discover that platinum-resistant cancer cells rely on lipid and cholesterol resources to survive and can be eliminated through strategies targeting their antioxidant defense mechanisms. A new collaborative project with Colby Thaxton, '04 MD, '07 PhD, associate professor of Urology, uses nanoparticles to deplete resistant cancer cells of natural sources of cholesterol, leading to their eradication. Dr. Matei is the Diana, Princess of Wales Professor of Cancer Research and chief of Reproductive Science in Medicine in the Department of Obstetrics and Gynecology.

In his lab, Feng Yue, PhD, develops state-of-the-art genomic technologies and advanced machine learning methods to discover novel complex mutations in cancer genomes. His team investigates how such genetic mutations disrupt the proper folding of DNA in 3D space. Their ultimate goal is to identify drugs to target these deleterious mutations to better treat patients. Dr. Yue is the Duane and Susan Burnham Professor of Molecular Medicine and director of the Center for Cancer Genomics in the Lurie Cancer Center.
For more information about supporting these efforts, contact Nicole Langert at 312-503-1656 or nicole.langert@northwestern.edu. 
---
Prioritizing Adult-Onset Allergies
Although peanut allergies are often thought of as a pediatric concern, recent research led by Ruchi Gupta, MD, MPH, revealed that three out of four Americans with peanut allergy are 18 or older, and one in six of them developed the allergy in adulthood. Despite that reality, there are no FDA-approved therapies for patients with adult-onset peanut allergy. Dr. Gupta, professor of Pediatrics, Medicine and Preventive Medicine, and her team in Feinberg's Center for Food Allergy and Asthma Research, are leading efforts to better understand and treat this potentially life-threatening and growing burden of disease.
For more information about supporting these efforts, contact MaryPat Mauro at 312-503-1090 or marypat.mauro@northwestern.edu. 
---
Studying the Benefits of Music in Medicine
Borna Bonakdarpour, MD, assistant professor of Neurology, and a group of musicians, music therapists, and auditory neuroscientists at the Mesulam Center for Cognitive Neurology and Alzheimer's Disease are studying innovative new interventions to help patients with dementia. Music programs in clinical settings have been shown to improve the brain health of patients and health professionals alike. Such programs are in place in a few academic centers and hospitals across the U.S. but not yet at Northwestern Medicine hospitals.
For more information about supporting these efforts, contact Jordan Sund at 312-503-2706 or jordan.sund@northwestern.edu.