Havey Institute for Global Health Growing to Fight the World's Future Challenges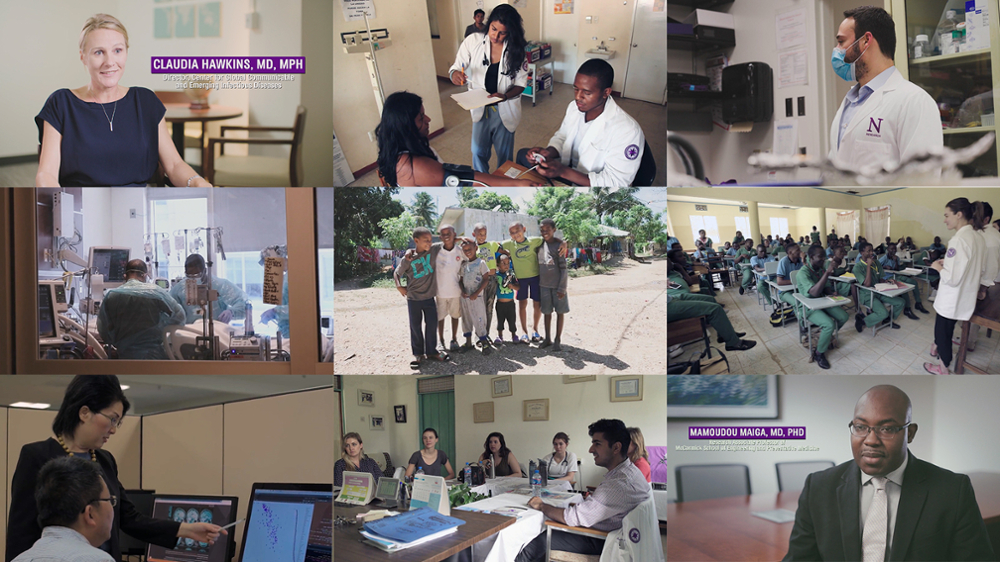 On November 10, 2021, more than 270 supporters and friends participated in the 14th Annual Robert J. Havey, MD Institute for Global Health Event, presented virtually by Northwestern University Feinberg School of Medicine. The institute's team shared success stories and works in progress around the world, much of it made possible by generous donors, who this year contributed over $2 million to support the institute's critical work.   
While the Havey Institute for Global Health's triumphs in the wake of the coronavirus pandemic were a central topic at the event, leadership stressed that their team has no plans to rest on its laurels in the years to come.
"The reality is that pandemics like COVID will occur again, along with multiple other infections both old and novel, all being easily transmitted around the globe. How do we become better prepared for this certainty?" said Robert J. Havey, '80 MD, '81, '83 GME, deputy director of the institute. "Noninfectious problems like heart disease, diabetes, cancer, and neurologic diseases, along with infant mortality and diseases of aging, all are worsening and threatening the quality and longevity of billions of lives. How do we help parents have healthy babies, and how do we add life to years rather than just years to life as we age?"
Acclaimed broadcast journalist Bill Kurtis served as the evening's emcee. 
"The pandemic did not impede the urgent need of Northwestern's Institute for Global Health. In fact, it redoubled all its efforts, expanded the number of centers and programs and research projects, and extended its reach to even more countries around the world," explained Kurtis.
In fact, in the last year the institute added four new centers to its roster: the Center for Pathogen Genomics and Microbial Evolution, Center for Innovation in Global Health Technologies, Buehler Center for Health Policy & Economics, and the Ryan Family Center for Global Primary Care.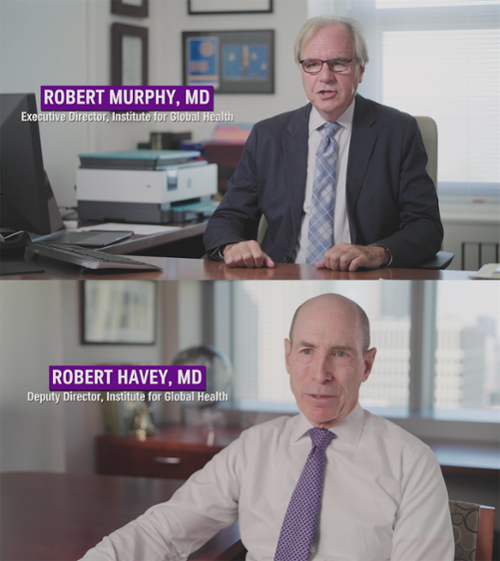 Earlier this year, the institute announced a historic gift from Northwestern University Trustees and alumni Patrick G. Ryan and Shirley W. Ryan that named and endowed the Robert J. Havey, MD Institute for Global Health, ensuring it has resources in perpetuity to improve the health of billions of people in low- and middle-income countries worldwide. 
During the event, attendees watched a documentary featuring scientists, clinicians, and educators who are collaborating across the institute to improve health and healthcare across the globe. For example, in Northwestern's laboratories, they are studying how the immune system responds to infections to build next-generation COVID-19 vaccines. In Mali, they are training local scientists to perform genetic sequencing so they can understand the behavior of COVID-19 variants in their own populations. In the Dominican Republic, they are partnering with communities to open new clinics for people who don't have access to even basic healthcare. In Nigeria, they are using tele-pathology so local clinicians and Northwestern experts can work together to diagnose cancer earlier and more accurately. 
A growing global population and increasingly dire climate change mean that the institute will need to continue innovating and training its partners for challenges to come.  
"Global warming is expanding tropical and sub-tropical areas to places that never had to worry about dengue fever or Zika virus, and that is really going to change things," said Robert Murphy, MD, '81 '84 GME, executive director of the institute and the John Philip Phair Professor of Infectious Diseases. "Through philanthropy, we need to endow professorships in each of our centers so that we can invest in the experts and projects that will enable us to continue fighting the world's most pressing problems today and into the future."
At the end of the event, Dr. Murphy and Dr. Havey answered questions from the audience about COVID-19 vaccines and treatments, as well as the institute's priorities beyond the pandemic.
"Together, we're reaching across oceans and continents to help people live healthy and productive lives who otherwise would have no chance," Dr. Havey said in closing. "We're helping to create the next generation of physicians and scientists and global health leaders, training experts not only here at Northwestern but also in low-resourced areas and helping them build their own teams so they can help their own citizens. And we're building collaborations in unique and innovative ways to help expand our scientific knowledge, discovering new and sustainable solutions to global health problems that can affect us all. This has all been possible because of your generous support, so thank you once again for joining us. Together, we all continue to make an impressive and impactful world of difference."  
Watch a recording of the event.
Learn more about the Havey Institute for Global Health.
Make a gift to support global health.  
For more information about supporting the Havey Institute for Global Health, please contact Jenn Burke at jennifer.burke@northwestern.edu or 312-503-4635.