Bunning Partnership Improves Life for Children with Allergies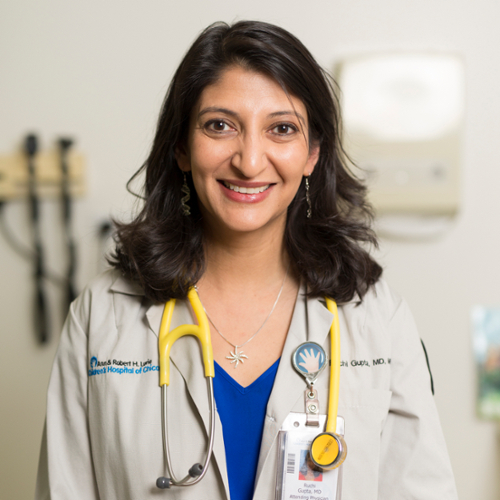 This story was published in the March 2022 issue of The Philanthropist, a newsletter for supporters and friends of Northwestern University Feinberg School of Medicine. Read the whole issue here.
Denise and Dave Bunning raised two sons with life-threatening food allergies to milk, eggs, tree nuts, sesame, seafood, and beef. As a result, they intimately understand how allergies can consume a child—and a family. "Food is a part of nearly everything we do," wrote Ruchi Gupta, MD, MPH, in the introduction of her book The Food Allergy Experience, which she coauthored with Mrs. Bunning.
Working with Dr. Gupta and other experts and families across the United States, the Bunnings are leaders in the food allergy community. As advocates and philanthropists, they have dedicated decades of time and millions of dollars to finding more effective treatments and cures for children who suffer from food allergies and other food-related illnesses such as eosinophilic esophagitis. Though their sons are now grown, the Bunnings continue to fight for the families going through what they did.
Several years ago, the Bunnings' support helped lay the groundwork for the Center for Food Allergy and Asthma Research (CFAAR), a partnership between the Feinberg School of Medicine and Ann & Robert H. Lurie Children's Hospital of Chicago. And now, a generous new gift from the Bunnings made through their family foundation, the Sunshine Charitable Foundation, ensures that the center will have resources to grow and innovate in perpetuity.
"Meeting Denise and Dave in 2003 changed my life and my career forever. I am eternally grateful for their passion and support, which not only inspires me personally, but also supports millions of children and families with food allergy through research and educational initiatives," said Dr. Gupta, director of CFAAR, professor of Pediatrics, Medicine, and Preventive Medicine at Feinberg, and a physician at Lurie Children's Hospital. Her newest book, Food Without Fear, was just published in August 2021.
With the Bunnings' partnership, Dr. Gupta and her colleagues in the center will be able to invest in research programs, recruit additional faculty and staff, and, through a new Bunning Fellowship, train future leaders in allergy and asthma research.
Mr. Bunning is CEO and chief investment officer of The TLP Group LLC, which he established in 2004. Mrs. Bunning is co-founder of Mothers of Children Having Allergies (MOCHA). They have each served on boards for Food Allergy Research & Education (FARE), the nation's leading food allergy advocacy organization, and Lurie Children's Hospital. These entities have become vital collaborators with the Northwestern team.
Why They Give: A Q&A with Denise and Dave Bunning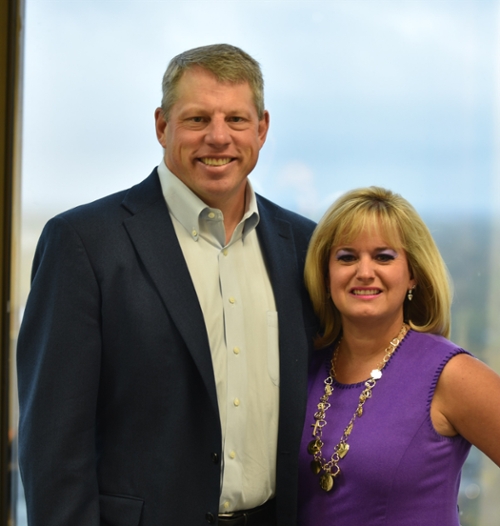 Why have you chosen to support the Center for Food Allergy and Asthma Research? 
Dr. Ruchi Gupta is the most widely recognized epidemiologist doing population-based research into life-threatening food allergies in the United States and is highly respected in her field. Backed by numerous grants from the National Institutes of Health, she has been a leader in publishing data to help everyone understand who is affected, how they are affected, and how to quantify the cost of life-threatening food allergies across the country. As data is more widely utilized to understand and solve medical issues, Northwestern is an ideal place for Ruchi to continue to move the field forward and help pharma companies understand how best to solve issues related to life-threatening food allergies. Ruchi and her team have a very collaborative approach with other research institutions and organizations, not only in the US but globally as well. We are thrilled to be able to help Ruchi continue to move her groundbreaking research forward. 
In 2012, Mrs. Bunning wrote in The Food Allergy Experience, "if we all work together…we can create a better life for food-allergic children and their families." How has the allergy field progressed toward this goal in the last 10 years? What work still needs to be done?
A lot of progress has been made in the area of life-threatening food allergies. There are now treatments and medications in clinical trials that help the food-allergic individual. Most schools are now accommodating students appropriately. Restaurants now not only ask if the diner has food allergies but also are able to adapt to a variety of meal option requests: vegan, food allergies, celiac, etc. However, there is still A LOT to do. Ensuring that ALL families dealing with life-threatening food allergies, regardless of where they live or the color of their skin, have access to quality care, treatment plans, and safe food is the goal. 
What would you like to say to other donors thinking about contributing to food allergy research at Northwestern?   
Dr. Gupta, the center, and Northwestern are world leaders in answering questions that will improve the day-to-day lives for those suffering from life-threatening food allergies. Their widely recognized national leadership for over a decade has demonstrated the ability to utilize donor funds to maximize impact on the patient. We are excited to help support their efforts and hope others will commit to providing support to fund answers to the many questions created by this relatively recent bizarre interaction between the immune system and common foods that affects an estimated 32 million people in the US alone. 
Make a gift to support the Center for Food Allergy & Asthma Research.
For more information about supporting allergy research please contact MaryPat Mauro at marypat.mauro@northwestern.edu or 312-503-1090.