Director's Message
Thank you for your interest in the Simpson Querrey Institute for Epigenetic Medicine. Our institute is made possible thanks to the generosity of University trustees and supporters Louis A. Simpson '58 and Kimberly K. Querrey.
What Is Epigenetics?
Although the DNA sequence within our genome is highly conserved from one individual to another, each one of us have our own unique genome sequence. Our genome which is comprised of the genes inherited from our mother and father is the blueprint of our life, which determines many of the characteristic traits that we normally think of such as hair and eye color, height and known genetic diseases.  Yet, this sequence with which each person enters the world, seems to have other external "epigenetic" forces acting upon it causing certain genes to either be suppressed or expressed resulting in both positive and negative influences on an individual, and more specifically, their health.  Epigenetics is the study of changes in the pattern of gene expression that is regulated independently of the DNA sequence itself, and depends on modifications and conformational changes of the chromatin, the basic unit of our chromosomes.
Our Mission
Epigenetics is central to our understanding of the role the environment plays and how the choices we make alter our health and that of our children.  Epigenetically driven insights are proving to be fundamental to a myriad of diseases including cancer, heart, immunologic and neurologic conditions. Therefore, our mission at the Simpson Querrey Institute for Epigenetics at Northwestern University Feinberg School of Medicine is to encourage collaborations and provide a medium between our basic scientists and clinicians so together to move research forward faster to contribute to improve clinical outcomes. We are working to achieve this goal by providing weekly research meetings and journal clubs; sponsoring seminars by luminaries in the field; the organization of annual symposia and retreats; providing core facilities for methods and computational support commonly used in epigenetic studies; providing resources for the recruitment of new faculty; and providing mentorship for our community to galvanize small and large group projects with the hope of forging a link between basic science and medicine for the development of targeted therapeutics and epigenetic therapies. 
Thank you again for your interest in our institute. Please contact us for more information.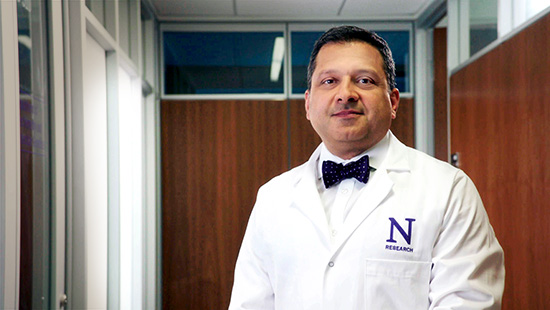 Ali Shilatifard, PhD
Director, Simpson Querrey Institute for Epigenetics
Robert Francis Furchgott Professor of Biochemistry