Lefkofsky Family Foundation Empowers Cancer Researchers to Take Risks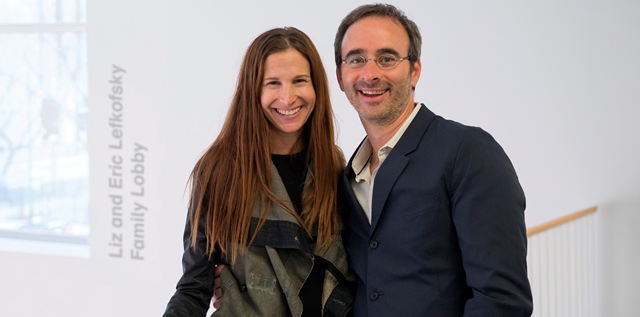 This story was published in the September 2019 issue of The Philanthropist, a newsletter for supporters and friends of Northwestern University Feinberg School of Medicine and Northwestern Memorial Foundation. Read the whole issue here.
Eric Lefkofsky, chairman and co-founder of Groupon, and his wife, Liz, recently renewed their commitment to fund the Liz and Eric Lefkofsky Innovation Research Awards at the Robert H. Lurie Comprehensive Cancer Center of Northwestern University through 2021. Their new $500,000 gift, made through the couple's private charitable foundation, the Lefkofsky Family Foundation, will ensure that Lurie Cancer Center investigators have resources to conduct promising pilot studies that can serve as springboards for larger, nationally funded studies.
"Liz and I are thrilled to continue to support Northwestern and the amazing work they do through our innovation program that we started in 2010," shared Mr. Lefkofsky.
Each year, the Liz and Eric Lefkofsky Innovation Research Awards are given to four faculty scholars who are leading research projects to help further the study of oncology treatment. The current Lefkofsky scholars are Liming Li, PhD, associate professor of Biochemistry and Molecular Genetics; Marc Mendillo, PhD, assistant professor of Biochemistry and Molecular Genetics; William A. Muller, MD, PhD, professor of Pathology; and Kathleen J. Green, PhD, associate director of basic sciences research at the Lurie Cancer Center and the Joseph L. Mayberry, Sr. Professor of Pathology and Toxicology.
To date, the Liz and Eric Lefkofsky Innovation Research Awards have supported 11 scholars and 10 research projects. In addition to the 10 projects initially awarded, five projects were chosen and granted continuation awards, including Dr. Green and Drs. Li and Mendillo on their joint project.
"We are honored by and immensely grateful to the Lefkofsky Foundation for this high-impact support," said Leonidas C. Platanias, MD, PhD, director of the Lurie Cancer Center and the Jesse, Sara, Andrew, Abigail, Benjamin and Elizabeth Lurie Professor of Oncology. "The innovative scientists and projects supported by this program are leading us to important new findings that have the potential to transform the field."
Partnerships

Cementing his relationship with Northwestern, Eric Lefkofsky also recently established a health-tech startup called Tempus, which has partnered with the Lurie Cancer Center to advance precision medicine for cancer patients. Tempus performs genomic sequencing and analysis to deliver treatment options and insights for physicians.
The Lefkofsky Innovation Research Awards were founded on the idea that investigators need to take risks in biomedical research in order to make new discoveries. With the Lefkofsky Family Foundation's support, the awardees have been able to take unique approaches to tackle big questions about how cancer forms, and how it can be stopped. Drs. Li and Mendillo are exploring how protein aggregation (much like that which occurs in neurodegenerative diseases like Alzheimer's disease) can lead to tumor development, while Dr. Muller is testing a peptide with the potential to block cancer cells from metastasizing. Dr. Green, meanwhile, is developing molecular tools to diagnose and manage atypical moles and early melanomas before they progress into late-stage cancer.
For more information about the Lurie Cancer Center, please contact Terri Dillon at 312.503.4837 or terri-dillon@northwestern.edu.