Twelve Years of Global Impact: Celebrating the New Institute for Global Health at Northwestern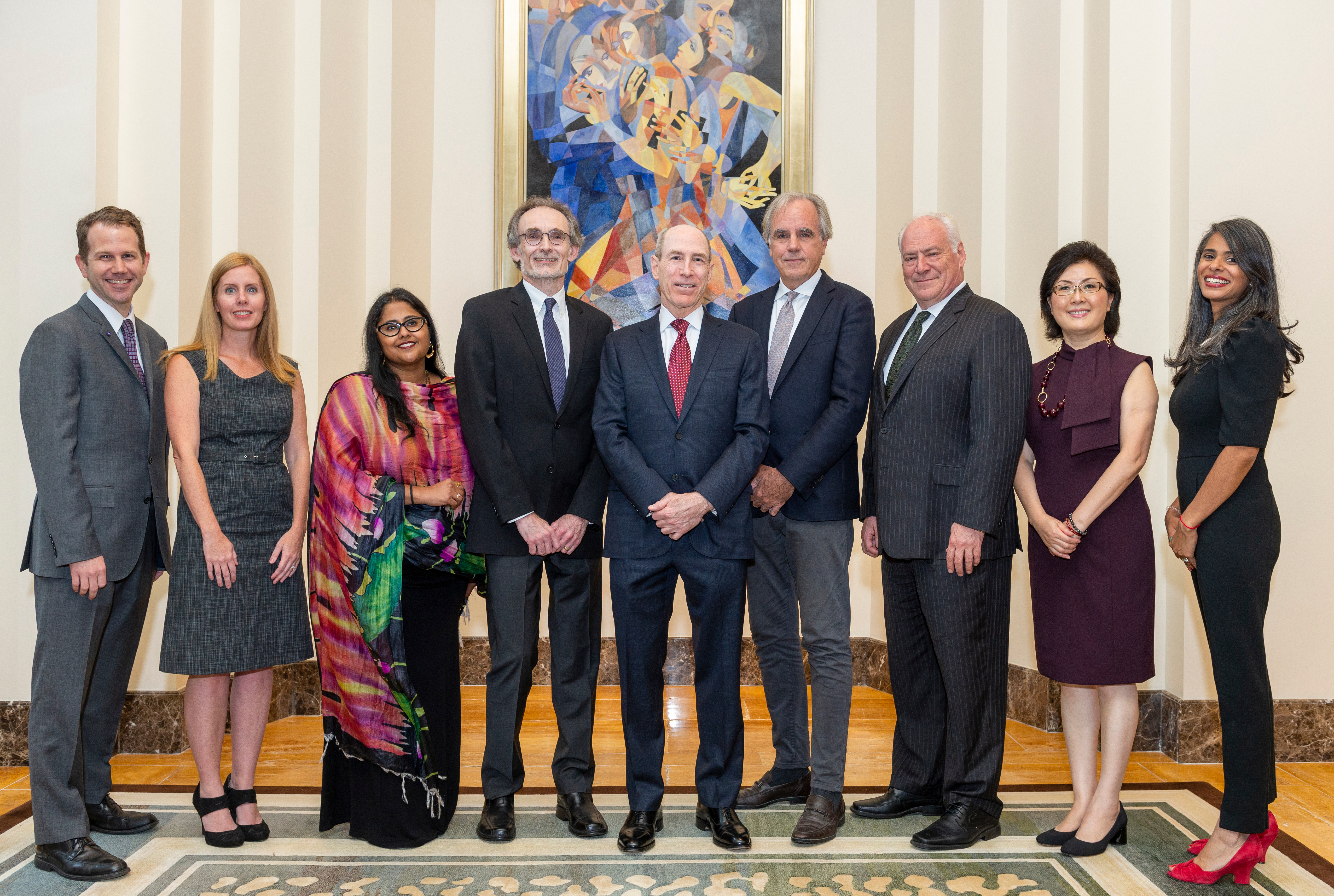 On September 25, 2019, more than 300 people came together to support Northwestern's commitment to improving health worldwide during the 12th Annual Global Health Initiative (GHI) Benefit Dinner. The event, which followed the launch of the medical school's new Institute for Global Health this May, raised a record amount to push forward the institute's momentum and bright future.
"Since the GHI was founded, we've sent nearly 1,400 Northwestern medical students, residents, and faculty to underserved countries, where they provide care, deliver supplies, and conduct both laboratory and clinical research," said Robert J. Havey, '80 MD, '81 '83 GME, founder of the GHI, deputy director of the Institute for Global Health, and clinical professor of Medicine in the Division of General Internal Medicine and Geriatrics. "Our work helps hundreds of thousands of people and helps find new solutions for critical global health problems."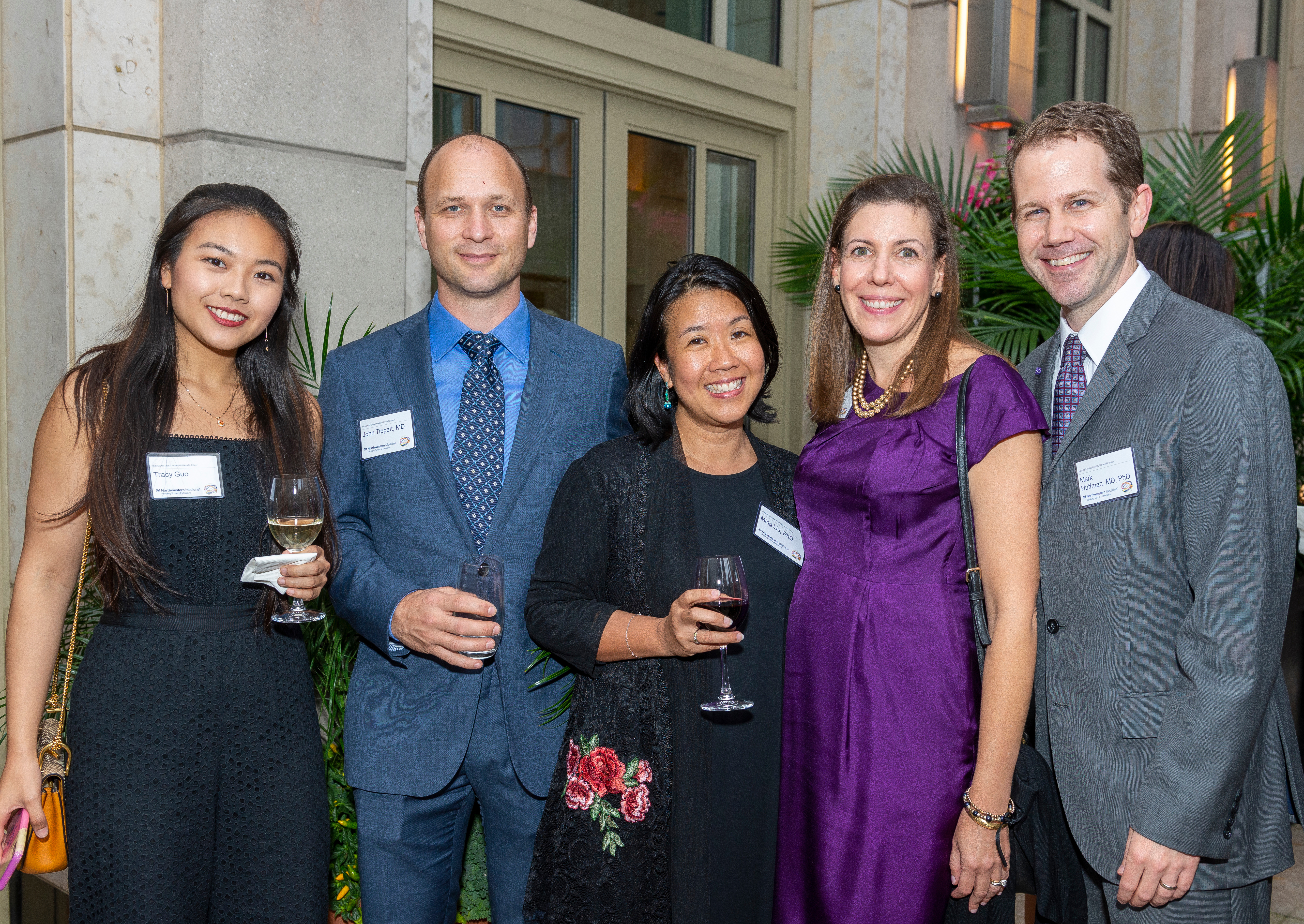 The Global Health Initiative Fund started twelve years ago with one simple gift from a grateful Northwestern patient in 2008 who made a donation to honor his physician and support education at Feinberg. Over the years, the initiative has established educational outreach programs, supported clinics where medical trainees and faculty work, provided seed funding for research and worked closely with faculty across the medical campus and the world to support efforts in global health. In addition to supporting elective rotations for medical students and residents, the GHI Fund has acted as a financial catalyst to support faculty research in a wide variety of disease-specific areas. The work is critically important, Dr. Havey noted, since, "As the world's population expands, the disparities in access to care keeps expanding as well, leading to humanitarian, social, and economic problems on a scale never before seen."
VIDEO: Learn more about the new Institute for Global Health and see our students and faculty take action around the world. 
Larry and Chris Fee, who attended the event and support the new Institute, take pride in their close relationship with Dr. Havey. "Supporting this cause is very personal to us," said Mr. Fee. "We believe in the mission of the Global Health Initiative and the new Institute for Global Health."
"Tonight marks a new beginning for the GHI and the Center for Global Health, which are now joined together, forming the new Institute for Global Health at Northwestern," said Bill Kurtis, renowned anchor and the event's emcee. In addition to his role at the benefit dinner each year, Mr. Kurtis and his wife, Donna LaPietra, give of their time and talents to produce an annual video to highlight the impactful work of those supported by the GHI.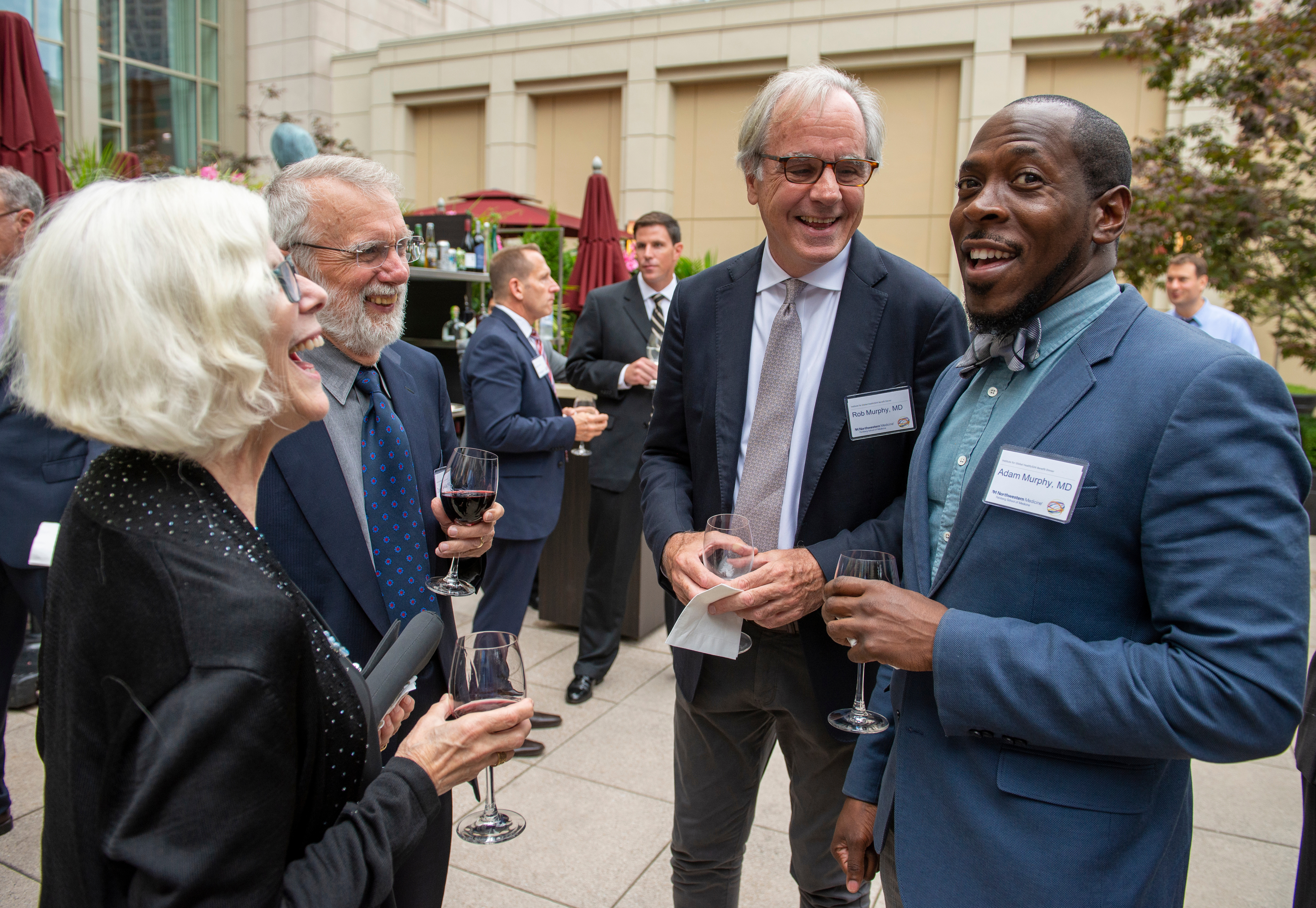 Testimonials of Impact
At the benefit dinner, attendees heard from speakers who had experiences in global health. Darren Eblovi, MD, MPH, instructor of Pediatrics in the Division of Hospital-Based Medicine, spoke about the operating room conditions that he witnessed several years ago in a small hospital in Africa. "The resources available to [the healthcare providers there] were atrocious. The only light source available was provided by a camping headlamp, and the operating table was nothing more than a picnic table with wooden slats tied to each side," said Dr. Eblovi.
In part because of the global health initiative, Dr. Eblovi is now able to live in the Dominican Republic for most of the year with his wife and children to oversee primary care medical missions. Currently, he is overseeing the construction of a new 25,000 square foot ambulatory surgical care center.
"We have a lot of work left to do, but thanks to your help, we are now moving quickly to change healthcare access and outcomes for this large and vulnerable population," concluded Dr. Eblovi.
Robert Murphy, MD, '81 '84 GME, executive director of the Institute for Global Health, spoke about the importance of Feinberg's global health program: "Academic institutions play a very important role in the global health agenda by mitigating global risk of disease and developing sustainable health systems around the world. It doesn't just happen. Every major research university is involved. We do this here at Northwestern through our global translational research and educational programs, many of which have been supported by the Global Health Initiative, and now the Institute for Global Health."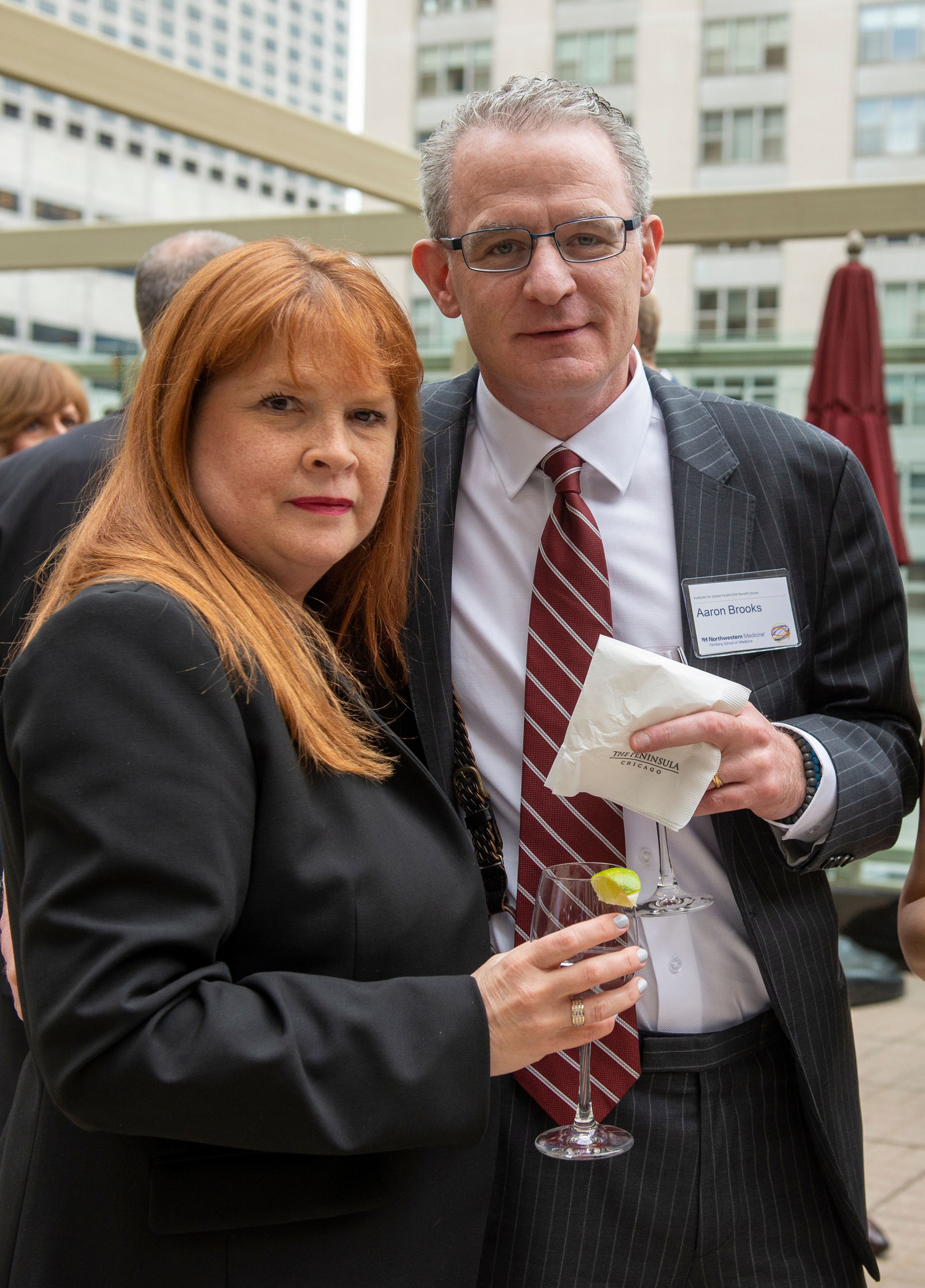 Dr. Murphy also shared that Feinberg has the highest percentage (more than 75%) of medical students doing global health rotations of any school in the country.
"None of our work would be truly effective and scalable without collaboration—and the unique thing about this new institute is that we can now tap into the deep bench of talent available throughout the university and beyond," added Dr. Havey.
Attendees also heard from Alexa King, MD, clinical neurophysiology fellow in the Department of Neurology. Thanks to the global health initiative, Dr. King was able to travel to Uganda, Tanzania, and Zambia during medical school to work with epileptic patients.
"Despite the obvious challenges that I encountered, my time in Zambia also gave me hope. It showed me that partnerships can truly provide a way of leading something," said Dr. King. "I was recently awarded a grant from the American Neurology Association to fund women's health and epilepsy in Zambia. I am so thrilled to go back to Zambia next year and hope to continue returning throughout my career to help the clinical care and resident programs. It is through the generous support of the global health institute that I have been able to do so."
The new Institute for Global Health encompasses five centers that each focus on a different area of global health research and education:
Center for Global Communicable Diseases, led by Robert Murphy, MD (also executive director of the Institute for Global Health)
Center for Global Health Education, led by Ashti Doobay-Persaud, MD, and William R. Leonard, PhD
Center for Global Surgery, led by Mamta Swaroop, MD
Center for Global Oncology, led by Lifang Hou, MD, PhD
Center for Global Cardiovascular Health, led by Mark Huffman, MD, MPH
The Institute will also have an Inter-Collaborative Council for Research and Education, led by Matt Glucksberg, PhD.