Gift to Dermatology Honors Women in Science and Medicine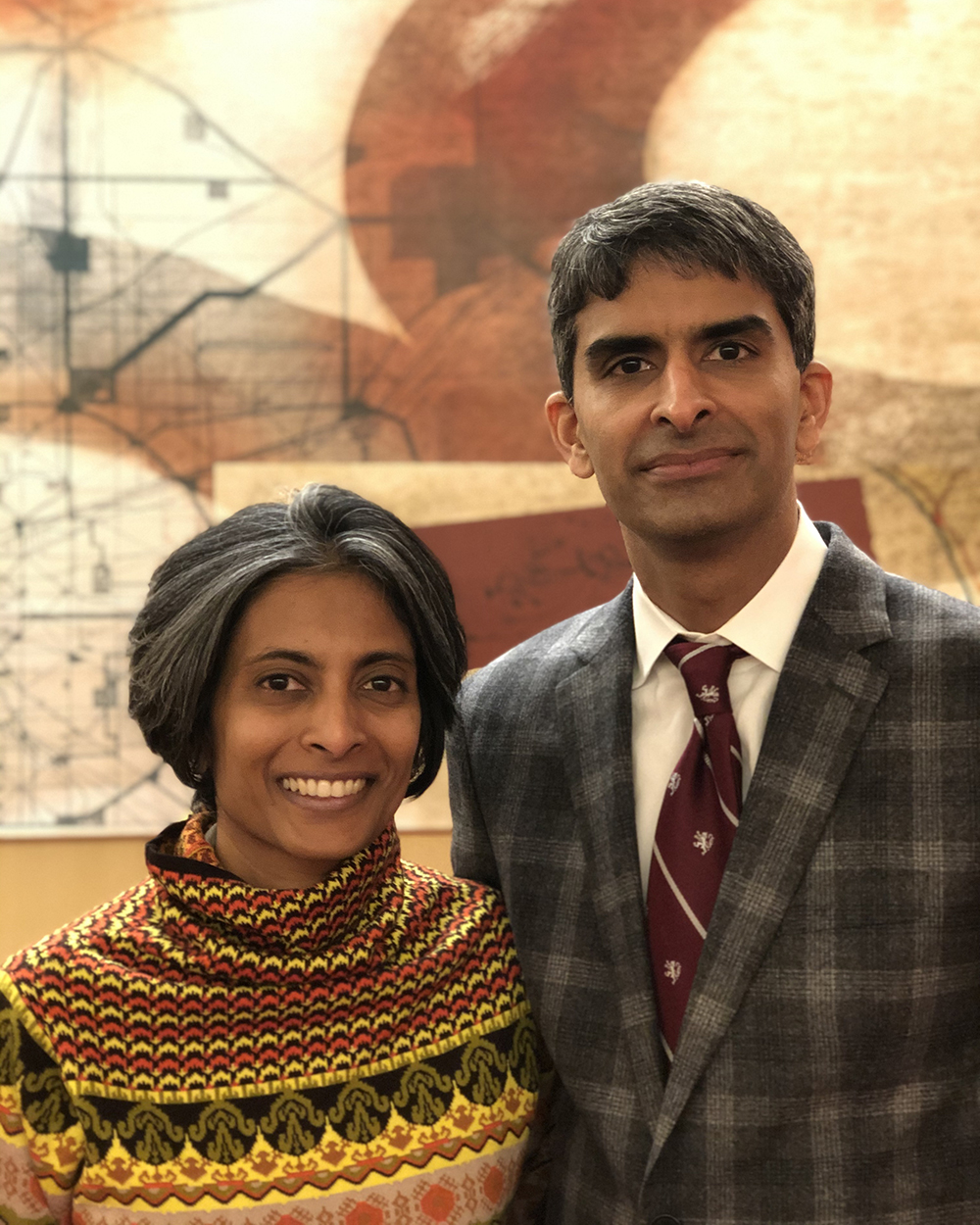 After carefully considering the best way to support their alma mater, Feinberg alumni Kavitha Gandhi, '98 MD, '99 GME, and Sanjay Gandhi, '97 MD, '01 '04 GME, decided to make a generous gift that will not only fund a new Innovation Grant Program in the medical school's Department of Dermatology, but also honor the achievements of extraordinary women working in science and medicine.
Led by Amy Paller, MD, chair of Dermatology and the Walter J. Hamlin Professor of Dermatology, the new Innovation Grant Program will bring together laboratory scientists and clinicians to spur discoveries in dermatologic diseases. The Drs. Gandhis' philanthropy will provide competitive grants for those collaborations.
"Sanjay and I were drawn to the idea of supporting an initiative led by an incredible woman like Dr. Paller," said Kavitha, a dermatologist herself who also serves as a clinical instructor on Feinberg's faculty. Husband Sanjay specializes in urogynecology and pelvic reconstructive surgery. "As practicing clinicians faced with diagnostic and therapeutic dilemmas, springboarding an innovation program also spoke to our keen interest in bringing clinical medical quandaries to the bench for further inquiry."
According to Dr. Paller, the department recently challenged its academic dermatologists to find research partners at Northwestern to focus on translational, bench-to-bedside research.
"This program is the outcome of that challenge," Dr. Paller said. "We are incredibly grateful to Drs. Kavitha and Sanjay Gandhi for their visionary recognition of the importance of these efforts and for generously funding our Innovation Grant Program."
150 Years of Women at Northwestern

The 2019-2020 academic year marks a century and a half since Northwestern University began admitting women in its undergraduate programs. It also marks 150 years since Mary Harris Thompson, MD, became the first woman to receive a degree from Northwestern's medical school. She founded the Chicago Hospital for Women and Children, the first hospital staffed by female physicians and devoted to women's and children's health. She also founded the Woman's Hospital Medical College, which filled the educational gap for hundreds of women who earned medical degrees. Dr. Harris Thompson was the first woman surgeon in Chicago and one of the most famous surgeons—male or female—in the country at the time. Today, women comprise 52 percent of the MD entering class at Feinberg and 50 percent of incoming residents.
The concept of pairing clinicians and scientists was also meaningful to Kavitha and Sanjay on a personal level. The two clinicians want their gift to celebrate two inspiring women in science and medicine: their mothers.
"My mother, Dr. Gunamani Sithanandam, is a retired molecular biologist and cancer researcher from the National Cancer Institute who happened to clone the b-raf oncogene years ago when cloning a gene was no easy feat," said Kavitha. "Sanjay's mother, Dr. Asha Gandhi, is still a practicing obstetrician gynecologist and carried on the legacy of her own parents, both physicians in the Indian Army, and her aunt, personal physician to Mahatma Gandhi and the first Health Minister of India." 
Kavitha and Sanjay's recent philanthropy is only the latest manifestation of Northwestern roots that run deep: The two met as undergraduate students at Northwestern, while participating in the joint BA/MD Honors Program in Medical Education. In addition to graduating from medical school at Northwestern, Kavitha completed an internship at the McGaw Medical Center of Northwestern University in 1999 and Sanjay a residency in obstetrics and gynecology in 2001 and a fellowship in urogynecology in 2004, also at McGaw.
Kavitha currently serves on Feinberg's Medical Alumni Association Board and co-chairs its Women in Medicine Strategic Initiative.
"We are grateful for our mothers' dedication to science and medicine, which continues to be an inspiration to us," the couple shared. "Honoring women in medicine at this juncture in history can only serve to strengthen the field of medicine for generations to come."
Learn more about women in medicine at Northwestern.
For more information about supporting women in medicine please contact Vic Maurer at victor.maurer@northwestern.edu or (312) 503-2417.