Northwestern Experts Share Insights on COVID-19 and Cancer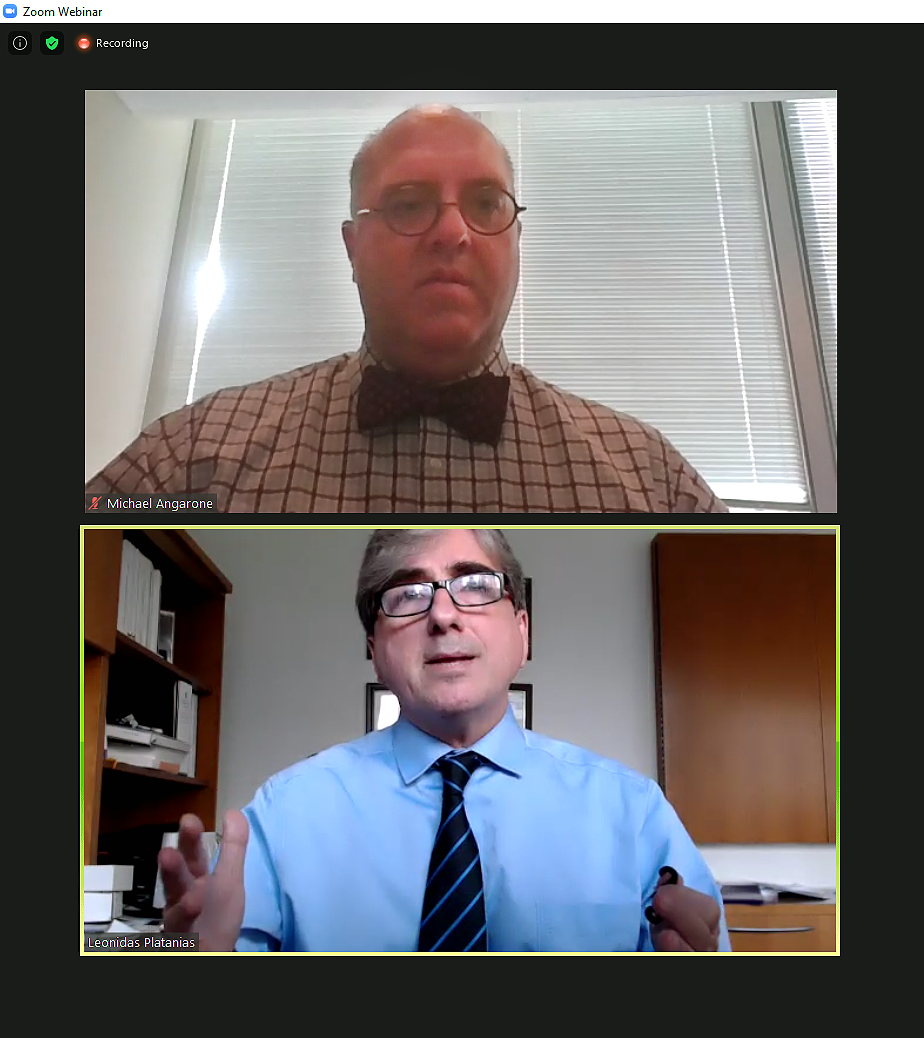 On September 29, more than 100 people joined Northwestern experts virtually for a discussion on COVID-19 research and prevention efforts that may benefit patients with cancer and others at increased risk of complications.
The webinar was presented by the Feinberg School of Medicine and Robert H. Lurie Comprehensive Cancer Center of Northwestern University, who together have been actively involved in clinical trials testing COVID-19 treatments and vaccines, while making sure all patients feel safe receiving the care they need.
"The pandemic did not stop cancer care at Northwestern," emphasized Leonidas Platanias, MD, PhD, the Jesse, Sara, Andrew, Abigail, Benjamin and Elizabeth Lurie Professor of Oncology and director of the Lurie Cancer Center. "But COVID did force us to adjust how we do things to protect our patients and make sure they got the treatments they needed."
Michael Angarone, DO, '09 GME, associate professor of Medicine in the Division of Infectious Diseases, began with an overview of the current state of the pandemic and then answered questions from the audience. Many wanted to know how immunocompromised cancer patients can protect themselves from COVID-19.
"The best ways for a cancer patient to avoid infection are the same ways as everyone else: Wear masks. Make sure everyone around you is wearing a mask. Limit the places that you may be visiting, like trips to the market," said Dr. Angarone.
He and Dr. Platanias noted that there is no evidence indicating an association between contracting COVID-19 and cancer. However, there is national data showing that new diagnoses of cancer have decreased during the pandemic, likely because people have been afraid to visit clinical environments. Both faculty said that patients should feel safe seeing their doctors now.
"If everyone wears masks, the risk of COVID transmission is very low," Dr. Platanias said. "And in the hospital, we do exactly that."
The webinar ended on a positive note, as the presenters shared why they feel hopeful in the midst of the pandemic.
"Seeing the patients that we take care of and hearing how grateful they are for how safe we've made it for them has really been a bright spot through all of this," Dr. Angarone said.
"What gives me hope is seeing the dedication and persistence of all these healthcare workers—from doctors to nurses to social workers—who risked their own lives to care for patients," Dr. Platanias added. "And we're now in a better place because of them."
View a recording of the webinar.
Make a gift to support cancer research at Lurie Cancer Center.  
For more information about supporting breast cancer work at Northwestern please contact Nicole Langert at nicole.langert@northwestern.edu or (312) 503-1656.