Northwestern Breast Cancer Experts Share Latest Insights on the Disease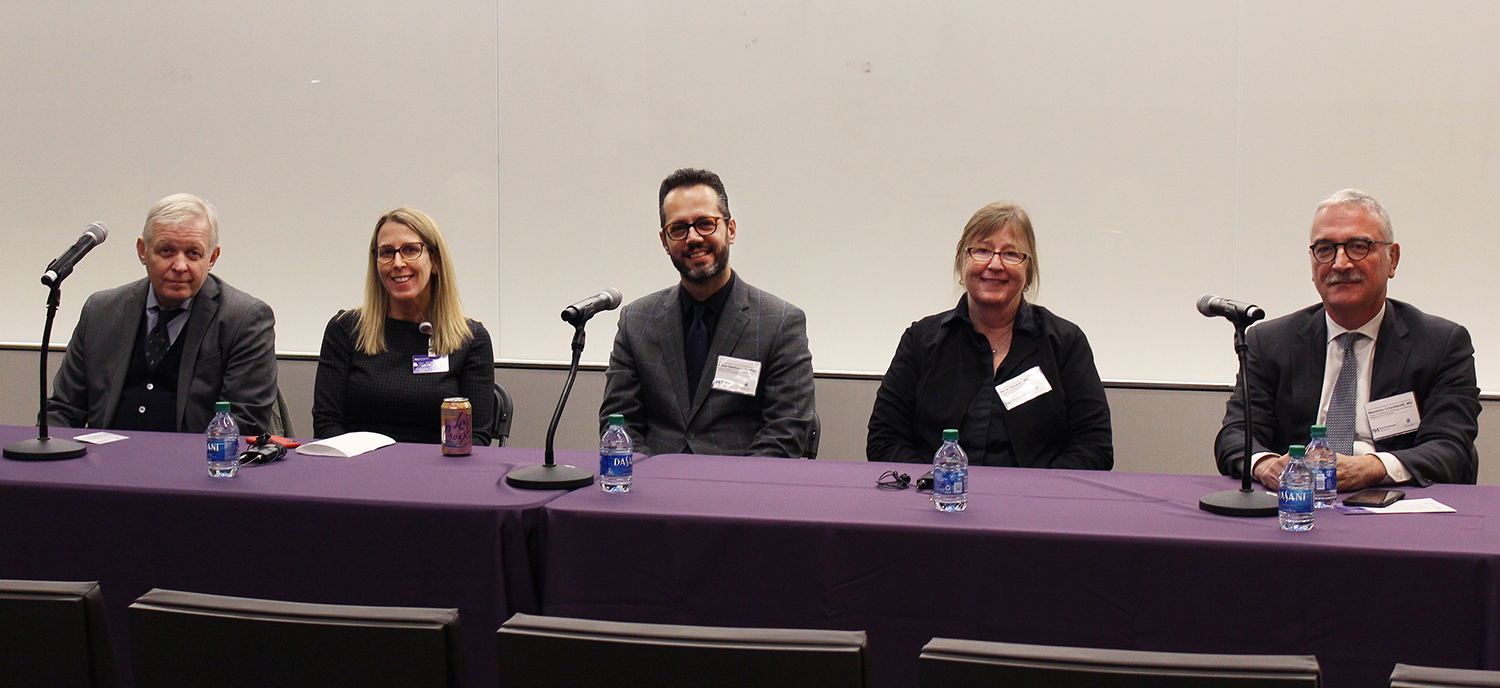 Patients, survivors, caregivers, and supporters recently joined expert breast cancer clinicians and scientists at Northwestern University Feinberg School of Medicine for a panel discussion about the latest breast cancer treatments, trends, and research.
Moderator William Gradishar, MD, chief of Hematology and Oncology in the Department of Medicine and the Betsy Bramsen Professor of Breast Oncology, compared the gathering to a town hall meeting and encouraged interaction from the audience.
"I've been at Northwestern for about 30 years, so I've seen the evolution of our place and our program and have a sense of not only where we've been but where we're going," said Dr. Gradishar, before introducing the other panelists, who represent a variety of disciplines but all focus on breast cancer at the Robert H. Lurie Comprehensive Cancer Center of Northwestern University.
Lisa Flaum, MD, assistant professor of Medicine in the Division of Hematology and Oncology, is an oncologist with a particular interest in young women with breast cancer and clinical trials. She shared how her team is involved in a trial examining outcomes for patients who interrupt therapy to attempt pregnancy. Dr. Flaum also mentioned a new web-based platform, made possible by a generous donor, that will connect patients with breast cancer to a support system of other patients.
Scientist Athan Vasilopoulos, PhD, assistant professor of Radiation Oncology, is studying the genetic and biochemical connection between sirtuin genes and cancer formation. His group has already found an association between a specific member of the sirtuin family and positive responses to a drug used to treat breast cancer. The finding could someday help oncologists better predict which patients will respond to which treatment.
"It's at this stage of research where the support of donors can be a catalyst to accelerate our research," Dr. Vasilopoulos shared. "After making an exciting discovery, we need to test our ideas and validate our findings so we can ultimately improve outcomes and help thousands of patients who suffer from this disease."
Nora Hansen, MD, chief of Breast Surgery in the Department of Medicine and director of the Lynn Sage Comprehensive Breast Center at Prentice Women's Hospital, described her division's fellowship program. She explained that general surgeons only spend a month or two focused on breast cancer during their residencies. At Northwestern, breast surgery fellows focus intensively on breast cancer and learn the most up-to-date techniques to treat the disease.
"In the 70s, all patients got a mastectomy. But now there are so many more options, including breast conservation, sentinel node biopsy, nipple sparing mastectomies with better reconstruction, and different types of radiation," Dr. Hansen said. "This has become a much more complex disease. The more people we can train in the management of breast cancer, the better."
Massimo Cristofanilli, MD, professor of Medicine in the Division of Hematology and Oncology, described Northwestern's efforts to bring precision medicine to its patients. He directs the OncoSET Precision Medicine Program at the Lurie Cancer Center, which uses genomic sequencing to personalize care for each patient. He also emphasized the importance of investing in continuing research on breast cancer.
"The technologies we're testing now will be used for the standards of care tomorrow," said Dr. Cristofanilli, after discussing promising new tools such as blood tests to identify cancer and immunotherapies to treat it.
During the question and answer session, audience members and the panelists talked about how patients can get involved in clinical trials, how breast cancer is inherited, and their recommendations for genetic testing and screenings.
Drs. Gradishar, Vasilopoulos, Hansen, and Cristofanilli are all members of the Lurie Cancer Center.
For more information about supporting breast cancer work at Northwestern please contact Nicole Langert at nicole.langert@northwestern.edu or (312) 503-1656.