About the 13th Annual Lewis Landsberg Research Day
Those interested in participating in the 2017 Research Day poster session must submit an abstract online no later than 11:59 p.m. Wednesday, March 1, at feinberg.northwestern.edu/abstracts.
Space is limited and will be assigned on a first-come, first-serve basis. The poster session is open to researchers in the following categories:
Faculty
Graduate students
MD-PhD students
Medical students
Postdoctoral researchers and fellows
Clinical residents and fellows
Research staff
2017 Announcements
About Research Day
The 13th Annual Lewis Landsberg Research Day is a campus-wide event to promote faculty and trainee development through the sharing of exciting research and conversation with colleagues. Junior faculty are especially encouraged to submit abstracts and to network and exchange ideas with Feinberg faculty. Research Day also provides an opportunity to learn about the Research Cores and the full spectrum of support they provide for clinical and basic science research.
Watch our Research Day 2016 videos
General Information
The 13th Annual Lewis Landsberg Research Day is Thursday, April 6, 2017. Events will place in the John Hughes Auditorium in the Robert H. Lurie Medical Research Building and in Northwestern Memorial Hospital's Conference Center in the Feinberg Pavilion.
Abstracts
See lists of all previous poster session winners (2008 to 2016).  
Multimedia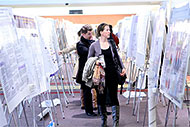 Check out 2016 Research Day photos on Flickr. 
Contact Us
Have a question? Contact the Research Office.