Director's Message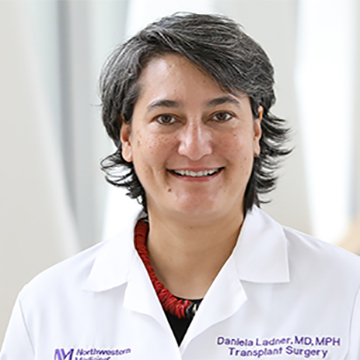 Welcome to Northwestern University Transplant Outcomes Research Collaborative (NUTORC). NUTORC builds upon the existing strengths of the transplant program at Northwestern and has created highly productive inter-school, multi-departmental, and trans-disciplinary collaborative initiatives. Some of our collaborators include Northwestern University Feinberg School of Medicine, Institute for Public Health and Medicine, McCormick School of Engineering, Kellogg School of Management, Department of Preventive Medicine, Department of Medical Social Sciences, Chicago Transplant Ethics Consortium, and the Enterprise Data Warehouse (EDW). We bring together clinicians, health services and outcomes researchers and investigators with specific expertise in state-of-the art research methodologies to address pertinent questions in transplantation. Established in late 2008, these initiatives have already led to collaborative grant funding through NIH (National Institute of Health), AHRQ (Agency for Healthcare Research and Quality), NSF (National Science Foundation) and HRSA (Health Resources and Services Administration), PCORI (Patient-Centered Outcomes Research Institute), in addition to other funding sources. To date, NUTORC has published over 550 peer-reviewed manuscripts as a result of collaborative work. 
Currently, we have developed strengths in qualitative and quantitative research related to transplant over the years in close collaboration with experts outside of transplantation. Some of our ongoing projects include:
Quantitative
Optimization of organ allocation and organ use (Sanjay Mehrotra, PhD, John Friedewald, MD, Daniela Ladner, MD, MPH)
Comparative effectiveness studies in liver and kidney transplantation (Lihui Zhao, PhD, Michael Ison, MD)
Population based studies using aggregated EHR data (Abel Kho, MD, Daniela Ladner, MD, MPH, Josh Levitsky, MD)
Cardiovascular disease (CVD) risk prediction, prevention and treatment approaches in patients with chronic liver disease (Lisa VanWagner, MD, MSc, Donald Lloyd-Jones, MD, ScM)
Large data sets/artificial intelligence and data quality in transplant (Ronald Ackermann, MD, MPH, Yuan Luo, PhD, Sanjay Mehrotra, PhD, Bing Ho, MD, MPH, Daniela Ladner, MD, MPH, Josh Levitsky, MD, Sook Hyeon Park, MD, Nikhilesh Mazumder, MD, John Friedewald, MD)
Neurological issues in transplantation, i.e. hepatic encephalopathy (Eric Liotta, MD, Minjee Kim, MD)
Infections in transplant recipients (Michael Ison, MD)
Aging and transplant (Lihui Zhao, PhD)
NASH Cirrhosis (Mary Rinella, MD)
Hepatocellular carcinoma (Laura Kulik, MD)
Qualitative
Reducing ethnic disparity and improving informed consent in vulnerable populations (Elisa Gordon, PhD, MPH, Dinee Simpson, MD, Juan Caicedo, MD)
Medication adherence for patients on immunosuppressive drugs (Michael Wolf, PhD, MPH, Daniela Ladner, MD, MPH)
Reduction of medical errors and patient safety in transplantation (Donna Woods, PhD, Daniela Ladner, MD, MPH, Jane Holl, MD, MPH)
Assessment of personality in patients with end-stage liver disease (Daniel Mroczek, PhD, John Peipert, PhD)
Development and validation of patient reported outcomes to understanding quality of life in transplant patients (John Peipert, PhD, Zeeshan Butt, PhD, David Cella, PhD)
We invite you to join us on this exciting path of collaborative work through NUTORC and our mission to define a new era in transplant outcomes research.
For additional information and any inquiries,
please contact our administrative staff
.