Potocsnak Center for Aging & HIV
The establishment of the Potocsnak Center for Aging & HIV represents a vigorous and coordinated response to urgent needs for establishing standards of care and undertaking cutting-edge research involving aging people living with HIV (PLWH). Learn more below about the world-class multidisciplinary medical specialists, research scientists and educators dedicated to caring for and empowering aging PLWH and to furthering the frontiers of knowledge.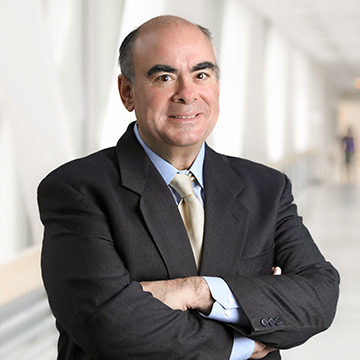 About Our Work
Ensuring a future that includes leadership and innovation in HIV-aging care and research necessitates dedicating resources to ongoing training and education of the next generation of caregivers. Trainees will gain professional experience working with a diverse patient population in an intense multidisciplinary clinical and research training environment. Training programs will groom clinicians and scientists to develop the clinical and investigational skills and knowledge to expertly care for aging HIV+ persons and to educate others in the field. Catalyst awards will jumpstart the research of promising junior investigators who wish to focus their careers on HIV-aging research.  
Through collaborative research activities and videoconferencing across the Northwestern Medicine health system, our specialists in the center will engage physicians, investigators, nurses, medical students, physician assistants, nurse practitioner students, residents and fellows across the country and world in active real-time knowledge-sharing in their own communities. Equipping communities beyond our immediate service area with accurate, reliable information, "virtual clinics" will advance collective knowledge and build a community of care, research and learning that is grounded in best practices.
The center will promote leading-edge basic, clinical and epidemiological research aimed at:
identifying clinical markers and biomarkers of functional aging and associated disease progression among HIV-infected persons, which will become standards for screening and monitoring patient outcomes
generating interventions and clinical strategies to effectively address survival, age-related functional capacity and quality of life
developing optimal strategies for screening, pre-emptive therapy and treatment among aging HIV-infected persons
Emphasis will also be placed on building partnerships with community healthcare organizations to disseminate information about current research activities and to provide training opportunities for caregivers filling diverse roles in the care of aging PLWH.
The center will enhance our patient-centered approach to the care and management of older PLWH by strengthening the partnership between members of the multidisciplinary healthcare team and the patient in a decisionmaking process focused upon clinical care needs and important medical research issues. Patients will benefit from individualized care plans based on their unique needs through streamlined access to:
specialists with clinical and research interest in the treatment of aging PLWH, including specialists in infectious disease, gerontology, neurology, cardiology and psychiatry, among others
state-of-the-art diagnostics, such as assessments of physical and neurocognitive functional capacity and frailty
leading-edge research, including clinical trials
dedicated resources, including advocacy and support groups, as well as educational programs
Our overarching goal is to ensure that all patients have access to resources that will improve their health and quality of life.