Director's Message
The immune system either directly drives or modifies essentially every disease process. While we have learned a tremendous amount about the cells and molecules of the immune system in the past three decades, we are only recently learning how to apply this knowledge to treatments that effectively re-direct the immune response. This will take a basic science approach partnered with strong translational and clinical immunology pipelines; the establishment of the Center for Human Immunobiology (CHI) brings together immunologists from across the Chicago and Evanston Northwestern campuses to achieve this goal.
Our four primary objectives are:
To foster collaboration and scientific exchange between the more than 50 faculty members of the center, spanning 17 divisions and departments. Cores that support immunology-based research are being expanded or created. Virtual/informational biorepositories (e.g., pre-clinical models on campus, technology expertise, databases) and sample biorepositories are being established to support and extend the research being performed by center labs. Pilot grants to catalyze collaborative projects are also offered through the center. Learn more on our Research page.
To recruit basic immunologists at all career stages to Northwestern to complement and expand current immunology themes. Nine thousand square feet of newly renovated lab space in the Chicago campus is dedicated for this expansion. Apply to become a member.
To foster the education and mentorship of trainees – including fellows, postdoctoral students, graduate students, Medical Scientist Training Program students, postgraduate students and undergraduate students – working in immunology. Center membership gives trainees access to resources such as cores and scientific exchange through participation in journal clubs, lectureship series, annual retreats and research-in-progress forums. Learn more on our Education page.
To provide a framework and access point for community engagement with cutting-edge clinical interventions of immune-mediated diseases. Information on open clinical trials will be coming soon to this website.
If you are interested in learning more about the center and membership, please contact us. To find out more about supporting our work, please visit our Giving page.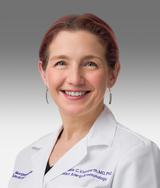 Stephanie Eisenbarth, MD, PhD
Director, Center for Human Immunobiology
Chief, Division of Allergy & Immunology