Light and electron microscopy services and outstanding core facilities.
COVID-19 Update
We are still allowing users who are properly trained to operate the instruments independently with the understanding that any support will be remote. Please bring a cell phone and/or your own laptop with a camera so that you can call a CAM staff member to set up remote support. We will post numbers on each instrument. ONLY REMOTE SUPPORT IS AVAILABLE. Data analysis support will be performed only with remote desktops.
What We Do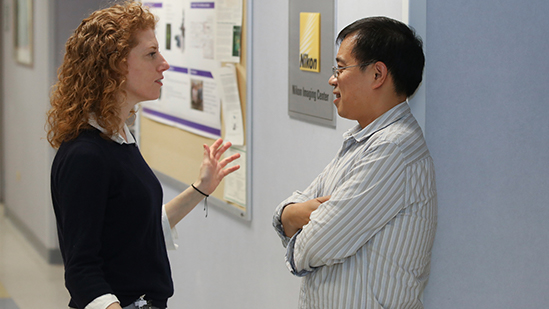 The Center for Advanced Microscopy offers a variety of light and electron microscopy services and is home to the Nikon Imaging Center. Explore our offerings below, or go direct to lists of our Instruments and Fees.
Access Imaging
See the steps you'll need to take to sign up as a new user or attend one of our training sessions.
Become a User
Get Resources
Access user guides, methodology documentation, sample processing forms, how-tos and more.
Browse Our Directory
Learn About Us
Connect with our team, review our policies and find out how to acknowledge the center.
Get in Touch
NIC Scientific Gallery
Some examples of images generated using various instruments at the Nikon Imaging Center at Northwestern University.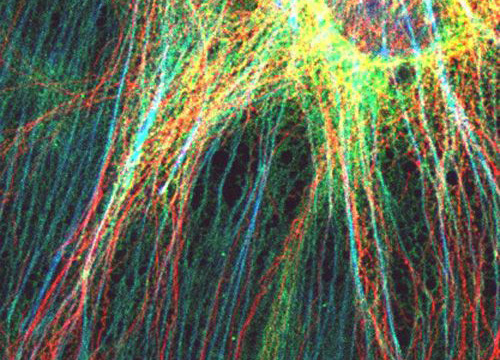 Cytoskeletal Universe
Combined actin, vimentin and microtubule stains in a BHK cell (Rex Chisholm's Lab)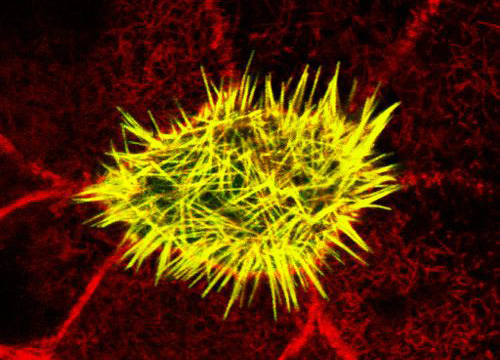 Spiky!
Espin (green) bundles actin filaments (red) into microvilli that protrude upward from the monolayer of cells. (James Bartles' Lab)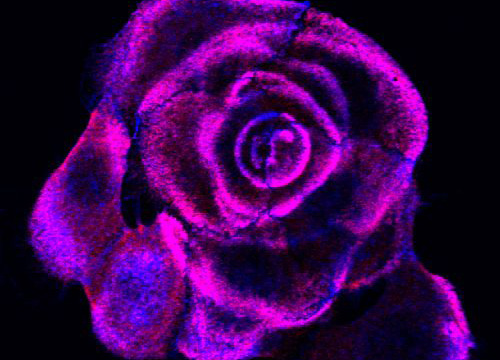 Is It A Rose?
Beta4 integrin (blue) and BPAG1e (magenta) within hemisdesmosomes that have been arranged by keratinocyte into a rose-like pattern (Jonathan Jones' Lab)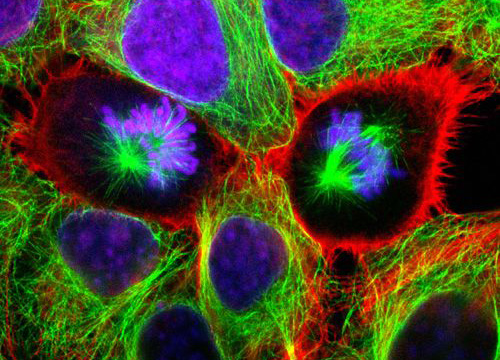 Devil's Angry Eyes
This iconic picture of HeLa cells served as the promotional image for the 2011-12 One-Book-One-Northwestern event in which Rebecca Skloot's "The Immortal Life of Henrietta Lacks" was featured. (Teng-Leong Chew's Lab)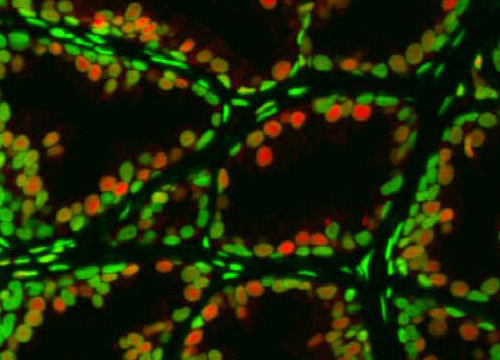 Prostate Biopsy
Spectrally unmixed Ki67-positive nuclei (red) within a highly autofluorescent prostate biopsy specimen. (Peter Gann's lab)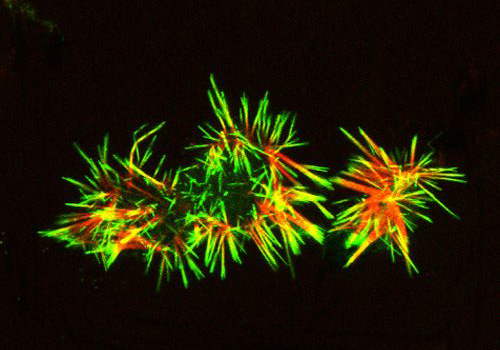 More Spiky Creatures
(James' Bartles Lab)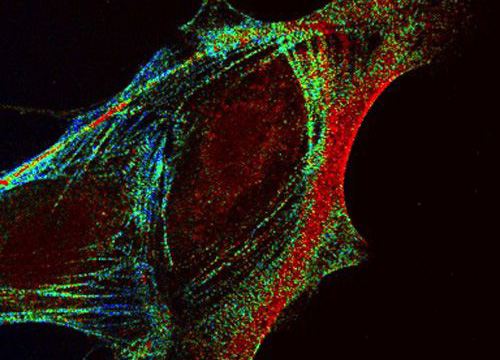 Ratiometric image of myosin II phosphorylation
Ptk2 cells were stained with antibody specific for phosphorylated form of myosin II regulatory light chain (RLC-p). The intensity of RLC-p stain was ratioed against GFP-RLC expressed in the cells to create this phosphorylation "heat map". (Rex Chisholm Lab)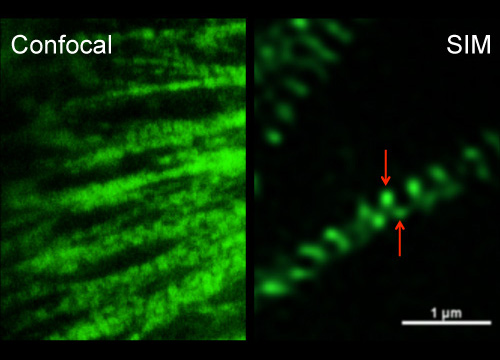 Myosin heads along stress fibers
Comparison of myosin II sarcomeric periodicity (visualized by GFP-regulatory light chain) along stress fibers, as visualized by conventional confocal microscope (left) and N-SIM structured illumination super-resolution microscope (right). Under N-SIM, the individual globular heads of myosin II are clearly visible, as indicated by the red arrows. (Teng-Leong Chew's Lab)