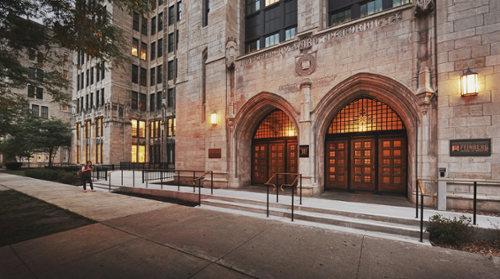 For individuals invited to the Walter S. and Lucienne Driskill Graduate Training Program in Life Sciences (DGP) interview weekend, we offer some schedule information and details on what you can expect.
Dates
Interview visit dates for admission in 2018 are January 11-13, January 25-27, and February 8-10.
Dress
The DGP DOES NOT require formal dress for the interviews. All events, including the interviews, are meant to be informal and casual. We suggest smart casual or business casual, but jeans are very acceptable attire. Because of the season in which we hold our interviews, we advise you check the weather forecast and bring appropriate outerwear and accessories. Please come prepared with a hat, scarf, coat and umbrella in case of inclement weather. Snow shoes are also a good idea.
Hotel
The DGP uses the Hyatt Hotel for rooms and Thursday dinner. Please note that you will be sharing a room with another applicant. The roommate list will be posted here the week of the interview.
Group Size
We expect approximately 25 to 30 applicants on each of the weekends. Thursday dinner will be for everyone at the same time, but Friday dinners will be in groups of eight to 10 at various nearby restaurants.
Food
The lunch and reception foods should have items suitable, though not great, for vegetarians (salads, cheese, etc.). The Thursday night dinner at the Hyatt will have both meat and meatless dishes. If you have special dietary needs, please let us know ahead of time.  Contact the DGP Program Assistant Judy Brown at 312-503-1889.
Special Accommodations
Applicants who have a disability and need special accommodations for an invited campus tour or interview should make their needs known to the DGP. The program will endeavor to provide the necessary accommodations and when needed, consult with Northwestern University's AccessibleNU Office to meet the needs.  If the applicant is admitted and matriculates to Northwestern, the AccessibleNU office is available to provide possible services and accommodations to the student. The SSD office may be contacted by email at accessiblenu@northwestern.edu or by phone at 847-467-5530.
Tentative Schedule
Thursday
6:00 p.m.
We will meet in the Ballroom on the third floor of the Hyatt Hotel for dinner with students and faculty - an informal time for you to relax, eat some good food, and ask a few questions with a small number of faculty and students. There will also be a short introductory presentation.
Friday
8:15 a.m.
Meet in hotel lobby for walk to NU
8:30
Breakfast at the school
9:00 - 10:30
Welcome by Nick Cianciotto, DGP Director
Academic program overview presented by Pam Carpentier, DGP Assistant Director
10:40 - 12:30 p.m.
Three interviews (30 minutes each) with individual faculty
12:30 - 1:30
Lunch with faculty and students
1:35 - 2:45
Two interviews (30 minutes each) with individual faculty
3:00
Information about DGP and Graduate School professional development programs
3:30 - 4:15
Presentation by students on housing in Chicago
4:15 - 5:30
Reception with faculty and students where you will sign up for your choice of dinner destination
6:45
Meet in hotel lobby, walk to small group dinners (eight to 10 applicants with two to three current students)
8:00 (Optional)
Beer, dessert, pool, and fun with students at Rock Bottom
Saturday (Optional)
Breakfast at your convenience at Corner Bakery
Tour of student apartments and neighborhoods via Chicago Trolley
Chicago style Pizza Lunch at about noon
Lunch ends at approximately 2 p.m.
Shuttle to the airport depart from the Hyatt Hotel at the prearranged times