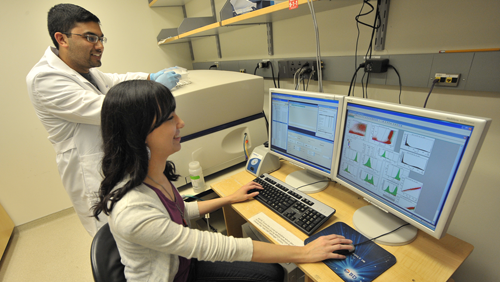 All students entering the Walter S. and Lucienne Driskill Graduate Training Program in Life Sciences (DGP), including foreign nationals, are initially supported by a Northwestern University Fellowship that provides a living stipend and full tuition support. For 2017-18, the stipend is  $31,716.  Stipend for 2018-19 will be $32,196.   Additional provisions include:
Paid coverage in the NU student health service and insurance plan. 
Paid coverage for available dental insurance plan.
After arrival in September, all incoming students receive an additional one time allowance of $1,000 to help offset moving expenses.
Incoming DGP students are also provided an allowance of $999 for a laptop computer.
Students who come to the DGP with an outside fellowship will receive a bonus equal to 10% of one year's stipend.
Students enrolled in the DGP who receive an outside fellowship will receive a bonus equal to 10% of one year's stipend.
DGP students are guaranteed continued support throughout their graduate career as long as they continue to make satisfactory progress towards the PhD degree.
Typically, entering DGP students are provided full tuition and a stipend for the first six quarters from pre-doctoral fellowships provided by the Feinberg School of Medicine. As graduate education continues, all students in good academic standing continue to receive full tuition support, stipends for living expenses and insurance coverage for their entire residency at Northwestern. After the first six quarters, students are supported from a variety of sources, including faculty research grants, NIH funded training grants, outside scholarships, or special graduate fellowships.