Transgenic and Targeted Mutagenesis Laboratory
Mission
The Northwestern University Transgenic and Targeted Mutagenesis Laboratory (TTML) is a shared resource designed to produce genetically engineered mice for research projects of investigators on the Evanston campus, in the Feinberg School of Medicine, the Robert H. Lurie Comprehensive Cancer Center, and the Stanley Manne Children's Research Institute.
Services Offered
Generation of transgenic mice
Transgenic mice are generated by the microinjection of purified DNA into the pronucleus of single-cell fertilized mouse embryos.  Plasmid-based or BAC DNA can be injected to create either transgenic founder lines or transgenic embryos for transient transgenesis analysis.
Gene targeting
Gene targeting services, via homologous recombination in mouse embryonic stem (ES) cells, are available to investigators interested in generating genetically modified mice carrying germline targeted mutations. These services encompass the maintenance of germline competent pluripotent parental ES cell lines; all manipulation and tissue culture of ES cells necessary to create targeted clones; and microinjection of these clones into pre-implantation embryos to produce chimeric animals.
ES cell microinjection
The TTML can culture and/or microinject ES cells for investigators who have either generated targeted clones in their lab or obtained ES cell clones from another source.
Rederivation
The process of rederivation eliminates pathogens such as pinworm, parvovirus, and mouse hepatitis virus from infected mouse lines. Rederivation allows the import of established mouse lines with either known pathogens or of unknown health status from anywhere in the world.
Cryopreservation
Cryopreservation is the process of freezing germplasm for stable, long-term storage in liquid nitrogen. It is a safe method for preserving viable pre-implantation embryos or sperm that can be easily recovered at a future date to revive the line.  Embryo and sperm cryopreservation is now available.
Cryorecovery
Our cryorecovery service allows the worldwide import and recovery of mouse lines from frozen embryos or sperm.
Acknowledgement
All manuscripts and grants presenting work supported by this core should include the following acknowledgement:
"This work was supported by the Northwestern University Transgenic and Targeted Mutagenesis Laboratory and a Cancer Center Support Grant (NCI CA060553)."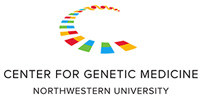 Contacts & Locations
Lynn Doglio, PhD  
Director
Olson 8-402d
(312) 503-0088
(312) 503-0087 (FAX)
Transgenic Laboratory
Lurie B-217
(312) 503-0773
(312) 503-0973 (FAX)
ES Cell Laboratory
Olson 8402
(312) 503-0085
(312) 503-0087 (FAX)