Mouse Histology and Phenotyping Laboratory
Mission
The mission of the Northwestern University Mouse Histology & Phenotyping Laboratory (MHPL) is to assist investigators with mouse histopathology. The laboratory provides comprehensive histology services for all rodent species (i.e., mouse, rat, etc.) which include necropsy, phenotyping of organs and tissues, dissection and tissue processing, and one-on-one consultation. The lab generates unstained paraffin and frozen sections for investigators to be used for special staining and immunohistochemistry (IHC). Pathologist consultation can also be provided to help develop strategies to elucidate phenotypes and gain mechanistic insight regarding the biologic actions of the targeted molecule or the toxicity of exogenously administered substances. In addition, the laboratory provides training opportunities for learning histology techniques and phenotyping analysis.
This site contains a list of services, documents, and protocols relevant to the procedures performed at the MHPL.
Services Offered
Necropsy and tissue collection
Gross exam with report
Histopathology (slide interpretation)
Histopathology toxicity evaluation
Photo documentation of histopathology
Training in necropsy techniques including perfusion of mice and special tissue dissection
Phenotype screening (complete necropsy and histopathology of mutant mice)
Assistance with development of animal pathology protocols
Immunohistochemistry (IHC) – Using tyramide signal amplification (TSA) and ABC methods (automated), with DAB chromogenic substrate. See documents below for details.
Freezing and embedding of tissues for histology
Frozen sections
Paraffin block processing and Paraffin sections
Hematoxylin and Eosin staining of sections
Specialized histochemical staining of sections (e.g. Trichrome, PAS, Luxol fast blue, Cresyl violet, and many other stains)
Consultation
Acknowledgement
All manuscripts and grants presenting work supported by this core should include the following acknowledgement:
"This work was supported by the Northwestern University Mouse Histology and Phenotyping Laboratory and a Cancer Center Support Grant (NCI CA060553)."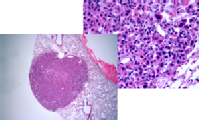 Hours of Operation:
Mon-Fri 9:00am-5:00pm
Contact
General Contact  
(312) 503-2679 (Histology)
(312) 503-2695 (Phenotype & IHC)
(312) 503-2369 (FAX)
Lin Li, MD, MS  
Associate Director
Warren Tourtellotte, MD, PhD, FACP  
Director
---
Location
Olson Pavilion 8-335
710 North Fairbanks Court
Chicago, IL 60611