Directors' Message
Welcome to the Center for Community Health (CCH) website. CCH serves as the main hub at Northwestern for supporting and conducting community-engaged research, characterized by the ongoing and meaningful involvement of community stakeholders in research. We see ourselves and the center as change agents focused on creating equitable communities and health systems committed to eliminating health disparities.
We have several priority areas for the center. First, we want to expand opportunities for community-engaged research at Northwestern and create a culture where every research team feels capable of collaborating with community stakeholders to solve real-world health challenges. Second, we want to actively foster the next generation of leaders by diversifying the healthcare and research workforce and developing a robust pipeline of students, trainees, staff and faculty committed to community-engaged research. Third, we are strengthening our dissemination and implementation core services to create opportunities for bidirectional learning between community stakeholders and scientists to more rapidly translate discovery into practical solutions. We also are excited to foster collaboration and sharing of best practices across research teams and to support efforts to make CCH a vibrant setting for all its employees.
We look forward to working with all of you and welcome your ideas and enthusiasm for community-engaged research and healthcare at Northwestern. Please contact us at cch@northwestern.edu for more information or click here to subscribe to our newsletter.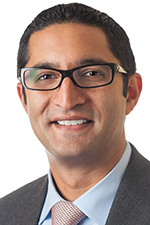 Darius Tandon, PhD, Center for Community Health Director