Sylvia Wolff Research Grant Fund Awardees
The Center for Arrhythmia Research at Northwestern is thrilled to showcase the inaugural Sylvia Wolff Awardees.  Please learn about them and their research projects below.
Left Atrial 4D Hemodynamic Signatures of Atrial Fibrillation
Mohammed S. M. Elbaz, PhD
Assistant Professor of Radiology
Northwestern University Feinberg School of Medicine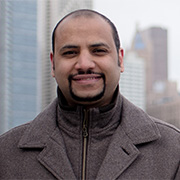 Summary: Atrial Fibrillation (AF) is a disease that causes irregular heartbeat, and affects over 2 million Americans   with over $6 billion expended annually. AF is estimated to cause up to 5-times increase in the risk of stroke  mainly due to blood clots (thromboembolic stroke) resulting from abnormal blood flow from the heart. Hence, better understanding of blood flow abnormalities in AF may enable developing more precise diagnostics and treatment planning. In this project, we will develop and employ novel techniques to comprehensively assess the complex 3D blood flow changes in the heart (left atrium) in patients with AF from advanced four-dimensional (4D) MR imaging. We will use advanced computational techniques to identify unique markers (signatures) of blood flow abnormalities in AF patients and association to risk of stroke. This project has the potential for developing optimized patient-specific AF diagnostics and therapy response evaluation towards personalized risk prediction of AF and associated stroke.
Genomic Predictors of Atrial Fibrillation Recurrence in Children and Young Adults
R. Gregory Webster, MD
Assistant Professor (Cardiology)
Department of Pediatrics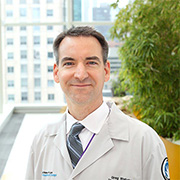 Summary:
Atrial fibrillation (AF) causes substantial morbidity and mortality in adults. AF decreases quality of life. The etiology of AF has a substantial genetic component, but most genetic data have been gathered in adults with AF. Children also present with AF and genetic factors are likely involved in risk for children as well. Specifically, AF recurrence rates are higher in children and young adults with a family history of AF. We propose to test whether genetic markers are associated with AF recurrence in children and young adults.  We will use a large, unique multi-center cohort. As a secondary goal, we will perform pilot testing for rare genetic variation in candidate genes and perform panel-independent trio analysis for de novo variants. We expect these data to provide the first systematic understanding of genetics in children with AF due to common alleles and to provide pilot data for rare variant risk assessment.