Director's Message
Welcome to the Center for Dissemination & Implementation Science (CDIS) website. CDIS was established in August 2022 to serve as the main hub at Northwestern University Feinberg School of Medicine for facilitating and conducting dissemination and implementation science research.
The overarching vision of CDIS is to advance equitable access to evidence-based public health and medical interventions in community and clinical service settings. Broadly speaking, CDIS aims to answer the question, "How do we equitably and intentionally bridge the gap between public health and medical knowledge (what we know) and practice (what we do)?" To address this question, our network of collaborators conducts programmatic research that integrates stategies for both patient-focused dissemination (e.g., direct-to-consumer marketing, technology-assisted interventions) and provider- and organization-focused implementation (e.g., multi-level implementation approaches, workforce development).
As a new center, we are actively engaged in a strategic planning process to determine our short-term goals and the metrics to measure them. In the meantime, our work is guided by aspirations in three key areas:
We aim to accelerate the impact of research across the translational continuum via collaboratively designed research and implementation strategies that can be deployed across diverse service settings.
We aspire to foster the next generation of dissemination and implementation scientists and practitioners by diversifying the workforce and building a robust pipeline of students, trainees, staff and faculty passionate about research translation.
We aim to foster collaborations across the Northwestern community in order to galvanize progress towards a shared goal of improving public health and health equity.
We encourage you to visit the Research section of our website to learn more about our ongoing projects. The Training & Support section will link you to an array of educational and support resources offered in collaboration with partners across campus. You can also read more about the center vision in a recent faculty spotlight on the IPHAM website.
We welcome you to reach out to us to share your enthusiasm for dissemination and implementation science research and services at Northwestern. Please contact us at cdis@northwestern.edu with your ideas or to request more information about our work.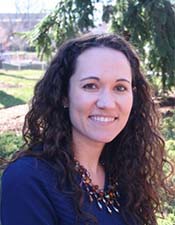 Sara Becker, PhD
Director, Center for Dissemination & Implementation Science (CDIS)