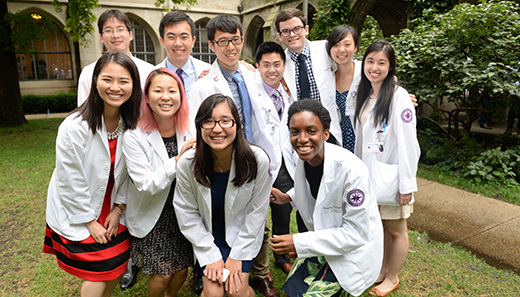 Feinberg is actively committed to attracting and training a diverse student body that is representative of the current U.S. population.
161 students entered the Feinberg School of Medicine as the Class of 2021 on August 7, 2017: 87 male and 74 female. They were selected from a pool of 7,516 applicants.
Members of the class have a collective total of 77 undergraduate majors ranging from electrical engineering, chemistry, mathematics, and biology, to history, anthropology and psychology.
In addition to English, incoming students speak 29 different languages. The most commonly spoken languages are Spanish, French and Chinese.
GPA and MCAT Median Scores

Median GPA: 3.89

Median Science GPA 3.88

New Median MCAT: 520
Old Median MCAT: 37
Twenty-eight students (17 percent) self-identified as part of underrepresented minority groups. Among the 161 matriculates, represented racial and ethnic groups include 10 (6 percent) African and African American; 68 (42 percent) Asian; 1 (0.6 percent) American Indian; 17 (11 percent) Hispanic; and 59 (37 percent) White. Six (4 percent) matriculants chose not to self-identify. Ten students (6 percent) self-identify as members of the LGBT community.
There are 28 (17 percent) nontraditional students, individuals who have taken off two or more years between their undergraduate studies and medical school, in the class. Together with the traditional students, the M1 class ranges in age from 21 to 30 years old, claims 53 institutions as their undergraduate alma maters, and hails from 33 states and 3 foreign countries.
Seventy-three members of the Class of 2021 have earned BA degrees and 80 have BS degrees. Three have MH degrees, nine have MS degrees and two have MA degrees.
Forty-four students obtained research awards during their academic career. Thirty students have been awarded and participated in fellowship programs.
As undergraduates, 142 students received academic honors. Forty-five members of the class achieved Phi Beta Kappa honors; 95 students graduated with Latin or honor society recognition; and 102 students received a scholarship during undergraduate school. Twenty-six were National Merit Scholars and eleven were Presidential Scholars.
To find a breakdown of our entire student makeup, please see the Student Body Profile page.
| No. of Students | Joint Degree Program |
| --- | --- |
| 15 | Medical Scientist Training Program (MSTP) |
| 24 | Honors Program in Medical Education (HPME) |
| 11 | Northwestern Undergraduate Premedical Scholars Program (NUPSP) |
Research Experience
Ninety-four percent of students engaged in research at the undergraduate or graduate level. Forty-four percent are authors on a research publication or presentation.
Forty-four students obtained research awards during their academic career. Thirty students have been awarded and participated in fellowship programs.
Global Health Opportunities
Over half of the entering class has traveled outside the U.S. These experiences included working in Peru, Guatemala and Taiwan. Community service trips ranged from volunteering in Costa Rica through the Manna Project International to Israel through the Jewish National Fund's alternative winter break, along with mission trips to Taiwan to teach English and participate in Medical Student Cultural Exchange programs.
Medical students can engage in global clinical experiences at one of 17 affiliated universities, health clinics, and INGOs around the world.
Teaching Experience
Many members of the class have volunteered for a variety of organizations as tutors and teachers. One hundred-thirteen members have been a tutor, and 104 students have volunteered as a teacher.