Forming new connections, accelerating discovery
The new Louis A. Simpson and Kimberly K. Querrey Biomedical Research Center houses 12 floors dedicated to scientific discovery and collaboration. It is connected floor-by-floor to the Robert H. Lurie Medical Research Center, and is uniquely positioned as a strong connector at the core of a great academic medical district and research campus. 
The center's interconnected floors have been designed to maximize scientific interactions, particularly in two-story collaboration spaces. It is built with the ability to add up to 16 additional lab floors at a later date without interrupting scientists in the building. 

The building, which was designed by Perkins+Will, will formally open to campus in mid-June.
Facts and Figures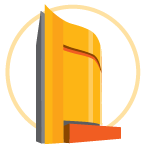 The building brings together physicians and scientists from Northwestern University and the Stanley Manne Children's Research Institute with top-ranked clinical affiliates Northwestern Memorial Hospital, the Ann & Robert H. Lurie Children's Hospital of Chicago and the Shirley Ryan AbilityLab, in one powerhouse academic medical district.
625,000
The 12-story building adds more than 625,000 square feet of research space to the Chicago academic medical campus.
23
At full capacity, the first phase of the Simpson Querrey Biomedical Research Center will house 23 research groups per lab floor, or 200 principal investigators in total.

The lab plan is organized around flexible "research neighborhoods,"
with the goal of creating a vibrant hub that attracts the best minds in research worldwide.
$700m
Northwestern brings in more than $700 million in federal research funding annually; the new facility enables us to increase that by $150 million annually, or $1.5 billion in the next 10 years.
2,000
With the new research center, the University will create 2,000 new full-time jobs and generate an additional $390 million a year in economic activity in Chicago.
2,500
In its first phase, the building created more than 2,500 construction jobs.
Sustainability Features
The building is on track to be LEED Gold Certified, and is projected to be 33.22 percent more efficient than ASHRAE 90.1-2007 baseline code-compliant. 
The lab floor efficiency of net to gross square footage is 70%.
A "blue roof," located beneath the grass-covered "green roof," can retain up to 6 inches of storm water — 123,420 gallons — for a total of 48 hours.
The building has green roofs for reduced heat absorption.
Back to top