CTC Summer Student Immersion Program
The Northwestern University Transplant Outcomes Research Collaborative (NUTORC) and Northwestern University Collaborative in Transplant-Related Immunology and Biomedical Engineering (NUCTRIBE) within the Comprehensive Transplant Center (CTC) offer an unpaid summer immersion program to students who are interested in transplant research. This program runs from June to August and during this experience students will:
Develop & complete a research project with their mentor
Gain basic understanding of transplantation through lectures, meetings, and research
Learn to use PubMed and Endnote
Present summer research project at Poster Walk
Every student is given a succinct project and assigned a mentor for the summer. The first week, all students will learn to navigate PubMed searches, EndNote and will receive a basic understanding of transplantation. During their second week, students will start focusing on the topic of their research project through reading and face-to-face teaching with their mentor.
Students and mentors create project schedules and will check in at least once a week. There will be approximately 3-4 lectures weekly from transplant clinicians on topics relevant to transplantation. 
With proper approval, the undergraduate & medical students students will have the additional opportunity to observe a surgery, an outpatient clinic and a multi-disciplinary morning rounds conference. 
We encourage College and Medical School students from different institutions to apply. We also encourage minority and students with disabilities to apply.
Program Dates are May 25– July 17, 2020 -  the application is now closed for Summer 2020.
 
We intend to post applications in the fall for a return of early January. Interviews and selection will occur in January and February. Students will be asked to confirm participation and begin the onboarding process shortly after. This is an unpaid internship does not offer travel reimbursement. 
| | | | |
| --- | --- | --- | --- |
| Student | Education | Mentor(s) | Project Title |
| Rhea Sharma | High School | Borja/Katariya | The Recent Decline of Pancreas Transplantation: Causes and Conclusions |
| Ella Nettnin | Undergraduate | Gordon | ENGAGE: Expanding Live Donor Kidney Transplantation through Advocacy and Social Media: A Focus on Patient Comfort Level in Initiating Conversations About Living Donation |
| Ali Zarandazchi  | Med Student | Gordon | ENGAGE: Expanding Live Donor Kidney Transplantation through Advocacy and Social Media: A Focus on Assessing the Pressure on Potential Living Donors to Donate |
|  Diane Casini | Med Student | Caicedo/Daud | Postoperative vascular complications and primary non-function in DCD liver transplantations |
| AlejandraVelazquez  | Undergraduate | Caicedo/Daud | Postoperative vascular complications and primary non-function in DCD liver transplantations |
| Anil Mishra | Med Student | Park | Machine Learning Pilot Study:  Turning Unstructured Kidney Biopsy Data into Structured Data via Natural Language Processing |
| Sydney Rabin | Med Student | Ladner | Creating Reading-Level Appropriate, Multimedia Tools to Educate Patients on Hepatic Encephalopathy |
| Je-Woo Im | High School | Ladner | Creating Reading-Level Appropriate, Multimedia Tools to Educate Patients on Hepatic Encephalopathy |
| Riziki Covington  | Undergraduate | Simpson | The African American Transplant Access Program: Making Transplants Attainable for Marginalized Groups |
| Matthew Au | Med Student | Ison | Respiratory Viral Infections in Hospitalized Adults:  Comparative Outcomes on Detected Viruses April 2009-April 2018  |
| Rithva Ramesh | Undergraduate | Ison | Respiratory Viral Infections in Hospitalized Adults:  Comparative Outcomes on Detected Viruses April 2009-April 2018  |
| Olivia Finks | Undergraduate | Ison | Respiratory Viral Infections in Hospitalized Adults:  Comparative Outcomes on Detected Viruses April 2009-April 2018  |
| Angelin Mathew  | High School | Wertheim  | Validating and Characterizing the Specific Binding Capabilities of Phage Display Derived Peptides to Decellularized Kidney  |
| Salmaan Zafer | Med Student | Caicedo/Daud | Ischemic Cholangiopathy, Biliary Complications, and Long-term Outcomes of Patients who received Livers from Donors who underwent Cardiac Death |
| Tommy Cerri | Med Student | Caicedo/Daud | Ischemic Cholangiopathy, Biliary Complications, and Long-term Outcomes of Patients who received Livers from Donors who underwent Cardiac Death |
| Mark Antkowiak  | AOSC | Wertheim | Patient Specific Modeling of Non-Alcoholic Fatty Liver Disease using 3D Printing |
| Mia Levitsky | High School | Ison | Retrospective Review of de novo Antibody Formation or Antibody-Mediated Rejection in Renal Transplant Recipients with BKVN Managed with Immunosuppression Reduction |
| Payal Shukla | Med Student | Ison | Retrospective Review of de novo Antibody Formation or Antibody-Mediated Rejection in Renal Transplant Recipients with BKVN Managed with Immunosuppression Reduction |
| Zach Shalginewicz  | Med Student | Mazumder | Early Detection of Liver Cirrhosis Using EMR |
| Polineni | AOSC | Wertheim  | Cell-signaling Molecules and Vasculogenesis in ex vivo Decellularized Kidney Scaffolds  |
|  Chris Yang | AOSC | Ladner | Personality and Prehabilitation in End-Stage Liver Disease |
| Osama Siddiqui | AOSC | Ladner | Personality and Prehabilitation in End-Stage Liver Disease  |
| Steven Duc Tran  | AOSC | Ladner |   |
| Allie Carroll | AOSC | Levitsky |  Assessment of Desire to Attempt Immunosuppression Withdrawal in Autoimmune Hepatitis and Post-liver Transplant Patients |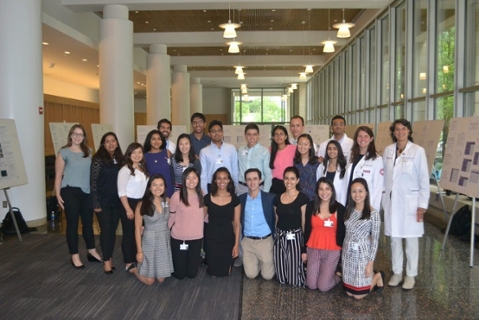 | | | | |
| --- | --- | --- | --- |
| NAME | EDUCATION | MENTOR | TOPIC |
| Mohan Ravi | AOSC | Ladner | Living Donor Liver Transplantation: An Evaluation of Incidental Findings During Donor Workup |
| Eden Sharabi | AOSC | Levitsky | Assessment of Patient's Desire to Attempt Immunosuppression Withdrawal in Autoimmune Hepatitis and Post-liver Transplant Patients |
| Christopher Collier | Medical Student | Ladner | Creating Reading-Level Appropriate Multimedia Educational Tools for Patients with Liver Cirrhosis |
| Anam Chhatriwala | Medical Student | Mazumder | Analyzing the Effect of Liver Transplantation on Myocardial Strain Using Speckle-Tracking Echocardiography in Nonalcoholic Steatohepatitis (NASH) |
| Sallyan Rusnak | Medical Student | Ison | Respiratory Viral Infections in Hospitalized Adults: Comparative Outcomes  on Detected Viruses April 2009-April 2018 |
| Michelle Lam | Medical Student | Mazumder | Analyzing the Effect of Liver Transplantation on Myocardial Strain Using Speckle-Tracking Echocardiography in Nonalcoholic Steatohepatitis (NASH) |
| Lauren Gabra | Medical Student | Simpson | Racial Disparities in Access to Liver Transplant Waiting List |
| Trisha Kaundinya | HPME | Ladner | Pre-Transplant Cirrhosis Exercise Dynamics and Patient-Perceived Preferences: A Systematic Review and Analysis |
| Megan Tcheng | Undergrad | Ison | Respiratory Viral Infections in Hospitalized Adults: Comparative Outcomes  on Detected Viruses April 2009-April 2018 |
| Erin Kim | Undergrad | Mazumder | Analyzing the Effect of Liver Transplantation on Myocardial Strain Using Speckle-Tracking Echocardiography in Nonalcoholic Steatohepatitis (NASH) |
| Gabriella Seo | Undergrad | Ison | Respiratory Viral Infections in Hospitalized Adults: Comparative Outcomes  on Detected Viruses April 2009-April 2018 |
| Mitch Afifi | Undergrad | McNutt | Frailty as a Predictor of Outcome |
| Ishaani Khatri | Undergrad | Ladner | Utilization and Analysis of Proactive Safety Debriefings to Assess Patient Safety in Living Donor Liver Transplantation |
| Madilyn Matsunaga | Undergrad | Ladner | Assessing Patient Safety in Living Donor Liver Transplants Using Proactive Safety Debriefings |
| Neha Sharma | Undergrad | Gordon | ENGAGE: Expanding Live Donor Kidney Transplantation through Advocacy and Social Media:  A Focus on Recruitment |
| Christina Im | Undergrad | Wertheim | Gene Expression Patterns of Recellularized Kidney Scaffolds with Stem cell-derived Renal Organoid Cells |
| Aneesh Maganti | High School | Liu | Identification of Cell Types That Harbor Cytomegalovirus DNA in Acutely and Latently Infected Mice Spleen |
| Nader Mujtaba | High School | Daud | NUTORC: Assessing a Decade of Achievements |
| Dario Ciaciura | High School | VanWagner | Implementation Science to Improve Cardiovascular Disease Outcomes Among Liver Transplant Recipients |
| Christine Hou | High School | Liu | Identification of Cell Types That Harbor Cytomegalovirus DNA in Acutely and Latently Infected Mice Spleen |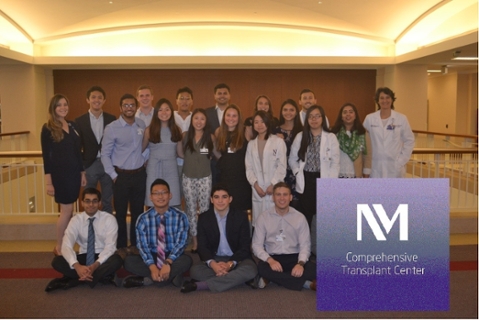 | | | | |
| --- | --- | --- | --- |
| NAME | EDUCATION | MENTOR | TOPIC |
| Bettina Chung | AOSC | Wertheim | Differentiation of Definitive Endoderm from H9 Human Embryonic Stem Cells |
| Ian Hollyer | AOSC | Ison | Assessment of Methenamine Hippurate for the Prevention of Recurrent Urinary Tract Infections in Adult Renal Transplant Recipients: A Single Center Study |
| Christopher Mowry | AOSC | Levitsky | Biomarkers for the Diagnosis of Nonalcoholic Steatohepatitis in the Liver Transplant Population |
| Stewart Pine | AOSC | VanWagner | The Relationship Between Body Composition Profiles and Outcomes in Liver Transplantation |
| Brett Nelson | Medical Student | Ison | Clinical Outcomes Related to Antimicrobial Therapy for Infections due to Multi-Drug Resistant Gram Negative Bacilli in Solid Organ Transplant Recipients |
| Kim Pardilla | Medical Student | Wallia/Kling-Colson/Karam | Development of an Assessment Tool of Diabetes Knowledge After Education with the 'DIY-Diabetes Management' System |
| Alexander Polyak | Medical Student | Shetty/Ganger | Evaluation of Renal Outcomes for Liver Transplant Patients on Renal Sparing Protocol |
| Lindsay Adamski | Undergrad | VanWagner | The Relationship Between Body Composition Profiles and Outcomes in Liver Transplantation |
| Hamza Ashfaq | Undergrad | Wolf | Determinant Factors of Routine Patient Portal Usage in Kidney and Liver Transplant Recipients |
| Tenzin Babu | Undergrad | Ison | Clinical Outcomes Related to Antimicrobial Therapy for Infections due to Multi-Drug Resistant Gram Negative Bacilli in Solid Organ Transplant Recipients |
| Karisma Chhabria | Undergrad | Bhorade | Clinical Implications of Lung Microbiota Dynamics in the Transplant Population |
| Samuel Chiang | Grinnell | Friedewald | Wellness and Health Outcomes of Live Kidney Donors (Whole Donor Study) |
| Siyuan Du | Grinnell | Liu | Characterization of the Course of MCMV Acute Infection and Latency Establishment in Mouse Spleen |
| Michelle Guo | Undergrad | Luo | Collagen Scaffolds for Islet Cell Transplantation in Treatment of Type I Diabetes |
| Christina Im | Undergrad | Wertheim | Improving Adhesion and Retention of Human Pluripotent Stem Cells in Decellularized Rat Kidney Extracellular Matrices |
| Akash Karmur | Undergrad | Fryer | Medical Student Duty Hours |
| Aidan Manaligod | Undergrad | Levitsky | Transition from Pediatric to Adult Health Services Amongst Pediatric Liver Transplant Recipients |
| Ari Spellman | Undergrad | Ladner | Evaluation of Online Educational Resources for Cirrhosis Patients and Caregivers |
| Francesca Varias | Grinnell | Ison | Assessment of Methenamine Hippurate for the Prevention of Recurrent Urinary Tract Infections in Adult Renal Transplant Recipients: A Single Center Study |
| Kevin  Chen | High School | Gordon | Linguistic Access to Care: Availability of Spanish Communication Systems in U.S. Hospitals |
| Mihir  Kumar | High School | Gordon | Linguistic Access to Care: Availability of Spanish Communication Systems in U.S. Hospitals |
| Mateen  Motavaf | High School | Wertheim | Validating Antibodies for Kidney Organoid Characterization |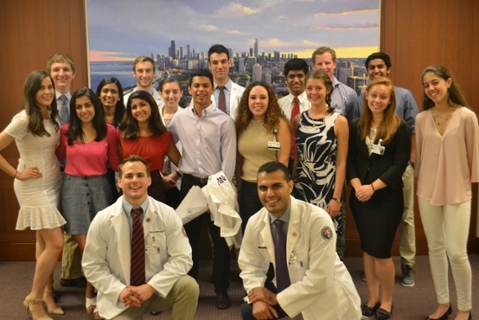 | | | | |
| --- | --- | --- | --- |
| NAME | EDUCATION | MENTOR | TOPIC |
| Avni Bavish | AOSC | Skaro/ Zhao | Age-related Hazard in Liver Transplantation |
| Daniella Ohnemus | AOSC | Alonso | A Pilot Study of the Feasibility and Variability of the PedsPCF Item Bank as a Screening Tool for Minimal Hepatic Encephalopathy |
| Elliot Russell | AOSC | Ison | Parainfluenza Virus in Hospitalized Adults: A 7-Year Retrospective Study |
| Bilal Naved | MSTP | Wertheim | Developing Functional Metrics to Assess Therapeutic Interventions in a Rodent Model for Limb Transplantation |
| Ahmad Atallah | Medical Student | Atiemo | Characteristics of Donors Turned Down Following Complete Evaluation for Living Donor Liver Transplantation |
| Devan Higginbotham | Medical Student | Wallia | Donor Characteristics in Liver Transplant Patient Population in a Randomized Controlled Trial Evaluating Glycemic Control Post Transplant |
| David Lyubashevsky | Medical Student | Shetty | Prospective Study of a Steroid Free, low dose Tacrolimus with Everolimus Regimen in Kidney Transplant |
| Stephanie Arias | Graduate Student | Ladner/Elrich-Jones | Effects of Rehabilitation for Liver Transplant Recipients |
| Parker Stride | Graduate Student | Fryer | Ischemic Cholangiopathy in DCD Recipients: Creating a Standard Definition and Grading System |
| Joseph Beggs | Undergrad | Wertheim | Cytochrome P450 Metabolic Activity as an Indicator of Cell Maturation |
| Jeffry Granados | Undergrad | Wertheim | Protein Characterization in Cellular Repopulation in Healthy and Fibrotic Kidney Extracellular Matrix Scaffolds |
| Emily Hayes | Undergrad | Liu | Quantification of Murine Cytomegalovirus DNA in Mouse Bone Marrow Cells during the Course of Acute Infection and the Establishment of Latency |
| Eman Hijab | Undergrad | Koller | Pharmacological Interventions to Prolong Primary Unassisted Patency |
| Sameeksha Malhotra | Undergrad | Mixon | A Billing Process Improvement for the Comprehensive Transplant Center |
| Rishabh Mazmudar | Undergrad | Ladner/Elrich-Jones | Investigating the Impact of Post-Operative Rehabilitation on Liver Transplant Outcomes |
| Sydney Tardrew | Undergrad | Ison | Parainfluenza Virus in Hospitalized Adults:  A 7-Year Retrospective Study |
| Aditi Bawa | High School | Daud | Community, Caregiver, and Advocacy Group-Directed Strategies to Lead Comparative Effectiveness Research for Liver Cirrhosis |
| Anisa Ciaciura | High School | Luo | A Generation of Epstein-Barr Virus (EBV) Growth- Transformed B Cell Lines |
| Arun Maganti | High School | VanWagner | Cardiovascular Risk Assessment of the Liver Transplant Candidate: An Evaluation of the Evidence and Proposed Management Strategies |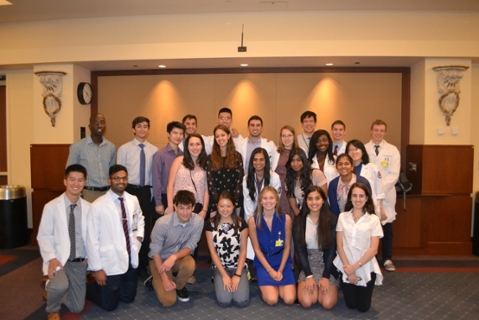 | | | | |
| --- | --- | --- | --- |
| NAME | EDUCATION | MENTOR | TOPIC |
| Kevin Y Chang | AOSC | Ladner | The Use of Neuro-monitoring to Reduce Compression Neuropraxia in Living Liver Donors |
| Ruizhi Dong | AOSC | Levitsky | Factors Mediating the Rejection of Kidneys in Patients of Simultaneous Liver-Kidney Transplants |
| Helen Gomez | AOSC | Caicedo | Hispanic Preferences and Perceptions of the Kidney Transplant Education Received at Northwestern Memorial Hospital |
| Nicolas Krepostman | AOSC | Ladner | The Use of Neuro-monitoring to Reduce Compression Neuropraxia in Living Liver Donors |
| Andy Lee | AOSC | Ladner | A Multicenter Study of Factors that Increase Cognitive Load in Living Donor Liver Transplants |
| Erica Malagon-Blackwell | AOSC | Caicedo | Hispanic Preferences and Perceptions of the Kidney Transplant Education Received at Northwestern Memorial Hospital |
| Stephen Ngo | AOSC | Ison | The Impact of Pre-Transplant Infections on Post-Liver Transplant Outcomes |
| Benjamin Rodrigues | AOSC | Caicedo/Butt | Racial Differences in Post-Renal Transplantation Health-Related Quality of Life |
| Dustin Slagle | AOSC | Ison | Epidemiology and Outcomes of Fever during the First Month after Simultaneous Pancreas-Kidney Transplant |
| Pascal Accoh | Medical Student | Baker | Analysis of the Outcomes of Liver Transplants at Northwestern Based on Quality of Organs and Priority on Transplant List |
| Francis Eusebio | Medical Student | Maganti | The Interesting Presentations of Infective Endocarditis in Solid Organ Transplant Recipients |
| David R. Kasjanski | Medical Student | Friedewald | Comparison of Digital versus Light Microscopy in Renal Allograft Biopsies |
| Akta Patel | Medical Student | Bhorade | Comparison of the Incidence of Diabetes in Two Immunosuppressive Regimens in Lung Transplant Patients |
| Henry Schmidt | Medical Student | Ison | Epidemiology and Outcomes of Patients Admitted with Respiratory Syncytial Virus: A Six Year Retrospective Study |
| Pratyusha Yadavalli | Graduate Student | Bhorade | Renal Failure in Lung Transplant Patients |
| Alina Ahmad | Undergrad | Ladner | A2ALL-Patient Safety System Improvements in Living Donor Liver Transplantation |
| Wilson Faeh | Undergrad | Leventhal/Stare | T-Regulatory Adoptive Cell Transfer (TRACT) |
| Binu Kolenchery | Undergrad | Luo | Post-Transplant Immunotolerance Induced by Nanoparticles |
| Jacob B. Lissoos | Undergrad | Wertheim | Isolation of Hepatocytes from 3-D ECM Scaffolding |
| Victoria Liu | Undergrad | Hazen | Using Past MELD Scores as a Predictor for Future Changes |
| Alexandra Pfenning | Undergrad | Levitsky/Al-Saden | A Chronology of Hepatitis C Treatments |
| Alexander Siarris | Undergrad | Baker | Analysis of the Outcomes of Liver Transplants at Northwestern Based on Quality of Organs and Priority on Transplant List |
| Zayd Ahmed | High School | Daud | Causes and Clinical Consequences of Equipment Malfunction in Surgical Procedures |
| Kevin Chow | High School | Daud | Medical Records in Research, Paper or Electronic? |
| Anisa Ciaciura | High School | Salehitezangi | Social Media Strategies for Cirrhotic Patient Outreach |
| Becky Shepard | High School | Salehitezangi | Social Media and NUTORC |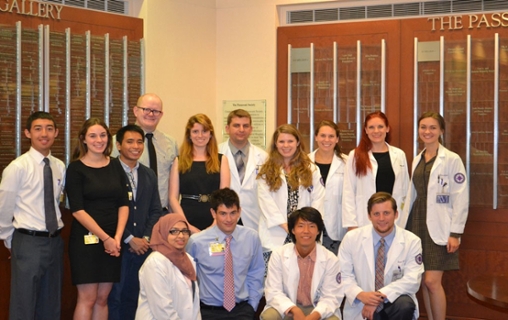 | | | | |
| --- | --- | --- | --- |
| NAME | EDUCATION | MENTOR | TOPIC |
| Ania Bilski | AOSC | Ison | Non-U.S. Born Transplant Candidates: Infectious Screening and Evaluation Hurdles |
| Chris Feng | AOSC | Ison | Vaccine Responses in Combined Hematopoietic Stem Cell-Solid Organ Transplant Recipients |
| Mia Helfrich | AOSC | Ison | A Retrospective Study to Describe the Epidemiology and Outcomes of Opportunistic Infections Post-Solid Organ Transplantation |
| Blake Platt | AOSC | Ladner/Woods | Living Donor Liver Transplant Surgery – Donor Adverse Events Codebook |
| Amanda Rosen | AOSC | Ison | Utility and Outcomes of Expanded Live Solid Organ Donor Screening |
| Jessica Lee Houk | Medical Student | Ison | Timing and Outcomes of Antiviral and Antibacterial Therapy in Patients Admitted with Influenza: A Five Year Retrospective Study |
| Vadim Lyuksemburg | Medical Student | Skaro | Project 1: Outcomes of Basilic Vein Transposition for Hemodialysis: A Meta-Analysis. Project 2: Evaluating the Impact of Graft Type on Biliary Complications After Liver Transplantation |
| Sanaa Abdul Hameed | Medical School Graduate | Ladner | Hospital Patient Safety Culture in Living Donor Liver Transplantation |
| John Cannizzaro | Graduate Student | Ladner | Patient Safety in Living Donor Liver Transplantation: Equipment Malfunction |
| John Capua | Graduate Student | Gordon | Cultural Competency in Organ Donation: A Literature Review of Interventions |
| Katy Skibba | Graduate Student | Ladner | Risk Factors for Mortality in Cirrhotic Patients with a Low MELD Score |
| Nicholas Welsh | Graduate Student | Wallia | Evaluation of Hypoglycemia in a Randomized Controlled Trial Comparing Moderate to Intensive Glycemic Control Post-Liver Transplant |
| Jennifer Zakko | Graduate Student | Gordon | Geographic Information Systems (GIS) in Kidney Transplant Access and Outcomes |
| Corey Meehan | Undergrad | Ladner | Patient Safety in Living Donor Liver Transplantation: Patient Positioning |
| Gabrielle Schwartzman | Undergrad | Ladner | Patient Safety in Living Donor Liver Transplantation: Sign in and Time Out |
| Tanvi Subramanian | Undergrad | Levitsky | Assessment of Energy Metabolism with Exercise in Liver Transplant Recipients |
| Jaylen Thomas | Undergrad | Levitsky | Incidence of Early Major Adverse Cardiovascular Events after Liver Transplantation |
| Sanskriti Varma | Undergrad | Caicedo | Are Kidney Transplant Centers in the US Targeting Minorities? Website Evaluation of Transplant Centers Across the Nation |
| Jacob Lissoos | High School | Wertheim | The Impact of 3-D Micro-Bio Scaffold Design On Human Induced Pluripotent Stem Cell Derived Hepatocyte Maturation and Differentiation |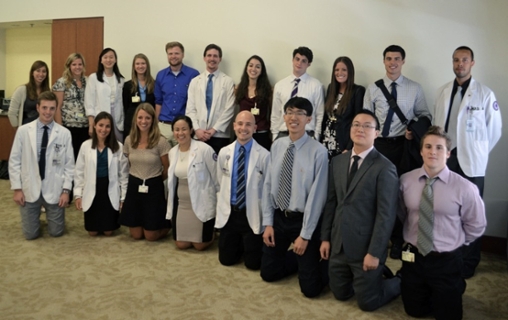 | | | | |
| --- | --- | --- | --- |
| NAME | EDUCATION | MENTOR | TOPIC |
| Peter Bjorkman Dorschner | AOSC | Ison | Nosocomial Infections within the First Month of Solic Organ Transplantation |
| Kamil Bober | AOSC | Ison | Clinical and Virological Outcomes of BK Virus Nephropathy Treated with Cidofovir |
| Edwardo Bustamante | AOSC | Levitsky | The Six Minute Walk Distance to Measure Exercise Capacity Early After Liver Transplantation |
| Jamie Amanda Chin |  AOSC | Skaro | The Alphabet Soup of Kidney Transplantation in the Elderly |
| Mathew Goodmanson | AOSC | Levitsky | Colonoscopic Evaluation of Diarrhea and Colitis in Abdominal Solid Organ Transplant Recipients |
| Joshua Lee | AOSC | Levitsky | The Six Minute Walk Distance to Measure Exercise Capacity Early After Liver Transplantation |
| Adrian Tomes | AOSC | Alonso | Descriptive Analysis of Infectious Complications Following Pediatric Liver Transplantation and Cost of Treatment from 2005 to 2012 |
| Christopher Tapia | AOSC | Levitsky | The Six Minute Walk Distance to Measure Exercise Capacity Early After Liver Transplantation |
| Lauren You-Jin Lee | AOSC | Ison | Epidemiology and Outcomes of Norovirus-Related Diarrhea in Transplant Recipients |
| Natalie Behnke | Medical Student | Ladner/McElroy | Quality and Safety of Abdominal Organ Transplant |
| Arman Changelian | Medical Student | Caicedo | Outcomes of Hispanic Patients |
| Kristina Doytcheva | Medical Student | Ladner/McElroy | Quality and Safety of Abdominal Organ Transplant |
| John Joseph | Medical Student | Ladner | The Etiology of Delays in Kidney Transplantation |
| Cristina Nguyen | Medical Student | Ladner/McElroy | Quality and Safety of Abdominal Organ Transplant |
| Rachel Ramchandani | Medical Student | Wolf | Medication Adherence in Transplant Patients |
| Zach Abecassis | Undergrad | Ladner | The Application of Systems Engineering to Post-Operative Complications in Liver Transplant Recipients, Seasonal Variation Paper |
| Madeleine Rose Heldman | Undergrad | Levitsky | A National Survey of Adult Transplant Hepatologists' Perceptions on Pediatric Liver Transplant Recipients' Transition to Adult Care |
| Margret Miller | Undergrad | Gordon | Smart Phone Use and Interest in a Smart Phone Intervention to Foster Transplant Evaluation Completion Among Kidney Transplant Candidates |
| Michael Pearl | Undergrad | Friedewald | Transplant Center and Organ Procurement Organization Assessment – Impact of the Centers for Medicare and Medicaid Services Conditions of Participation |
| Kathryn Schmidt | Undergrad | Ladner/McElroy | Emergency Care of Transplant Patients: System Optimization and Rationalization |
| Arianna Yanes | Undergrad | Ladner/McElroy | Assessment of Process Vulnerabilities in the Postoperative Handoff of Patients in the Intensive Care Unit |
| Alina Ahmad | High School | Daud | Introduction to Northwestern University Transplant Outcomes Research Collaborative |
| Anisa Ciaciura | High School | Ladner | Introduction to Northwestern University Transplant Outcomes Research Collaborative |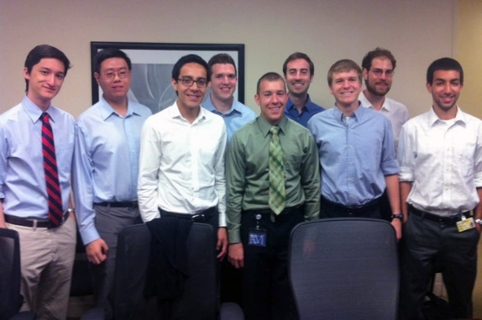 | | | | |
| --- | --- | --- | --- |
| NAME | EDUCATION | MENTOR | TOPIC |
| Andres Camacho | MSSRP | Caicedo | Hispanic American Outcomes in Renal Transplantation |
| Lukasz Cerbin | MSSRP | Skaro | Cardiovascular Risk Index in Renal Transplant Recipients |
| Paul Jurgens | MSSRP | Wolf Serper | Assessment of Medication Adherence and Understanding in Liver and Kidney Transplant Recipients: A Pilot Study |
| Andrew Lok-Ming | MSSRP | Gordon | Shared Decision Making in Organ Transplantation |
| Harrison Mahon | MSSRP | Baker | A Complex Decision Analysis Tool for Decision Making for Optimal Treatment for Early Hepatocellular Cancer |
| Christian Mewaldt | MSSRP | Gordon | Internet Use for Health Information Among Kidney Transplant Candidates and Prospective Living Donors |
| Ariella Sprague | MSSRP | Friedewald | Quality of Life in Kidney Transplantation |
| Kai Xu | MSSRP | Ladner, Preczewski | The Effectiveness and Cost-effectiveness of Patient Safety Regulations in Liver Transplant |
| Joshua Cahan | Medical Student | Baker | A Complex Decision Analysis Tool for Decision Making for Optimal Treatment for Early Hepatocellular Cancer |
| John Joseph | Undergraduate | Ladner | A2ALL Patient Safety System Improvements in Living Donor Liver Transplantation |
| Pamela Sharaf | Undergraduate | Ladner | A2ALL Patient Safety System Improvements in Living Donor Liver Transplantation |
| | | | |
| --- | --- | --- | --- |
| NAME | EDUCATION | MENTOR | TOPIC |
| Jimmy Krupp | MSSRP | Levitsky | Simultaneous Liver Kidney Versus Liver Transplant Outcomes |
| Yuiy Moklyak | MSSRP | Skaro | Conducting Risk Assessments and Analysis to Improve Patient Safety in Kidney Transplantation |
| Chandni Patel | MSSRP | Gordon | Public Perception on when Payment for Kidney Donation Becomes Coercive |
| Amanda Schieler | MSSRP | Ladner | Conducting Risk Assessments and Analysis to Improve Patient Safety in Transplantation |
| Katy Secunda | MSSRP | Levitsky, Skaro, Caicedo | A National Survey of Attitudes and Perceptions of Transplant Providers Towards New Liver Transplant Candidates |
| Yabtsega Moges | MSSRP | Ladner | Northwestern University Transplant Outcomes Research Collaborative Marketing |
| Joshua Cahan | Undergraduate | Baker | A Complex Decision Analysis Tool for Decision Making for Optimal Treatment for Early Hepatocellular Cancer |
| Brad Feiger | Undergraduate | Ladner | Literature Review Kidney Transplantation and Safety |
| Lorena Garcia | Undergraduate | Caicedo | Cultural Competence of the Hispanic Transplant Program and/or Hispanic Pediatric Kidney Transplant |
| Brendan Lovasik | Undergraduate | Ladner | The Influence of Systems and Processes on Cold-Ischemic Time in Liver Transplantation |
| Jimmy Rosati | Undergraduate | Friedewald | Aperio Glass Pathology Side Scanning and Liver Safety Literature Review |
| Sissa Abecassis | High School | Ladner, Holl | Living Donor Liver Transplantation and Safety Literature Review |
| Adekore Taiwo | High School | Ladner | Introduction to Organ Transplantation |
| | | | |
| --- | --- | --- | --- |
| NAME | EDUCATION | MENTOR | TOPIC |
| Krutika Lakhoo | MSSRP | Ladner | Safety Processes in Kidney Transplant Recipients |
| Sarali Mehta | Graduate Student | Ladner, Woods | Kidney Selection Process |
| | | | |
| --- | --- | --- | --- |
| NAME | EDUCATION | MENTOR | TOPIC |
| Jae Lee | MSSRP | Levitsky, Ladner, Butt | Quality of Life in Liver Transplant Recipients and Effects of Immunosuppression |
| Gihyun Myung | MSSRP | Ladner, Fryer | Hepatocellular Carcinoma and Access to Transplantation |