Integrative Medicine Fellowship
Our Osher Center for Integrative Medicine created the Integrative Medicine Fellowship with a mission of training future integrative clinicians who can be leaders in the field. The program is an Advanced Training Specialty Program (ASTP) approved through the McGaw Medical Center of Northwestern University,  Our academic clinical fellowship is intended for primary care physicians from the fields of family medicine, internal medicine and pediatrics, who are interested in developing expertise within the emerging field of integrative medicine and health.
Under the guidance of Osher Center for Integrative Medicine Executive Director, Melinda Ring, MD, and additional Osher faculty the fellowship offers in depth learning through clinical, educational and research activities for one or two qualified fellows per year. The program includes an established academic curriculum and a two year PGY-4 and PGY-5 clinical training. 
Fellows are an integral part of the Osher Center team – providing patient care services and participating in the integrative medicine education of medical students, residents, and other trainees. Fellows spend a significant proportion of their time at the downtown Osher Center for Integrative Medicine, as well as a primary care location in the Erie Family Health Center network focused on medically underserved communities. A variety of additional research, clinical, and education opportunities exist for a focused immersion into different complementary medicine disciplines. The fellowship is tailored to meet individual interests and goals.
Meet our Osher Center Fellows:

Anna Balabanova, MD; Osher Fellow 2017-19
Undergrad: Northwestern University
Medical School: Northwestern University Feinberg School of Medicine
Residency: Northwestern McGaw Family Medicine Residency at Lake Forest
Anna is the current Osher Center for Integrative Medicine Fellow. She was born in Russia, continuing to speak fluent Russian, and spent much of her life in Colorado Springs, Colorado. As an athlete and figure skating coach who earned a US Figure Skating Association Gold Medal, she is passionate about diet, exercise, and helping others achieve their health goals. In medical school she chaired the National Student Conference in Integrative Medicine, attended the Leadership & Education Program for Students in Integrative Medicine (LEAPS into IM), and founded the Chicago Holistic and Integrative Medicine Program Series with a grant from the Weil Foundation. As a resident she has stayed heavily involved with education at the medical school and with wellness initiatives for students, earning an Outstanding Teacher Award from the Feinberg School of Medicine and was inducted into the Feinberg Academy of Medical Educators. Having attended Northwestern University for undergraduate, medical school & residency she is passionate about the Chicago community, working to bring nutrition and cooking workshops to underserved areas, and has presented her work at the Integrative Medicine for the Underserved national conference. She maintains involvement in primary care on a national level as the Resident Consultant to the American Academy of Family Physicians' Committee on Continuing Professional Development. Anna believes that health is impacted by physical, mental, spiritual, environmental and other components, and through this Fellowship aims to address all those areas in her patient care. In her free time Anna loves spending time with friends and family, marathons & triathlons, figure skating, skiing, cooking, writing, and anything outdoors in nature.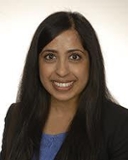 Sreela Namboodiri, MD; Osher Fellow 2016-18
Undergrad: Haverford College
Medical School: University of Maryland School of Medicine
Residency: Northwestern McGaw Family Medicine Residency at at Humboldt Park
Sreela completed the Osher Center Integrative Medicine Fellowship in 2018, and is now leading the development of an integrative medicine program for a Chicagoland Federally Qualified Health Center. She pursued this fellowship opportunity in to bring integrative medicine to the underserved. In college, she discovered that her passion lies in the intersection of social justice and medicine. In the years that followed, she worked in HIV/AIDS care as a Case Manager at the AIDS service center of NYC and a Research Assistant at the NY State Department of Health AIDS Institute. These experiences led her to medical school to become a primary care physician for underserved and marginalized populations. In medical school, she expanded her interest in underserved medicine by pursuing a Family Care Track and research experiences that deepened her understanding of how social and economic factors impact health. She was co-awarded an Arnold P. Gold Foundation Student Service Fellowship for research related to food security in pregnant women and the food environment in Baltimore. Through these experiences, Sreela realized that looking at the full context of a person's life not only includes social and economic factors, but also their mental, emotional, and spiritual well-being. She completed an Integrative Medicine elective in her fourth year of medical school. Her interest in Integrative Medicine comes from her desire to understand the whole context of a person's life and address the root causes of illness in order to better promote health and wellness. In her free time, she enjoys dance classes, cooking, reading, and spending time with her friends and family.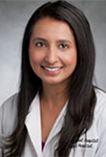 Rupa Mahadevan, MD; Osher Fellow 2016-17
Undergrad: The George Washington University
Medical School: The George Washington University School of Medicine and Health Sciences
Residency: Advocate Children's Lutheran General Hospital
During her medical training, Rupa Mahadevan completed a specialized track in Integrative Medicine which sparked her passion to educate and promote wellness in children. This program allowed her many opportunities to explore integrative medicine: she spent time at George Washington University's Integrative Medicine Center; visited the Chopra Institute for Wellbeing, where she focused on Ayurveda approaches for healing; completed a mindfulness based stress reduction (MBSR) course; and spent one month at the Arizona Center for Integrative Medicine. Prior to medical school, Rupa worked as a nutrition counselor, and she is passionate about educating parents to cook healthy, low-cost meals. Her research interests include mindfulness-based therapies for children exposed to toxic stress as well as reducing physician burn out through wellness. In her free time, she enjoys yoga, cooking, and traveling.
Funding
The Malkin Family and other donors have generously provided philanthropic support for the Osher Center for Integrative Medicine fellowship.
Incorporating Wellness
The Osher Center is available to assist Northwestern training programs in integrating provider wellness and integrative medicine content. For more information about how we can assist your program, please contact Nancy Heap.