William A. Grobman, MD, MBA
William Grobman, MD, MBA, has directed multiple large-scale research projects at Northwestern, including the Maternal-Fetal Medicine Units Network, the nuMoM2b study and the March of Dimes Transdisciplinary Center. Of particular note, Grobman has been involved in multiple studies that have been directed at understanding cardiovascular and metabolic complications both during and after pregnancy — these include his study on abnormal sleep activity and its association with hypertensive disease and glucose intolerance in pregnancy, as well as the ongoing nuMoM2b-HHS, in which women are followed for years after their first pregnancy to determine their trajectory of cardiovascular health. He is currently undertaking a large study to better understand whether abnormal glucose metabolism and related adverse outcomes can be more readily identified early in pregnancy.
Another line of research Grobman has undertaken has been in regard to obstetric patient safety and quality care. Grobman has not only been PI of the MFMU Network-sponsored observational study of over 115,000 women, which has documented patient characteristics, institutional factors and process measures associated with adverse obstetric outcomes, but also been PI of several studies that have elucidated types of protocols and programs that can be used to reduce obstetric morbidity.
Lastly, Grobman has studied associations between stress and racial/ethnic disparities in obstetric outcomes. Several investigations in which he served either as the primary investigator or the co-investigator have demonstrated the relationship between self-assessment of stress-related domains, biomarkers of stress biology and adverse pregnancy outcomes.
Contact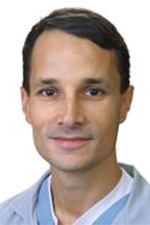 William A. Grobman, MD, MBA
Vice Chair for Clinical Operations, Department of Obstetrics & Gynecology
Arthur Hale Curtis, MD, Professor of Obstetrics & Gynecology
Professor of Preventive Medicine and of Maternal-Fetal Medicine in the Department of Obstetrics & Gynecology
w-grobman@northwestern.edu