Roxanna Garcia, MD, MS, MPH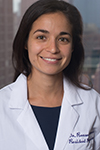 Year: PGY5
Undergraduate School: Cornell University, BS, magna cum laude
Graduate School: University of California, Berkeley: MS Health and Medical Sciences; MPH Epidemiology
Medical School: University of California, Berkeley-University of California, San Francisco Joint Medical Program
Hometown: Lakeside, CA
Honors
2006 -2009 Bernard Osher Foundation Grant (UCB-UCSF Joint Medical Program)
2008 Hispanic Scholarship Fund – Medical Student Excellence
2006 Distinction in Research, College of Agriculture and Life Sciences
2003-2006 Dean's List, College of Agriculture and Life Sciences
2006 SUNY Chancellor Award Nominee 
2006 Office of Minority Affairs Academic Undergraduate Excellence
2005 Keith Kennedy Fund Scholarship - Undergraduate Research Excellence
Publications
Clark AJ, Jahangiri A, Garcia RM, George J, Sughrue ME, McDermott MW, El-Sayed I, Aghi MK. Endoscopic surgery for tuberculum sellae meningiomas: a systematic review and meta-analysis. 2013. Neurosurg Rev. 36(3):349-59. PMID: 23568697.
Garcia RM, Ivan ME, OH T, Barani I, Parsa A. Intraventricular Neurocytomas: A Systematic Review of Stereotactic Radiosurgery and Conventional Radiotherapy for Residual or Recurrent Tumors. 2014. Clin Neurol Neurosurg.117:55-64. PMID: 24438806.
Oh T, Safaee M, Sun MZ, Garcia RM, McDermott MW, Parsa AT, Bloch O. Surgical Risk Factors for Post-operative Pneumonia Following Meningioma Resection. Clin Neurol Neurosurg. 2014. 118:76-9. PMID: 24529234.
Clark AJ, Garcia RM, Keefe MK, Koski TR, Rosner MK, Smith JS, Cheng JS, Shaffrey CI, McCormick PC, Ames CP, and the International Spine Study Group. Results of the AANS membership survey of adult spinal deformity knowledge: impact of training, practice experience and assessment of potential areas for improved education. 2014. J Neurosurg Spine. 18:1-8. PMID: 25036219.
Garcia RM, Ivan ME, Lawton MT. Brainstem Cavernous Malformations: Surgical Results in 104 Patients and a Proposed Grading System to Predict Neurological Outcomes. 2015. Neurosurgery. 76(3): 265-77. PMID: 25599205.
Ivey S, Sokal-Gutierrez K, Garcia R, Azzam A, Wilson E. The First 4 years: Impact of Program in Medical Education for the Urban Underserved (PRIME-US) at the UCB-UCSF Joint Medical Program. 2015. Teaching and Learning in Medicine. 27(2): 189-96. PMID: 25893941
Potts M, McGrath M, Chin C, Garcia RM, Weinstein P. Microsurgical Fenestration and Paraspinal Muscle Pedicle Flaps for the Treatment of Symptomatic Sacral Tarlov Cysts. 2016 World Nuerosurgery. 86: 233-42. PMID: 26423931.
Kim RB, Garcia RM, Smith ZA, Dahdaleh DS. Impact of Resident Participation on Outcomes After Single-Level Anterior Cervical Diskectomy and Fusion. An Analysis of 3265 Patients from the American College of Surgeons National Surgical Quality Improvement Program Database. 2016. Spine. 41(5): E289-E296. PMID: 26555830.
Garcia RM, Yoon S, Potts M, Lawton MT. Investigating the role of ethnicity and race among patients undergoing treatment for intracerebral aneurysms from a national database. 2016. World Neurosurgery. PMID: 27609451. 
Garcia RM, Cho W, DiDomenico JD, Barrington NM, Dahdaleh NS, Rodriguez HE, Lam S, Smith ZA. Thirty-Day Readmission Rate and Risk Factors for Patients undergoing Single Level Elective Anterior Lumbar Interbody Fusion (ALIF). 2016. Journal of Clinical Neuroscience 32: 104-8. PMID 27401225. 
Garcia RM, Khanna R, Dahdaleh NS, Cybulski G, Lam S, Smith ZA. Thirty-day Readmission Risk Factors following Single Level Transforaminal Lumbar Interbody Fusion (TLIF) for 4,992 Patients from the ACS-NSQIP Database. Global Spine. Accepted. June 8, 2016. In press for 2017.
Choy W, Barrington N, Garcia RM, Kim RB, Rodriguez H, Lam S, Dahdaleh NS, Lam S, Smith ZA. Risk Factors for Medical and Surgical Complications Following Single-Level ALIF. Global Spine. Accepted. June 13, 2016. In press for 2017.
Interests
Determinants of health outcomes, public health, population health, equity of healthcare
Back to top