From corporate biomedical engineer to global healthcare expert: Anna Rietti's MPH journey
By Andrew Nellis — Sep 26, 2023
Anna Rietti has never considered herself the typical Master of Public Health (MPH) student. After obtaining an undergraduate degree in biomedical engineering from Northwestern University, she spent several years working in the private sector, helping develop medical technologies with firms like Medline, Tempus, and Zus Health.
However, Rietti was restless and wanted to do more with her career. She enrolled in Northwestern University's one-year MPH program to bridge her experience in healthtech to make a greater impact in the lives of real people.
Now in the final months of the program, Rietti reflects on her experience and what the future holds.
Why do the MPH?
For one, the program has an excellent reputation. I spoke with a number of colleagues and friends, and several recommended it as an ideal way to move into a field where I could make more of a lasting impact. Plus, during COVID, MPH programs saw a huge increase overall as it became clear how fundamental health and healthcare are to modern life.
Secondly, the timeline was ideal. I wasn't interested in going to medical school or business school —spending all this time mired in classes. With the MPH, you can get your degree in a year and come out with field experience through the APEx program.
Beyond that, I have this core desire to do something helpful. I want to make the world better than I found it. When you work, you're spending forty hours a week doing something, and I would like that time to go towards more than just a paycheck or padding the pockets of some corporation.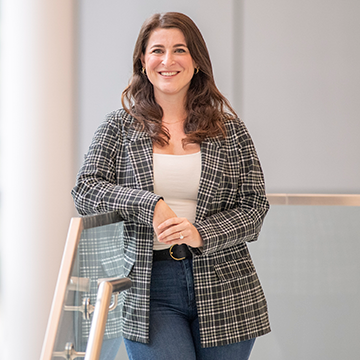 What specialty track did you choose?
I'm in the global health concentration. It's an area I've always been interested in — my undergraduate minor was in global health —because it's a branch of study that's applicable everywhere. You learn to tackle problems in a community that lacks resources, which exist all over the world, including in the United States. So, while there are plenty of global health problems abroad, we also have many of them in our backyard that could benefit from a global health perspective. Chicago is one of, if not the most segregated cities in the U.S., which results in a lot of healthcare disparities. The south and west sides of the city don't have the same resources as the north or lakeside areas, leading to hugely different health outcomes.
In global health, you develop two essential skills: cultural competency and cultural humility. You learn those, so when you're going into a new community, you can engage with the people regardless of whether you're working to address tuberculosis in Bangladesh or maternal health disparities here in the U.S.
How does your background in biomedical engineering work with public health?
It meshes extremely well. Technology can level the playing field in terms of tackling inequalities in healthcare access and creating equitable healthcare solutions.
One great example is a project I worked on in Cape Town, South Africa. Their healthcare system is very divided — the affluent areas have plenty of resources, but just a mile outside of the city, people live in shanty towns. As part of a team, I worked with those communities outside the city to track the flow of patients through their healthcare facilities and identify bottlenecks. We suggested small-scale interventions that would have the largest impact on improving both the patient and provider experience.
Closer to home, recent policy changes are fueling the development of a new patient record system, often referred to as a "Patient 360." The hope is that Patient 360 will replace outdated recordkeeping systems and consolidate a patient's complete medical history into a single platform.
If adopted, the technology would transform the patient experience. People would no longer have to remember the names of medications or keep track of their medical appointment history. All that information would be kept in a single database where any provider can access it.
Quality of care would improve as well. Since a patient's information is easily accessible, it would allow healthcare providers to collaborate as if they were working in the same office, allowing them to make more informed, comprehensive decisions.
What's next for you?
During the MPH program, all students must complete fieldwork with an outside organization as part of their APEx (Applied Experience). The program can help connect you with an organization, or you can find one yourself. I worked with an organization called SimpliFed.
Simplifed is working to improve maternal and child health through improved nutrition support for parents. They offer services to new parents that complement in-person primary and neonatal care visits to improve the continuity of care, things like prenatal education, postpartum coaching, and pumping classes.
I had a great experience working with SimpliFed as part of the APEx program, and I have continued on with them since then as an independent consultant.
My long-term goal is to continue merging my public health and technology expertise to help bring about real, impactful changes in people's lives. I have loved working in the healthtech space, but the MPH program has shown me how large of a role the environment plays in health. As such, I'm also considering bridging my work in healthtech with clean energy projects.